Find What You're Looking for on CPSC's Website with the New & Improved "CPSC Navigator"
Just in time for the holidays, please check out our updated version of the CPSC Dashboard, now known as the "CPSC Navigator." Now easier to find at www.CPSCNavigator.com, the CPSC Navigator is designed to help you easily navigate the resources and wealth of product safety information on the Consumer Product Safety Commission's website. The latest updates to the CPSC Navigator include a custom Google search engine for more effectively exploring CPSC.gov, new sections containing the most current information on pending rulemakings and petitions, and new content spread throughout each of the existing sections.
We appreciate your comments on how to improve the platform and continue to update the CPSC Navigator based on your feedback. Make sure to bookmark the CPSC Navigator and visit us often to find the product safety information and resources you need. We hope you find this tool as useful as we do!
[caption id="attachment_1642" align="aligncenter" width="600"]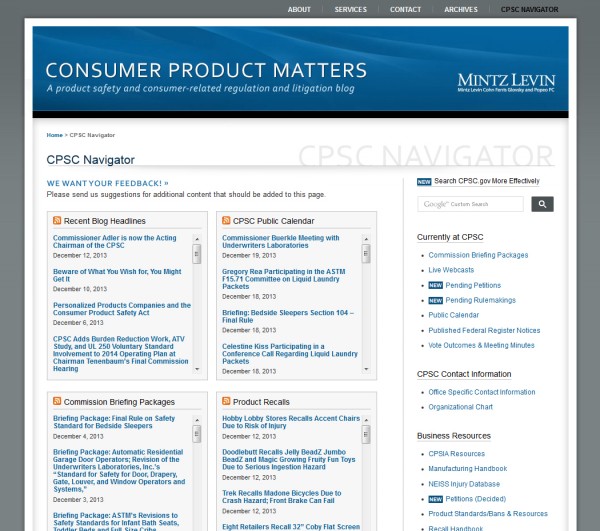 The CPSC Navigator[/caption]
Author
Member / Chair, Consumer Product Safety
Matthew R. Howsare is a prominent consumer product safety lawyer at Mintz. He advises manufacturers, retailers, importers, distributors, trade associations, and test laboratories on compliance, regulatory enforcement, recalls, and other product safety issues.