Corporate & Securities | Life Sciences | Privacy & Security
February 21' 2014
A Guide to FDA Postmarketing Submission Requirements and Reporting Interactive Promotional Media
As part of existing FDA postmarketing reporting requirements, manufacturers, packers, and distributors that are FDA applicants or that act on behalf of FDA applicants (for simplicity, "Applicants") are required to submit all promotional labeling and advertising pieces at the time of an advertisement's initial publication. These reporting obligations extend to statements made by or on behalf of an Applicant through modern tools and technologies that often allow for real-time communications and interactions — e.g., blogs, microblogs, social networking sites, online communities, and live podcasts — which the FDA calls "Interactive Promotional Media."
Until recently there has been no official guidance on how Applicants could satisfy the postmarketing reporting requirements while engaging customers through Interactive Promotional Media, which has limited the extent to which Applicants could utilize this important and growing venue, and it was challenging for firms to submit Interactive Promotional Media "at the time of initial dissemination" because these media communicate information that is displayed in real time. In recognition of this challenge, the FDA has recently proposed guidelines for more reasonable submission of materials disseminated through Interactive Promotional Media for postmarketing reporting purposes.
The FDA's proposed guidelines do not speak to the substantive analysis performed by the FDA of Interactive Promotional Media submissions under the postmarketing reporting requirements, which suggests such submissions will be analyzed under the same standards applied to labeling and advertising materials disseminated through traditional means. Instead, the proposed guidelines provide a framework for Applicants to make an initial submission to the FDA of the overarching website or social media landing page controlled or used by the Applicant, and to subsequently provide regular monthly reports to the FDA aggregating all Interactive Promotional Media used in that period. This framework allows for ongoing use of Interactive Promotional Media by the Applicant without requiring submission upon each action by the Applicant.
The FDA's proposed guidance provides for different treatment of different types of Applicant use of Interactive Promotional Media. The chart below provides a visual breakdown of the treatment of each type of use of Interactive Promotional Media addressed by the proposed guidance. We note that the proposed guidance was prepared by the Office of Prescription Drug Promotion and does not establish legally enforceable rights or responsibilities; however, the FDA "intends to exercise enforcement discretion regarding the regulatory requirements for postmarketing submissions related to promotional labeling and advertising" if the Applicant complies with the proposed guidance.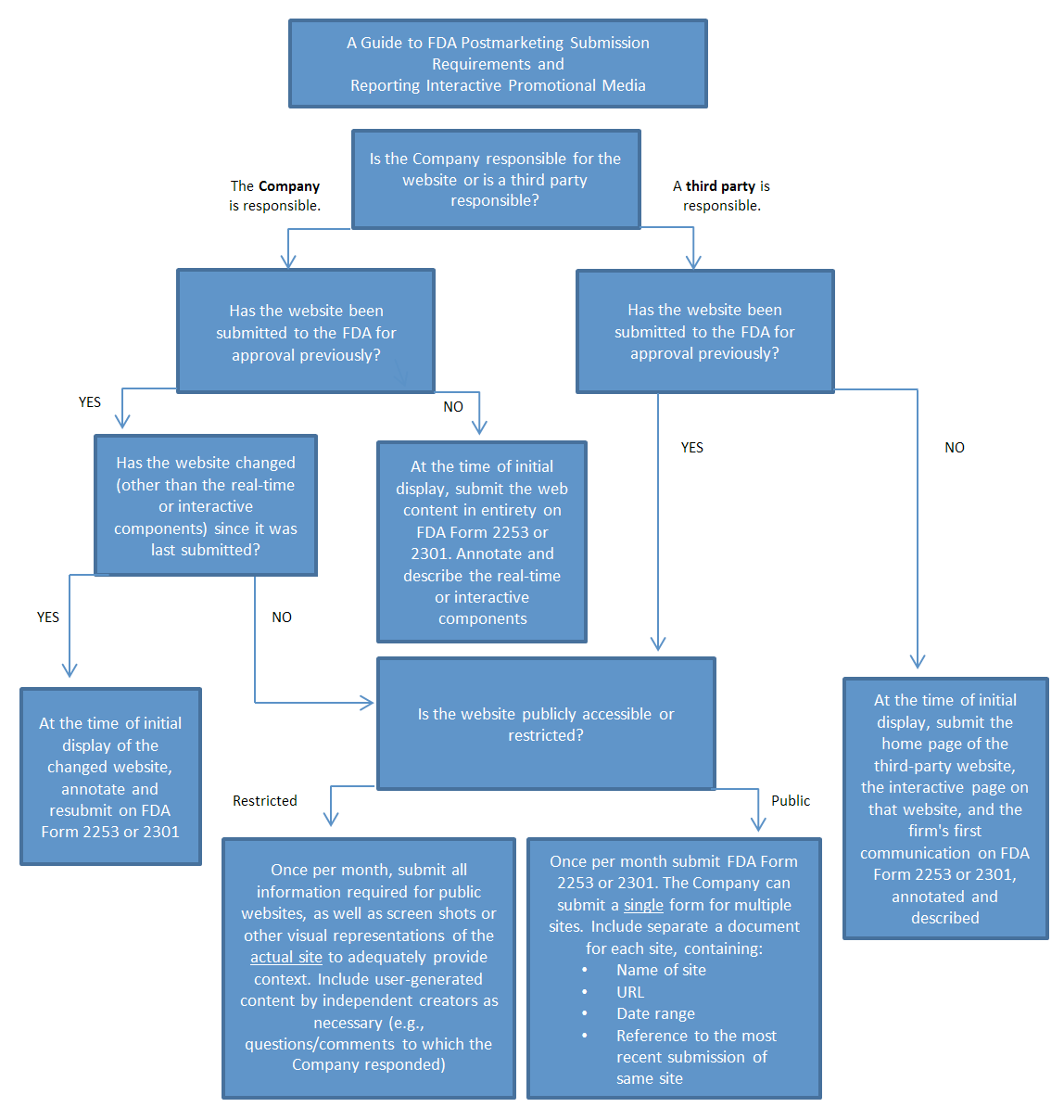 » View Mintz Levin's Corporate & Securities attorneys.
» View Mintz Levin's Life Sciences professionals.
» View Mintz Levin's Privacy & Security attorneys.