Alerts & Advisories

Industry Reports & Newsletters

Published Articles

Social Media & Blogs

Brochures


Mintz Levin Energy Technology
Energy Technology Connections Newsletter
Your Law Firm Link to Industry News
August 2016
Our August edition of Energy Technology Connections brings you recent industry highlights and features a list of upcoming energy industry events throughout the nation. In Leaders in the News, we profile our friends at Greentech Media, an innovative company focused on providing comprehensive news and market analysis for the clean energy industry, and highlight its recent merger with Verisk Analytics' Wood Mackenzie. Our Innovator Profile spotlights Axiom Exergy, an energy storage company that provides an energy storage Refrigeration Battery for supermarkets, food distribution centers, and other cold storage facilities to reduce their peak energy demand by up to 40%. Finally, our Washington Update provides the latest on House and Senate developments amidst the summer recess, and highlights the Environmental Protection Agency's final phase two rule for greenhouse gas and fuel efficiency standards for heavy-duty trucks, as well as the Department of Energy's new funding opportunity under the US-India Partnership to Advance Clean Energy Research.
For links to industry grant opportunities and stories from the business, policy, and research sectors of the energy and clean technology industry, please see our Energy Navigator.
You can subscribe to our Energy Tech Matters blog here.
We would also like to remind our readers that you can always ask us anything at http://mintzedge.com/ask-anything/. We built the MintzEdge website as a resource for entrepreneurs and investors, and hope that all of you take advantage of the site and see how it can help you.

Contents

Leaders in the News: Greentech Media

Innovator Profile: Axiom Exergy

Washington Update

Energy Navigator

Upcoming Events

This month we'd like to highlight Greentech Media, which was featured as the Innovator Profile in Mintz Levin's February Energy Technology Connections newsletter. Greentech Media is one of the leading information services providers for the clean energy industry and maintains its place at the forefront of clean energy developments by providing market research, authoritative news and events, and consulting services.
Founded in 2007 and based in Boston, Massachusetts, Greentech Media is a multifaceted company that provides its services through three channels that work together to deliver some of the most comprehensive clean energy coverage currently available. GTM Research provides market analysis and advisory services that give insight into technologies, markets, and business models that shape the clean energy field. Greentech Media's News and Online arm delivers industry-leading coverage provided by outstanding journalists and a global network of expert contributors. Last, the Events arm combines the two channels by producing industry conferences that seek to inform and connect players in the global clean energy market. Greentech Media's business model not only helps give subscribers a data-driven view of major clean energy developments, but also provides opportunities for subscribers to learn from one another at industry conferences.
On July 19, 2016, Verisk Analytics, a leading data analytics provider, announced that it had signed a definitive agreement to acquire Greentech Media. The acquisition will enable Greentech Media to become a part of Wood Mackenzie, a Verisk Analytics business, and will enable Wood Mackenzie to provide its clients with market intelligence across several industry specialties including solar generation, energy storage, and smart grids. This development represents an exciting time for both Greentech Media and Verisk Analytics since both companies will be able to combine their strengths to provide more outstanding research, industry coverage, and analysis in the clean energy world.
"The energy industry is going through a transformation, and our clients expect coverage in the solar, storage, and smart grid spaces as part of a more integrated service," said Neal Anderson, president of Wood Mackenzie. Echoing the enormous potential of this development, chief executive officer of Greentech Media Scott Clavenna comments, "with solar, storage, and smart grid having such an impact on energy markets today, we're confident that, together with Wood Mackenzie, our complementary capabilities will enable a more competitive and complete service for our clients."
Congratulations to Greentech Media for its merger with Verisk Analytics' Wood Mackenzie. We look forward to Greentech Media's continued success in the clean energy field.

This month we feature Axiom Exergy, a San Francisco Bay area energy storage company that provides an energy storage solution called the Refrigeration Battery that shifts six hours of refrigeration-based electricity loads in supermarkets, food distribution centers, and other cold storage facilities to reduce peak energy demand by up to 40%. This innovative solution stores thermal energy produced by refrigeration systems during off-peak hours, when electricity is least expensive, and deploys it during on-peak hours to generate significant cost-savings and reduce food loss from power outages. Axiom Exergy's technology uses existing refrigeration systems' excess capacity to "store cooling" at night by freezing tanks of salt water. During peak hours, the Refrigeration Battery uses the frozen tanks to maintain refrigeration temperatures, eliminating the need to run energy-intensive compressors and condensers.
Supermarket energy demand is three times higher per square foot than in other retail stores, and refrigeration alone accounts for up to 60% of a supermarket's electricity bill; therefore, shifting electricity demand to less expensive nighttime hours can substantially increase profit margins. Just one dollar saved on a supermarket's operating expenses is equivalent to $48 of additional revenue. With the ability to reduce peak electricity demand by 40%, Axiom Exergy's Refrigeration Battery enables supermarkets to respond dynamically to changes in utility price signals and arbitrage when they consume energy. Grocery stores can additionally benefit from the Refrigeration Battery's integrated backup cooling feature to protect food from spoiling during power outages, a major issue for most chains that self-insure and lack sufficient back-up generation.
Axiom Energy's technology also provides a valuable service to electrical utilities seeking to manage congestion on their grid. With aggregated fleets of Refrigeration Battery solutions deployed throughout a service area, grid operators leverage more than six hours of dispatchable capacity. Supermarkets typically demand 400-600 kW of power during peak hours; Axiom Exergy's Refrigeration Battery helps utilities manage these energy-intensive customers at their highest consumption times.
Headquartered in Richmond, California, Axiom Exergy works to make energy systems smarter and more efficient by offering turnkey power management solutions that reduce operational costs and business risk. Most recently, Axiom Exergy raised $2.5 million in funds from investors, which will enable the company to install its first refrigeration battery systems in supermarkets and cold storage facilities throughout the US. Additionally, these funds will support an expanding project development team, advance product development and testing, and fund early pilots with major grocery chains in California. We are excited to watch Axiom Exergy grow in the energy storage field – keep up the great work!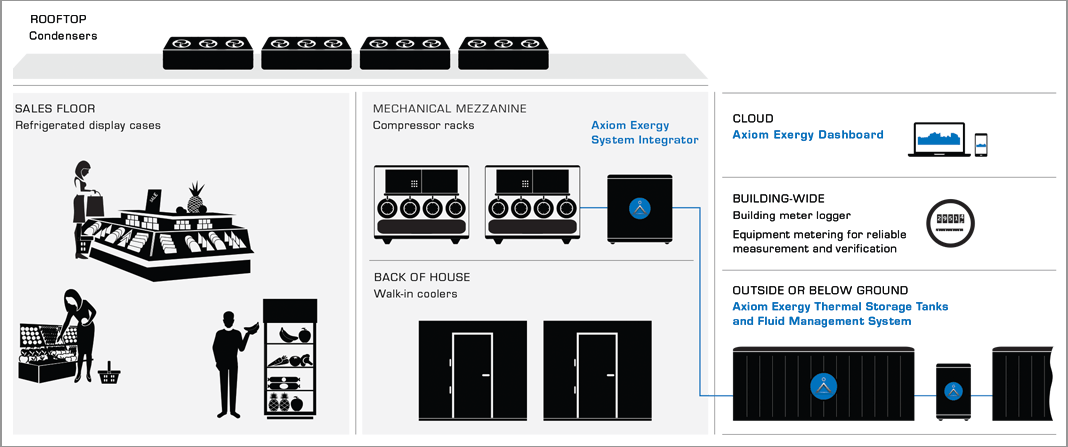 How Axiom Exergy's components fit into a typical refrigeration system.
[Source: Axiom Exergy]  [View larger]

Congress left Washington on July 15 for a long summer recess and will return on Tuesday, September 6 for four weeks of legislative work before breaking again for the month of October to allow for the final weeks of campaigning before the November 8 elections.
With limited time left in the 114th Congress, efforts continue to conference the House- and Senate-passed energy bills. Staff-level negotiations are ongoing throughout the summer recess. Reports suggest that common ground is being found on some of the easier-to-reconcile differences, but there is much work to be done on higher-level issues that will require dialogues at the member level once the recess ends.
Before breaking for the summer recess, the Senate Energy and Natural Resources Committee held a business meeting to advance 43 bills. Approved were bills related to the acquisition and conveyance of lands, and designation of federal lands.
On July 21, 40 senators sent a letter to EPA Administrator Gina McCarthy urging that the administration increase its proposed 2018 Renewable Volume Obligations for biodiesel. The current 2018 proposal calls for 100 million gallons in growth over the 2017 volume – a level the signatories argue does not capture the full potential of the biodiesel and renewable diesel industries. The letter calls for the 2018 volume to be set at 2.5 billion gallons, an increase of 400 million gallons over the 2017 volume.
The Senate Energy and Natural Resources Committee held a field hearing in Seattle, Washington on August 15 to conduct oversight of the Department of Energy's functions and capabilities to respond to energy-related emergencies, including impacts to critical energy infrastructure. Energy Secretary Ernest Moniz provided testimony in which he called for increased investments in US energy emergency response, announcing that the department would provide up to $34 million in funding, subject to appropriations, for twelve projects representing energy sector organizations in nine states through the Office of Electricity Delivery and Energy Reliability's Cybersecurity of Energy Delivery Systems (CEDS) program.
On August 29, the Senate Energy and Natural Resources Committee will hold a field hearing in Morgantown, West Virginia to examine the economic importance of modern, reliable energy infrastructure to West Virginia and the United States.
On August 16, the Environmental Protection Administration (EPA) and the National Highway Traffic Safety Administration (NHTSA) issued the final phase two rule for greenhouse gas and fuel efficiency standards for heavy-duty trucks. The Phase 2 standards are expected to lower CO2 emissions by approximately 1.1 billion metric tons, saving about $170 billion in fuel costs for consumers, and reducing oil consumption by up to 2 billion barrels over the lifetime of the vehicles sold under the program. Along with the rule, EPA and NHTSA released a regulatory impact analysis and a response to comments.
Following the EPA/NHTSA final phase two rule for greenhouse gas and fuel efficiency standards for heavy-duty trucks, the Department of Energy (DOE) announced that it is funding, subject to appropriations, two programs to develop next generation technologies that will assist industry in going beyond the EPA/NHTSA standards while accelerating technology advances.
On August 16, the DOE's Office of Electricity Delivery and Energy Reliability announced a new Funding Opportunity Announcement for joint research on smart grid and energy storage under the US-India Partnership to Advance Clean Energy Research. DOE and India's Ministry of Science and Technology are each committing $1.5 million annually for five years to the effort, subject to congressional appropriations. Private sector matching funds are expected to result in a combined $30 million public-private research investment over the five-year period.
On July 26, DOE released a report titled Hydropower Vision: A New Chapter for America's First Renewable Electricity Source. The report, which examines the future of hydropower through 2050, finds that with continued technology advancements, innovative market mechanisms, and a focus on environmental sustainability, the US could see a growth in hydropower of 101 gigawatts to nearly 150 gigawatts of combined electricity generation and storage capacity by 2050.

Please visit and bookmark our Energy Navigator to easily view all of the latest headlines from the most trusted publications reporting on developments in the energy and clean technology industries. It is housed on our blog, Energy Technology Matters.

IEEE ISGT 2016

September 6–9, 2016
Minneapolis, MN

NECA Dinner Meeting: Legislative Update

September 8, 2016
Cambridge, MA

Solar Power International

September 12–15, 2016
Las Vegas, NV

Verge: Santa Clara

September 19–22, 2016
Santa Clara, CA

NECEC's Energy Storage Forum

September 20, 2016
Boston, MA

The 39th WEEC

September 21–23, 2016
Washington DC

2nd World Energy Security Forum

September 22, 2016
New York, NY

AWEA: Wind Resource & Project Energy Assessment Conference 2016

September 27–28, 2016
Minneapolis, MN

GTM's New York Rev Future

September 27–28, 2016
Brooklyn, NY

NECA 2016 Fuels Conference

September 28, 2016
Marlborough, MA

POWERCON 2016

September 28 – October 1, 2016
Wollongong, Australia

International Offshore Wind Partnering Forum

October 2–5, 2016
Newport, RI

LACI Cleantech Global Showcase: GLOSHO16

October 3–4, 2016
Los Angeles, CA

Energy Storage North America

October 4–6, 2016
San Diego, CA

AWEA Wind Energy Finance & Investment Conference 2016

October 5–6, 2016
New York, NY

Water & Long-Term Value 2

October 5–6, 2016
San Francisco, CA

IEEE PES Innovative Smart Grid Technologies, Europe

October 9–12, 2016
Ljubljana

emPOWERing Arkansas: AAEA's 5th Annual Meeting & Policy Conference

October 11, 2016
Little Rock. Arkansas

NEWIN Water Pitch Night – Focus on Water IT and Analytics

October 12, 2016
TBD

2016 Getting to Zero Forum

October 12–14, 2016
Denver, CO

NEWIN/WPI Water-Innovation Workshop

October 24, 2016
WPI – Rubin Campus Center

NECEC's 9th Annual Green Tie Gala

October 25, 2016
Boston, MA

GTM's US Solar Market Insight

October 25–26, 2016
San Diego, CA

Keystone Energy Efficiency Alliance (KEEA) Conference

October 25, 2016
Harrisburg, PA

AWEA Offshore WINDPOWER 2016

October 25, 2016
Warwick, RI

NECA 2016 Power Markets Conference

November 1, 2016
Westborough, MA

Med Tech Conference

November 17, 2016
New York, NY

NEWIN/MIT Water Summit

November 18–19, 2016
MIT

GTM US Energy Storage Summit 2016

December 7–8, 2016
San Francisco, CA

EnergySMART Conference

February 22–24, 2017
Orlando, FL

GlobalCon

March 22–23, 2017
Philadelphia, PA

West Coast Energy Management Congress

June 7–8, 2017
Long Beach, CA


Learn more about the Mintz Levin Energy Technology group here.
Thomas R. Burton III

Member

Chair, Energy Technology

(Boston)

617.348.3097

Sahir Surmeli

Member

Co-chair, Energy Technology

(Boston)

617.348.3013

Lisa Adams

Member

Intellectual Property (Boston)

617.348.3054

Ralph A. Child

Member

Environmental (Boston)

617.348.3021

Hannah C. Coman

Associate

Corporate & Securities (Boston)

617.348.1703

William "Mo" Cowan

Of Counsel

Litigation

Senior Vice President &

Chief Operating Officer

ML Strategies

(Boston)

617.348.1600

Daniel I. DeWolf

Member

Co-chair, Venture Capital &

Emerging Companies;

Corporate & Securities (New York)

212.692.6223

Paul H. Dickerson

Of Counsel

Corporate & Securities (Washington)

202.460.9286

Meryl J. Epstein

Member

Corporate & Securities (Boston)

617.348.1635

Gregory S. Fine

Member

Corporate & Securities (Boston)

617.348.3003

Susan L. Foster, PhD

Member

Corporate & Securities (London)

+44.20.7776.7330

Bill Geary

Member

Intellectual Property (Boston)

617.348.3046

Kristin A. Gerber

Associate

Corporate & Securities (Boston)

617.348.3043

Jeremy D. Glaser

Member

Corporate & Securities (San Diego)

858.314.1515

Ian Hammel

Member

Bankruptcy, Restructuring & Commercial Law (Boston)

617.348.1724

Irwin M. Heller

Member

Corporate & Securities (Boston)

617.348.1654

Kanasha S. Herbert

Associate

Corporate & Securities (Boston)

617.348.3015

Haejin Hwang

Project Analyst

617.348.4450

Ken Jenkins, PhD

Member

Intellectual Property (San Diego)

858.314.1082

Jonathan L. Kravetz

Member

Chair, Securities;

Corporate & Securities (Boston)

617.348.1674

Cynthia J. Larose

Member

Corporate & Securities (Boston)

617.348.1732

David J. Leiter

President' ML Strategies'

Washington' DC

ML Strategies (Washington)

202.434.7346

Lindsay Leone

Associate

Public Finance (Boston)

617.348.1728

R.J. Lyman

Member

Corporate & Securities, Project Development & Finance

(Boston)

617.348.1789

Audrey C. Louison

Member

Chair, Project Development & Finance

(Washington)

202.434.7380

Eric Macaux

Associate

Corporate & Securities, Project Development & Finance, (Boston)

617.348.1677

Jeffrey A. Moerdler

Member

Real Estate, Communications,

Environmental (New York)

212.692.6700

David L. O'Connor

Senior Vice President for

Energy Technology

ML Strategies (Boston)

617.348.4418

Conlan Orino

Project Analyst (Boston)

617.239.8327

Jeffrey R. Porter

Member

Environmental (Boston)

617.348.1711

Jennifer Sacco Smith

Associate

Real Estate (Boston)

617.348.1678

Chuck A. Samuels

Member

Antitrust/Energy Efficiency (Washington)

202.434.7311

Gabriel Schnitzler

Member

Real Estate (San Francisco)

415.432.6004

Donald W. Schroeder

Member

Employment, Labor & Benefits (Boston)

617.348.3077

Terri Shieh-Newton, PhD

Member

Intellectual Property (San Francisco)

415.432.6084

Matthew T. Simpson

Associate

Corporate & Securities (Washington)

202.434.7436

Kaoru Suzuki

Associate

Corporate & Securities (Boston)

617.348.1847

Stanley A. Twarog

Member

Corporate & Securities (Boston)

617.348.1749

Paula J. Valencia-Galbraith

Associate

Corporate & Securities (Boston)

617.210.6854

Michael D. Van Loy, PhD

Member

Intellectual Property (San Diego)

858.314.1559

Katy E. Ward

Associate

Environmental (Boston)

617.348.1850

William F. Weld

Member

Corporate & Securities

Principal

ML Strategies

(Boston, New York, Washington)

617.348.4412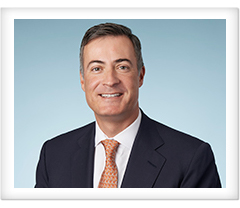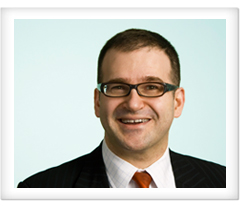 Related Industries

Energy Technology

Related Blogs

Energy Tech Matters