Jobs-ed: New Class Action Pulls Apple into California's "Food Court"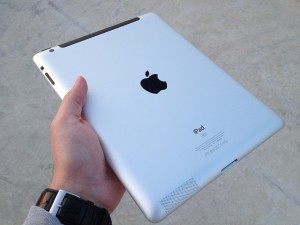 In our continuing efforts to highlight litigation trends that affect consumer product companies, we often focus on class actions brought in California and, especially, its federal Northern District. The Northern District of California has come to be nicknamed the "Food Court," and with good reason: the district is a high-traffic forum for class actions targeting the labeling and advertising of a range of consumer goods, but especially food and beverage products. In one recent suit in the Food Court, however, plaintiffs have taken a page from the food-and-beverage class action playbook to target a very different kind of product from a different kind of company--albeit one with a food-related name itself.
The lawsuit, filed last Tuesday as Orshan v. Apple Inc., alleges that the consumer electronics giant has illegally deceived consumers by misrepresenting the storage capacity of its 8 GB and 16GB iPhones, iPads, and iPods. Citing the usual array of California consumer protection statutes, the Orshan complaint claims that Apple falsely advertises these products as offering a specific amount of memory when, in reality, they have anywhere from 18.1% to 23.1% less usable storage space than advertised. 
More details on the allegations against Apple, as well as the plaintiffs' Food Court-inspired theory, below.
Highlights from the Complaint
According to the plaintiffs, there are several reasons why Apple products actually offer less storage than marketed, including the fact that a portion of each device's memory is only accessible by Apple, not the consumer. 

The most important allegation, though, is that Apple's latest operating system for these products, iOS 8, "consumes a substantial portion of the represented storage capacity of each of the devices"--as much as 23% for certain models.

The alleged upshot of this practice is that reasonable consumers do not understand that the GB total advertised refers only to the device's

maximum

memory--not the amount actually accessible to consumers after installing iOS 8. The complaint includes the following chart to illustrate the alleged shortfalls in each device's actual storage space.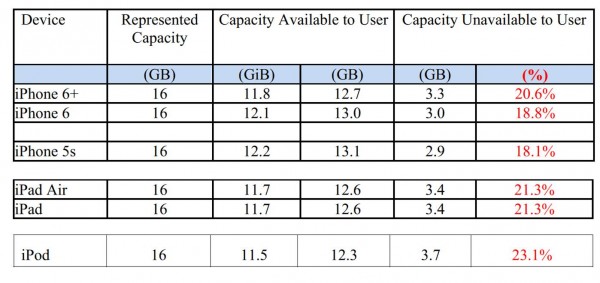 The plaintiffs also call out Apple for taking advantage of this shortfall by "aggressively market[ing]" their paid storage service iCloud to "deceived" customers. As the complaint (somewhat histrionically) puts it, Apple employs "sharp business tactics" by giving customers "less storage capacity than advertised, only to offer to sell that capacity in a desperate moment, e.g., when a consumer is trying to record or take photos at a child or grandchild's recital, basketball game or wedding."
The named plaintiffs, Paul Orshan and Christopher Endara, seek to represent a national class of consumers of Apple's 8 GB and 16 GB devices.
Nothing New in Food Court: A Twist on the "Slack Fill" Theory
The central theory of the Orshan complaint is a novel riff on a litigation trend that we've covered in past posts: "slack fill" litigation, or suits claiming that a manufacturer has misrepresented the proportion of usable to unusable content in its products. Typical slack fill claims arise when, for example, a food producer uses a potato chip bag with too much empty air relative to chips, when a cosmetics company uses a container with a heavy bottom or thick walls that obscure the amount of makeup inside, or when a drug company uses a disproportionately large box for a small bottle of OTC medication. Private plaintiffs have attacked slack fill as a misleading practice in consumer protection class actions in the Food Court and elsewhere, and this theory is very familiar to practitioners in this field. Slack fill cases typically turn on the thorny, subjective evaluation of how much "nonfunctional" versus "functional" content in a product is reasonable.
What Apple is advertising here, of course, is not physical content but storage capacity--memory that, according to these plaintiffs, is already consumed by other software and so unusable to consumers. The main difference is that, in traditional slack fill cases, California has a set of statutes and regulations explicitly prohibiting manufacturers from using packaging to misrepresent the size or content of their products. The use of terminology to describe available storage capacity, by contrast, falls in a regulatory gray area. This makes the determination of whether Apple's representations are "misleading" and "material" to a "reasonable" consumer inherently more subjective--a factor that both sides may seek to use to their advantage in this case. And it underscores how, even in the absence of specific regulations or legislative requirements, manufacturers must give careful thought to how consumers--and, of course, the plaintiffs' bar--will interpret the terms used to market their products.  
---
iPad Image: courtesy of Flickr (Licensed) by John Karakatsanis
Author Joshua Foust