A Clean Slate? California Bill Is Latest Attempt to Legislate Labeling Requirements for Cleaning Products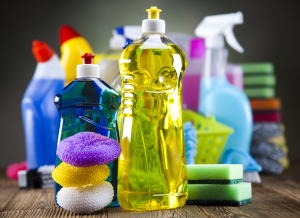 Another potentially meaningful development in legislation affecting consumer products companies: on February 25, a California legislator introduced a bill, AB 708, that would require manufacturers, distributors and retailers to disclose all "chemical" ingredients for designated consumer products "manufactured from chemicals or chemical compounds." The bill designates a broad swath of consumer goods for disclosure, from cleaning products and floor polishes to air fresheners and car wax. Covered products include:
"Air care products," defined as products designed "for masking odors, or for freshening, cleaning, scenting, or deodorizing the air."
"Automotive products," meaning products designed "to maintain the appearance of a motor vehicle" by "washing, waxing, polishing, cleaning, or treating the exterior or interior surfaces," but excluding paint and paint repair products.
"Cleaning products," meaning soaps, detergents, or other products designed to clean or disinfect "floors, furniture, countertops, showers and baths, stovetops, microwaves," and other hard surfaces.
"Polish or floor maintenance products," meaning polishes, waxes, or restorers designed "to polish, protect, buff, condition, temporarily seal, or maintain furniture, floors, metal, leather, or other surfaces."
Companies would be required to list the ingredients for these products on both their labels and the company's website. Any company that fails to comply with the disclosure requirements would be prohibited from manufacturing or selling the products in California, either at the wholesale or retail level.
This bill is far from the first foray by the California legislature into labeling legislation for consumer products. In 2010, the California State Senate approved a very similar labeling bill, dubbed the "Consumer Right to Know Act," that would have required labeling for the same categories of products. Unlike AB 708, though, that bill allowed manufacturers to claim an exemption for any ingredient that qualified as a "trade secret." Despite passing the California Senate, the bill ultimately failed in the legislature.
The new California bill also arrives almost a year after another analogous bill was proposed in the United States Congress. Titled the Cleaning Product Right to Know Act of 2014 (H.R. 4476), that federal bill would have required ingredient labeling for household cleaning products on a national scale. Despite its national reach, however, the bill explicitly denied that it was intended to preempt states from adopting their own labeling requirements that were different from--or stricter than--the federal standard. That bill, too, failed in Congress.
Without any uniform federal regulatory regime governing the labeling of cleaners and other chemically-based consumer products, state bills like AB 708 are not likely to disappear any time soon--and neither are the compliance challenges posed by the resulting "patchwork" of inconsistent state disclosure requirements. We will keep a close eye on this bill and related developments going forward.
Author Joshua Foust