The Future of Hoverboards: Federal Safety Standard or Voluntary Safety Standard?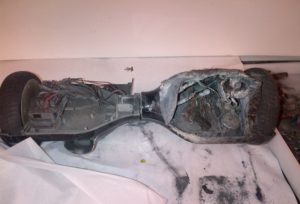 Over recent weeks, national media outlets have reported extensively on multiple claims from consumers that hoverboards—self-balancing scooters growing immensely in popularity, particularly over the holiday period—have caught fire.  Much of the focus of these claims has been related to the overheating of the hoverboards' lithium ion batteries.  In the wake of these reports, major airlines are now starting to prohibit hoverboards from being transported on flights and some retailers, such as Amazon, have stopped selling certain models of the product online.
In response to the ever-increasing publicity and concern expressed over the product, U.S. Consumer Product Safety Commission (CPSC) Chairman Elliot Kaye released a statement about hoverboards, in which he stated, in part, the following:
"Consumers want and deserve answers about the safety of hoverboards.  I have directed agency staff to work non-stop to find the root cause of the fire hazard, how much of a risk it might present, and to provide consumers with answers as soon as possible…CPSC field investigators are actively investigating hoverboard-related fires across the country and will open new cases as they come to our attention"
Although the CPSC is launching an investigation into hoverboard incidents and may even conduct a few recalls, there is no talk (nor should there be) about banning hoverboards outright.  While the CPSC may look into promulgating some sort of mandatory federal safety standard for the product as it does for various other products on occasion, the most likely next step is some sort of agreement from manufacturers of hoverboards and similar self-balance scooters to establish a voluntary standard.
Voluntary safety standards are frequently developed for consumer products through organizations like ANSI, ASTM, and UL, and are seen by manufacturers, in practice, as "mandatory" to meet for product liability and other purposes.  These voluntary standards groups bring together government regulators, industry members, consumer advocates, and other stakeholders to set basic safety standards for a wide range of products.  It is not uncommon for entirely new types of products, such as hoverboards, not to have a voluntary standard.
The CPSC's most recent statements about hoverboards largely focus on the ongoing investigation. The agency also appears, however, to be broadcasting a message to the companies who manufacture hoverboards that it believes a voluntary safety standard to address potential safety issues needs to be created.
Chairman Kaye's most recent public statement specifically calls on companies selling hoverboards to ask suppliers "if there is an applicable safety standard in place before agreeing to sell those products." He also added that the absence of a standard should compel companies to "require extra proof of sound design manufacturing and quality control processes."  CPSC spokeswoman Patty Davis was also quoted as stating the need for a hoverboard voluntary standard "is evident" and the industry should step forward and establish such a safety standard.
The CPSC will move quickly with its investigation given the media coverage and increasing public scrutiny of hoverboards.  This investigation and any recalls associated with it, however, probably will be only the beginning of the agency's efforts to ensure the future safety of these products.  Given CPSC's statements and past examples involving other products, the voluntary or mandatory standards process likely will be what comes next.
---
Hoverboard image courtesy of the CPSC.