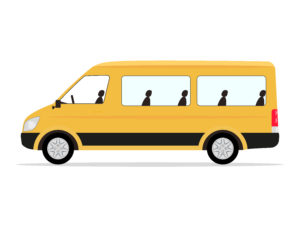 In a recent post we noted that the Maternal, Infant, Early Childhood, Home Visiting (MIECHV) program is one of the many potential riders on the health care minibus. In contrast to an omnibus bill, the "minibus" refers to a handful of policy provisions tied together in one piece of legislation.  This minibus will carry a number of provisions into law.  How many riders will be onboard the minibus and when the minibus leaves the station remain to be seen.
In this post we provide additional details on the structure, funding, and evaluation of the MIECHV program. Future posts will review additional details of other potential riders on the minibus.
Overview
The MIECHV program was established in 2010 through the Affordable Care Act (ACA) and is administered jointly by the Health Resources and Services Administration (HRSA) and the Administration for Children and Families (ACF). The program provides resources and support for pregnant women, families and at-risk parents of children under the age of five. Families participate voluntarily in-home visits conducted by nurses, mental health clinicians, social workers, and others with specialized training. The MIECHV program is designed to strengthen and improve the programs and activities carried out under the Maternal and Child Health Services Block Grant, improve coordination of services for at-risk communities, and identify and provide comprehensive services to improve outcomes for families who reside in at-risk communities.
MIECHV is a federal-state partnership that is active in all 50 states and also has authorized grants for family support and coaching programs to Native American tribes and organizations.  In FY 2015, the program supported over 145,000 individual parents and children and conducted over 900,000 home visits.
To participate in the MIECHV program states were required to identify the quality and capacity of existing home visiting programs and to collect information on community characteristics to determine where MIECHV funds would be best spent. States also identified how they would use MIECHV funds to support six evidence-based national models: Early Head Start - Home Based Program Option, Healthy Families America, Nurse-Family Partnership, Parents as Teachers, Healthy Steps, and Home Instruction for Parents of Preschool Youngsters.
Of note, programs like this are not new. In 2008, President Bush proposed—and Congress agreed to—$10 million for home-visiting, through a program called Evidence Based Home Visiting (EBHV), which funded 17 cooperative agreements to support the infrastructure needed for the adoption, implementation and continuation of evidence-based home visitation programs that aimed to prevent child maltreatment.
Financing
The ACA provided states with $1.5 billion from 2010 through 2014 for the MIECHV program. The Protecting Access to Medicare Act of 2014 provided the program an additional $400 million for FY 2015. Most recently, the Medicare Access and CHIP Reauthorization Act (MACRA) extended the program's funding through FY 2017 (with $372.4 million in appropriations for FY 2017). However, there is no further funding for the program after September 30, 2017, and the program must be reauthorized before this date.
Evaluation
The ACA mandated an evaluation of the MIECHV program, called MIHOPE. A Report to Congress was published in 2015 and there are plans for follow up through 2018. The evaluation found that:
States used initial MIECHV funds primarily to expand the use of four evidence based home visiting models in at-risk communities. These four models were: Early Head Start - Home Based Program Option, Healthy Families America, Nurse-Family Partnership, and Parents as Teachers.
MIECHV-funded programs serve mothers with many health and social support needs, including those experiencing symptoms of depression, having limited education, being a victim of intimate partner violence, and receiving public assistance.
MIECHV-funded programs are designed to help parents support the healthy development of infants and toddlers and overcome the problems low-income families face.
It is important to note that Republicans traditionally question spending on programs like MIECHV. However, due to the structure of the program and the fact that it is locally driven, the MIECHV program is less partisan. But time will tell on MIECHV's role on the minibus.