Product Safety Update from Capitol Hill (Part Three)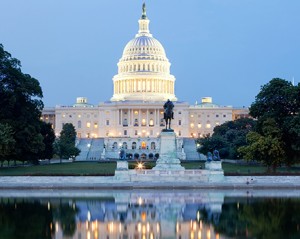 Earlier this year, we began a series of blog entries to update our readers on legislative efforts on Capitol Hill that affect stakeholders within the product safety arena.  Over the summer, we updated you on an amendment to an appropriations bill passed in the House of Representatives that would halt the U.S. Consumer Product Safety Commission's (CPSC) ongoing work on finalizing a rule on voluntary recalls.  Since the summer, three additional pieces of legislation have been introduced on the Hill pertaining to product safety, which deserve our attention.
First, earlier this month, Sen. Chuck Schumer (D-NY) introduced the "Children and Firefighters Protections Act of 2014" (S. 2811) to ban 10 flame retardants from upholstered furniture and children's products such as changing table pads, portable crib mattresses, pajamas, nap mats and nursing pillows.   According to Sen. Schumer and a host of advocates, these flame retardants are highly toxic and can cause cancer and other developmental defects.  Under the legislation, manufacturers, retailers and distributers would be prohibited from selling these products if any part contains one of the ten listed flame retardants that exceed 1,000 ppm total chemical content by weight.
The bill also requires the CPSC to appoint a Chronic Hazard Advisory Panel (CHAP) to study all chemical flame retardant used in furniture and children's products and their potential hazards and health effects, and grants the CPSC authority to promulgate a final rule concerning these additional flame retardant chemicals based on the CHAP's findings.  This CHAP provision is similar to the one in Section 108 of the Consumer Product Safety Improvement Act of 2008 (CPSIA) which required a panel to be convened to study the use of phthalates in child care articles and toys.  No companion bill has been introduced in the House.
Second, Sen. Bill Nelson (D-FL) introduced a bill (S. 2581) earlier this summer to require the CPSC to promulgate a rule to require child safety packaging for liquid nicotine containers.  Liquid nicotine containers typically refill the vials for e-cigarettes, which have received a lot of media attention recently.  Last week, Rep. Elizabeth Etsy (D-CT) introduced the same legislation in the House (H.R. 5486).  According to Congresswoman Etsy, these containers come in different flavors, such as fruit and bubblegum, and are visually appealing to children who may be tempted to taste the liquid, which can be hazardous if swallowed.  Currently, there are no child-resistance packaging requirements for these containers.
Finally, we would be remiss if we did not mention the "Hide No Harm" bill (S. 2615) introduced recently by Sens. Richard Blumenthal (D-CT) and Bob Casey (D-PA) in response to the General Motors Co. ignition switch recall crisis.  The bill seeks to hold "responsible corporate officers" criminally liable for failing to report promptly to the appropriate federal agency a defect in a product it makes or sells if that product poses a risk of serious injury or death.  Specifically, that officer must report within 24 hours after acquiring "actual knowledge" that a covered product poses such a danger to consumers.  While the legislation does not mention a specific class of products, or pertain to a specific agency, its impact would be widely felt within the consumer products industry and would certainly affect the current reporting scheme of the Consumer Product Safety Act (CPSA).
Because Congress has recessed for November elections, we do not expect these bills to move forward in their respective chambers.  However, we expect both pieces of legislation to be re-introduced when the 114th Congress convenes next year.  We will continue to regularly update our readers on any developments concerning these bills or prior ones highlighted in this series.