New Year Brings CPSC Civil Penalty for Axe Manufacturer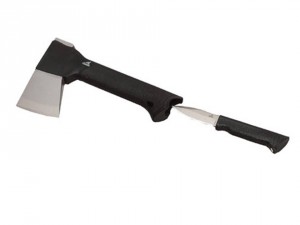 On January 5, 2015, the U.S. Consumer Product Safety Commission (CPSC) announced that Gerber Legendary Blades, a division of Fiskars Brands Inc., has agreed to pay a $2.6 million civil penalty to resolve charges that it knowingly failed to immediately report to the CPSC a safety hazard associated with its Gator Combo Axe.  Notably, the Department of Justice's Consumer Protection Branch, rather than the CPSC, negotiated this settlement, indicating the CPSC will continue to refer civil penalty actions to the DOJ for prosecution in 2015.
In this case, the DOJ alleged in a complaint filed in Oregon federal court that Fiskars failed to immediately report to the Commission that it had information which reasonably supported that the knife in the Gator Combo Axe handle could – and did – dislodge when the axe is used for chopping.  The complaint states that Fiskars received numerous complaints from consumers starting in 2005 that the dislodging of the knife from the axe had caused laceration injuries, including several that required surgery.  Although the Company ultimately voluntarily recalled the axe in 2011, it allegedly did not report information to the CPSC before 2010, as required by law, related to the serious risk of the knife dislodging from the handle.
Along with paying the sizeable civil penalty, Fiskars has agreed to incorporate the following new elements, which are now commonplace for CPSC civil penalties, into a product safety compliance program:
written standards and policies;
systematic procedures for reviewing and referring  consumer and retailer incident reports for potential safety issues;
confidential employee reporting of compliance concerns to a senior manager;
effective communication of compliance policies and procedures, including training;
senior manager responsibility for compliance and accountability for violations;
oversight of compliance by the firm's governing body; and
retention of all compliance-related records for at least five years.
In 2014, the CPSC levied seven civil penalties against firms ranging from $600,000 to $4.3 million for alleged violations of product safety laws enforced by the Commission.  We expect the Commission to remain active in 2015 in bringing enforcement actions against companies for violations of the Consumer Product Safety Act.  And, as this penalty illustrates, the CPSC is beginning to refer cases that reach an impasse in settlement negotiations with the CPSC's Office of General Counsel to DOJ for potential litigation.  To date, DOJ has settled each of the referred civil penalty cases with the companies involved prior to the initiation of litigation in federal court.
---
Gerber Gator Combo Axe Image: courtesy of Flickr (Licensed) by USCPSC