Understanding Post-AIA Power of Attorney Procedures
Applicants identified upon a U.S. patent application's filing can impact the ownership rights to the patent application throughout prosecution.  Prior to implementation of relevant aspects of the America Invents Act (AIA) on September 16, 2012, patent application Applicants could only be Inventors.  Conversely, applications filed on or after September 16, 2012 can have Inventors or Assignees as Applicants.  The choice of Applicant – Inventors or Assignees – upon filing in post-AIA applications affects how Power of Attorney can be properly established before the U.S. Patent and Trademark Office (USPTO).
Pre-AIA patent applications filed before September 16, 2012 can have Power of Attorney granted by Inventors or Assignees under Rule 32, provided that the requirements of Rule 3.73 are satisfied.  In contrast, post-AIA applications filed on or after September 16, 2012 can be filed with Inventors or Assignees as the Applicant, with Rule 32 requiring a Power of Attorney to be signed by either the "Applicant" or "Patent Owner."  However, an Assignee only becomes the patent owner after the application issues as a patent.  Thus, in order to take over prosecution in a post-AIA application, the Assignee must either initially be listed as or later formally established to be the Applicant for Power of Attorney to be granted on behalf of the Assignee.
In circumstances where a post-AIA application's Applicant is identified upon filing as the Assignee, the Assignee may execute a Power of Attorney, and it can be filed without the need to file any separate papers to satisfy Rule 3.71 or Rule 3.73.
When a post-AIA patent application is filed without listing the Assignee as the Applicant (i.e., because the Inventors are listed as the Applicant) or when the Assignee changes during the course of prosecution, Rule 3.71 or Rule 3.73 must be satisfied for the Assignee to establish a Power of Attorney before the USPTO.  Namely, a statement under Rule 3.73(c) and a Power of Attorney must be filed.  However, the Assignee must first be identified as an Applicant.  Currently there are two ways for an Assignee to become an Applicant when not so listed upon initial application filing.  First, an Applicant can be added to the existing list of Applicants.  Alternately, all Inventors can be removed as the Applicant and be replaced with the Assignee as the Applicant.
A change in an Applicant can be accomplished by filing a supplemental Application Data Sheet (ADS), fulfilling the Rule 3.73(c) requirements including a showing of ownership.  A chain of title can be demonstrated through executed assignment(s) and a statement specifying where documents verifying the chain of title from the original owner to the assignee are recorded in the assignment records of the USPTO by reel and frame number.  After adding the Applicant, Rule 3.71 or Rule 3.73 can be satisfied by filing a statement under Rule 3.73(c) and filing a properly executed Power of Attorney, thereby appointing the designated patent practitioner.
Accordingly, administrative burdens on the USPTO, on Assignees, and on Assignee representatives can generally be reduced by filing post-AIA applications listing the Assignee as the Applicant, should the Assignee be known at the time of filing.
Authors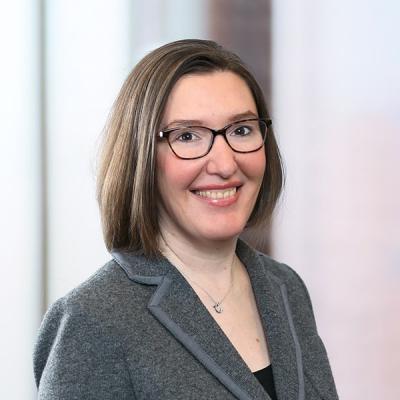 Christina Sperry is a Mintz patent attorney who drafts and prosecutes patents for clients in the electrical, mechanical, and electro-mechanical fields. She represents companies and academic institutions in the medical technology field and helps protect patent innovations for medical and surgical devices. Colleen Witherell