Will Peyton Manning Have a Storybook Ending or Will SuperCam Prevail? Tuah the Orangutan picks the Panthers while the Unemployment Statistics side with the Broncos….and Some Other Super Bowl Tidbits for Employers.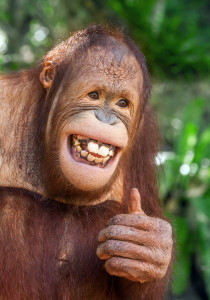 We are back with our annual Super Bowl prediction post.  As noted in prior years, people are increasingly making their predictions based on two indicators: unemployment rates and the whims of Utah zoo animals.  They each have pretty good track records.  An orangutan predicted seven straight Super Bowls correctly and the city with the lower unemployment rate has won 21 of the last 27 Super Bowls.
Last year, the lovable Elijah the orangutan passed away and the prediction torch was passed to Vulcan the Lion, a fellow resident at Utah's Hogle Zoo.  Vulcan kept the animal streak alive by correctly picking the Patriots, who squeaked by the Seahawks with an improbable game-saving play.  But Foxborough's unemployment rate was slightly higher than Seattle's rate, which meant one in the loss column for unemployment statistics.
This year, Vulcan handed the reigns back to the primates as Elijah's 15-month old son Tuah made the pick.  In just about the cutest way possible, he went with the Carolina Panthers.  But, like last year, the unemployment statistics went the other way - pointing to the Denver Broncos - Denver has a 3.1% unemployment rate as compared to the 4.9% rate in Charlotte.
So who ya got?  I'm with Tuah (sorry Peyton).  (And if this doesn't do it for you, here are some other great ways to predict the Super Bowl, including based on chicken wing consumption.)
Finally, as we do each year, here are some Super Bowl-related reminders for employers:
Nearly 16.5 million (or 1 in 10) employees will not show up to work on the Monday after the Super Bowl and 7.5 million will be late, costing you millions of dollars in lost productivity. Therefore, you may want to consider providing an appropriate warning to your employees today about your attendance expectations come Monday morning.
Sports gambling is illegal under Federal law and in most states. However, it remains unclear whether Federal law and many of these state laws apply their bans to Super Bowl box pools.  The most conservative approach therefore, is to ban box pools in the workplace.  The second most conservative approach is to allow your workers to participate in a box pool for free, with the winner collecting a prize.  However, we recognize that this is not realistic, and thus, we note that if you permit your employees to participate in an office Super Bowl box pool that:

all of the money in the pool goes to the winner(s) or a charitable organization (i.e. the "house" does not receive any of the proceeds);
there is a maximum amount an employee can wager (like a $20 entry fee or $5 per box);
the pool is limited to a certain number of people with pre-existing relationships (co-workers only);
the box pool is limited by office so that it won't "cross state lines" into other offices; and
employees understand they may be disciplined if they require or pressure another employee to participate.