CPSC Sends Another Shot Across the Bow of Retailers with $3.8 Million Civil Penalty Against Best Buy for the Sale of Recalled Products
On Tuesday, the U.S. Consumer Product Safety Commission (CPSC) announced that Best Buy Co., Inc. entered into a settlement agreement with the CPSC to pay a $3.8 million civil penalty to resolve allegations that it "knowingly sold, offered for sale, and distributed in commerce recalled consumer products."  This civil penalty is significant because the alleged violation of the Consumer Product Safety Act (CPSA) had nothing to do with timely reporting under Section 15(b)—the usual suspect in civil penalty cases.  Rather, the allegation against Best Buy is that it violated CPSA Section 19, which prohibits the sale, distribution, or importation of any product that has been recalled.
This penalty is just the second such penalty in recent years (see Meijer 2014 civil penalty).  In a tweet commenting on the penalty and noting the reason for it, CPSC spokesman Scott Wolfson said "[The] challenge is great enough to get recalled products out of homes.  We need retailers to keep them out of their stores."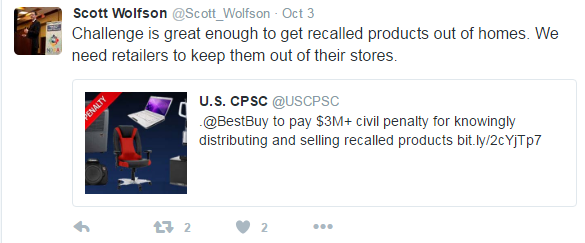 The CPSC alleged here that Best Buy knowingly sold and distributed sixteen different recalled products between 2010 and 2015, including washing machines and dryers, ovens, televisions, surge protectors, computers and other electronics.  Notably, according to the CPSC's allegations, sales of recalled products continued even after Best Buy had told the Commission that measures were put in place to catch such products and reduce the risk of sales of recalled products.
Importantly, the CPSC imposed the penalty and highlighted in its press release that internal logistics issues caused the sale of the recalled products. Specifically, the CPSC alleged "Best Buy, in some cases, failed to permanently block product codes due to inaccurate information that signaled that the recalled product was not in inventory.  At other times, the blocked codes were reactivated prematurely, and in a few cases, overridden."
In a complicated and massive supply chain, these issues are not unheard of.  However, where such issues lead to the sale of recalled products, the CPSC is clearly not accepting them as excuses or defenses, and will not hesitate imposing a hefty civil penalty.
In response to the civil penalty announcement, Best Buy stated the following: "We regret that any products within the scope of a recall were not removed entirely from our shelves and online channels.  While the number of items accidentally sold was small, even one was too many.  We have taken steps—in cooperation with the CPSC—to help prevent these issues from reoccurring."
Along with paying the $3.8 million civil penalty, Best Buy has agreed to maintain a product safety compliance program with the common program elements we have seen in recent timeliness penalties to ensure that the Company complies with product safety standards and regulations enforced by the Commission.  Not surprisingly, the compliance program also contains elements related to the "appropriate disposition of recalled goods," and management and oversight of that program.
As we frequently advise, companies in the consumer products arena should remain mindful of and attentive to their obligations under the Consumer Product Safety Act—not just Section 15(b) reporting (as that, deservedly, receives a lot of attention)—but also to the CPSA's many other requirements and prohibitions, including the prohibition on the resale of recalled products.
This civil penalty is a good reminder that companies, large or small, must have robust procedures in place to identify and set aside recalled products whether on the shelves, in inventory, or otherwise, and to control all supply channels to prevent this from happening.