"Extra Sweet Pink Flesh Pineapple" - Oh My!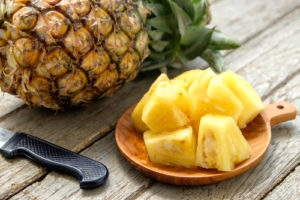 First off, I will admit that I am somewhat of a sucker for fresh pineapple (in fact, it was my "gorging" food of choice during my pregnancies, when I could literally eat a whole pineapple in one sitting - which is embarrassing but, in my opinion, better than cravings for weird combinations like ice cream and pickles!).  So the recent news that FDA cleared a new genetically engineered variety of pineapple for sale in the U.S. certainly caught my eye.
The Agency announced on December 14th that it had evaluated a variety of pineapple genetically engineered by Del Monte Fresh Produce (DMFP) to have pink fruit.  According to this announcement, "DMFP's new pineapple has been genetically engineered to produce lower levels of the enzymes already in conventional pineapple that convert the pink pigment lycopene to the yellow pigment beta carotene."  So the nutritional profile of the pineapple and other plant characteristics, when compared to the non-engineered version, were not affected by the underlying genetic change.  
We've previously blogged about the Agency's policy that a new plant variety has to exhibit a material change before its label is required to disclose the nature of that change. In this case, after consulting with the Agency, DMPF will be identifying this new food as "extra sweet pink flesh pineapple" in order to distinguish it from conventional "extra sweet" pineapples, because only the color of the pineapple flesh is different.
The FDA consultation was voluntary for DMFP, but companies typically opt to participate in the voluntary process because it gives them the opportunity to engage with FDA scientists regarding the potential for unexpected or unintended effects that could accompany the genetic change, and to ensure that there are no unresolved safety or regulatory issues under the Federal Food, Drug, and Cosmetic Act (FFDCA) before they introduce a new food into the marketplace. The voluntary consultation process also provides assurances to the developer of a new plant variety that the Agency agrees with the Statement of Identity for the new food and any other label claims that are proposed for use by the developer. All of this premarket review and regulatory buy-in minimizes the possibility that a new product will be deemed misbranded or adulterated under the FFDCA after it is commercialized.  In recent years, legislation has been introduced in Congress aimed at making the FDA biotechnology consultation process mandatory for industry, rather than voluntary as it has been since 1992.
FDA's announcement notes that DMFP is planning to grow the pink pineapples in Costa Rica - so this blogger has her fingers crossed that the regulatory process for planting the crop there moves quickly and we can start buying the new variety in the U.S. soon.  Yum!
Author
Joanne counsels global clients on the regulatory and distribution-related implications when bringing a new FDA-regulated product to market and how to ensure continued compliance after a product is commercialized.