GAO Report: Medicare Reimbursement Policies Impede Telehealth Adoption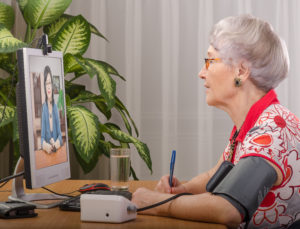 Although telehealth has the potential to improve or maintain quality of care for Medicare beneficiaries, payment and coverage restrictions create barriers that prevent providers from fully utilizing telehealth technologies. That is the core finding of a report issued by the Government Accountability Office (GAO) this month on telehealth and remote patient monitoring use for Medicare beneficiaries.
The GAO report was issued as part of the Medicare Access and CHIP Reauthorization Act of 2015 (MACRA), which included a provision for the GAO to study telehealth and remote patient monitoring. In compiling the report, the GAO interviewed representatives of nine provider, patient, and payor associations who provided feedback on, among other things, barriers to providing telehealth services to Medicare beneficiaries.
Currently, Medicare reimburses for certain telehealth services, including consultations, office visits, and office psychiatry services, that are furnished through a telecommunications system with audio and video capabilities permitting two-way, real-time interactive communication between the patient and provider. However, Medicare also requires that the patient by physically present at an approved "originating site" (e.g., a physician's office, hospital, rural health clinic, or skilled nursing facility) during the telehealth encounter. Approved originating sites are limited to those medical facilities located in rural health professional shortage areas, counties not included in a metropolitan statistical area, and sites participating in a federal telehealth demonstration project.
According to the GAO report, the originating site requirements are generally considered the most significant obstacle to the broader use of telehealth for Medicare beneficiaries. Similarly, infrastructure requirements were called out as a "very significant or somewhat significant" barrier to the use of telehealth in Medicare. For example, officials from one provider association and both patient associations interviewed by the GAO described access to sufficiently reliable broadband Internet service as a barrier to telehealth use.
The GAO noted in its report that the Centers for Medicare & Medicaid Services (CMS) has various efforts underway that have the potential to address these barriers and expand the use of telehealth in Medicare.
CMS Models and Demonstrations – The Affordable Care Act created the Innovation Center within CMS to test innovative payment and service delivery models. To that end, the Innovation Center has the authority to waive Medicare telehealth requirements, including the geographic location requirement or types of permitted sites at which beneficiaries can receive telehealth services.
Merit-Based Incentive Payment System – Under the new Merit-Based Incentive Payment System, which will be implemented this year, clinicians can use telehealth to help meet the payment program's performance criteria. For example, clinicians could use telehealth to coordinate care and reach patients in remote locations. According to CMS, clinicians using telehealth for these purposes do not have to bill Medicare for the service in order to receive credit under this payment system, and these services can count for credit under the improvement activities performance category regardless of whether they meet the statutory telehealth reimbursement requirements. However, it is important to understand that if clinicians want to bill Medicare for these services, the service must meet the current reimbursement requirements.
Congress has also taken action to decrease Medicare telehealth reimbursement barriers. In the 21st Century Cures Act, Congress called for expanding the use of telehealth in Medicare through increasing the types of sites where telehealth can occur. Additionally, earlier this month, a bipartisan group of senators reintroduced a bill seeking to improve health outcomes for Medicare beneficiaries living with chronic diseases by, among other provisions, expanding access to telehealth services. The Creating High-Quality Results and Outcomes Necessary to Improve Chronic (CHRONIC) Care Act of 2017 contains major telehealth provisions targeted at patients with chronic conditions, including expanding the ability of home dialysis beneficiaries to receive required monthly clinical assessments using telemedicine.
The GAO report highlights the fact that Medicare telehealth payment and coverage policies lag behind other payors due to the Medicare program's statutory and regulatory restrictions. For example, as we reported last month, state legislatures and medical boards have taken steps to reduce telemedicine barriers by enacting more detailed telemedicine standards. Additionally, as reported by the American Telemedicine Association, states continue to enact telehealth parity laws, which further reduce barriers to wide scale adoption of telehealth. By contrast, according to the GAO report, because of the significant coverage and payment barriers under the current Medicare laws, less than 1% of Medicare beneficiaries received care through telehealth between 2014 and 2016.
Although CMS has taken steps to address telehealth barriers in Medicare, it is too early to tell whether these efforts will facilitate large scale adoption of telehealth for Medicare beneficiaries. The bipartisan bill introduced earlier this month is promising in that, unlike previous federal legislation that punted on telehealth by calling for additional studies, this bill would aim to actually expand telehealth access for Medicare beneficiaries with chronic diseases. However, it remains to be seen whether Congress can pass any meaningful legislation in the current political climate.
Author Carrie Roll