Read about our current class of Project Analysts. E-mail them or check out their LinkedIn profiles to learn more about the program or to ask questions about recruiting.
Boston
Alana Agron
e-mail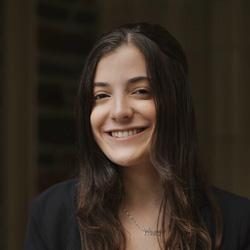 Alana Agron graduated cum laude from Duke University in 2022 with a B.A. in Public Policy and Psychology. Alana earned honors with highest distinction for her Senior thesis, which addressed potential methods for reducing racial disproportionality in North Carolina, the phenomenon whereby racial minorities are overrepresented in Special Education classes and underrepresented in programs for the intellectually and academically gifted. Her thesis was awarded the Winifred Quinton Holton Prize for Innovative Work in the Field of Education. As an undergraduate, Alana was actively involved with research at the Duke Center for Child and Family Policy, working on projects tackling the health impacts of monthly unconditional cash gifts on child development, the effects of COVID-19 on wageworkers and their families, and the effects of a community-wide nurse home visiting program for parents of newborns. She spent her junior year writing policy briefs on behalf of the center, proposing policy solutions in response to the Center's research projects.
In the Summer of 2021, Alana worked on a grassroots Senate campaign in Florida, researching and writing policy briefs on topics such as gun violence, immigration, and healthcare policy. In the Fall of 2020, Alana served as a congressional intern for Congresswoman Debbie Mucarsel-Powell (FL-26). On campus, Alana was actively involved in Duke's chapter of Kesem, a national organization supporting children through a parent's cancer journey. She also served as the Social Programing Officer for the Duke Jewish Student Union.
---
Camille Herring
e-mail

Camille Herring graduated early from Davidson College with a B.A. in History and cum laude honors in 2020. While at Davidson, Camille served as a Defense Advisor for the College Honor Council and was actively involved on campus as Chancellor for the Student Government Association (SGA) and Executive Chair for SGA's Election Council. As a Bonner Scholar, Camille also dedicated her summers to research and volunteering which included time with the New Arrivals Institute assisting recently arrived refugees to the United States. Camille spent the summer and fall of 2019 abroad, studying History and Political Science at Emmanuel College and the University of Amsterdam.
Camille enjoyed various summer work and educational experiences and was committed to increasing social welfare in her community. She conducted research and generated clean housing titles for the Smithville Community Coalition, an organization fighting for fair housing in the Black community. Additionally, she was involved in community organizing and extensively researched the ways law and policy affected minority communities. In 2020, she continued to research how law and policy affect minority communities as a Congressional Black Caucus Foundation intern and a research intern for Women of Color Advancing Peace and Security. In her final year at Davidson, Camille worked as a research intern for the city of Charlotte under Congresswoman Alma Adams (NC-12).
---
Giselle Mota
e-mail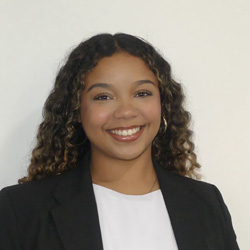 Giselle Mota graduated Cum Laude from Wellesley College with a B.A. in Sociology and American Studies with a concentration in Racial and Legal Justice. She took a particular interest in the intersection of race and punishment ideologies, exploring how their relations have defined our current criminal justice system.
In the summer after her first year of college, Giselle interned at the Los Angeles District Attorney's office under the Grand Jury Advisor, cementing her interest in law. She would go on to intern at the Harvard Law School Tax Clinic and the Legal Aid Society of Los Angeles.
Giselle served as the 2021-2022 Wellesley College Government President, where she worked to increase engagement, advocacy, and transparency amongst students, faculty, and administration. She was a 2021 Hispanic Scholarship Fund Recipient and Wellesley College Presidential Scholar. During her time at Wellesley, Giselle was heavily involved in Ethos, an organization for Students of African Descent, and Tau Zeta Epsilon, a society of the music and arts. Giselle is also a member of Alpha Kappa Alpha Sorority, Inc., the first intercollegiate Historically Black International Women's Service Organization. Through her love of baking, she founded Sweets to the Streets, a baking initiative to raise funds and awareness for groups in need.
---
Kayla Nakeeb
e-mail

Kayla Nakeeb graduated magna cum laude from Wellesley College in 2021 with a B.A. in English Literature and Art History.  Her senior independent research, "Politics of Dignity: Entrenched Narratives of U.S. Anti-Hunger Safety Net Programs," tracked the relationship between the depiction of federal supplemental nutrition programs in popular media and policy restrictions against communities of color. Her research resulted from a three-year internship at the Legal Services Center of Harvard Law School, where she assisted low-income clients to appeal Social Security Disability and Massachusetts DTA case denials. 
Kayla was previously a U.S. Department of State Critical Language Scholar in Brazil, a Madeleine Korbel Albright Institute for Global Affairs Fellow, and a National Youth Delegate to America's Promise Alliance. She has assisted with research at Wellesley's Global Portuguese Program and Harvard Law School's Center for Health Policy and Innovation, tutored English across Peru and Central Europe, and volunteers as a street-outreach, resource advocate for unsheltered homeless individuals in Boston. At the outset of the COVID-19 pandemic, she founded a multi-state partnership to connect college students with homebound seniors in order to provide basic needs deliveries. 
---
Emily Ndiokho
e-mail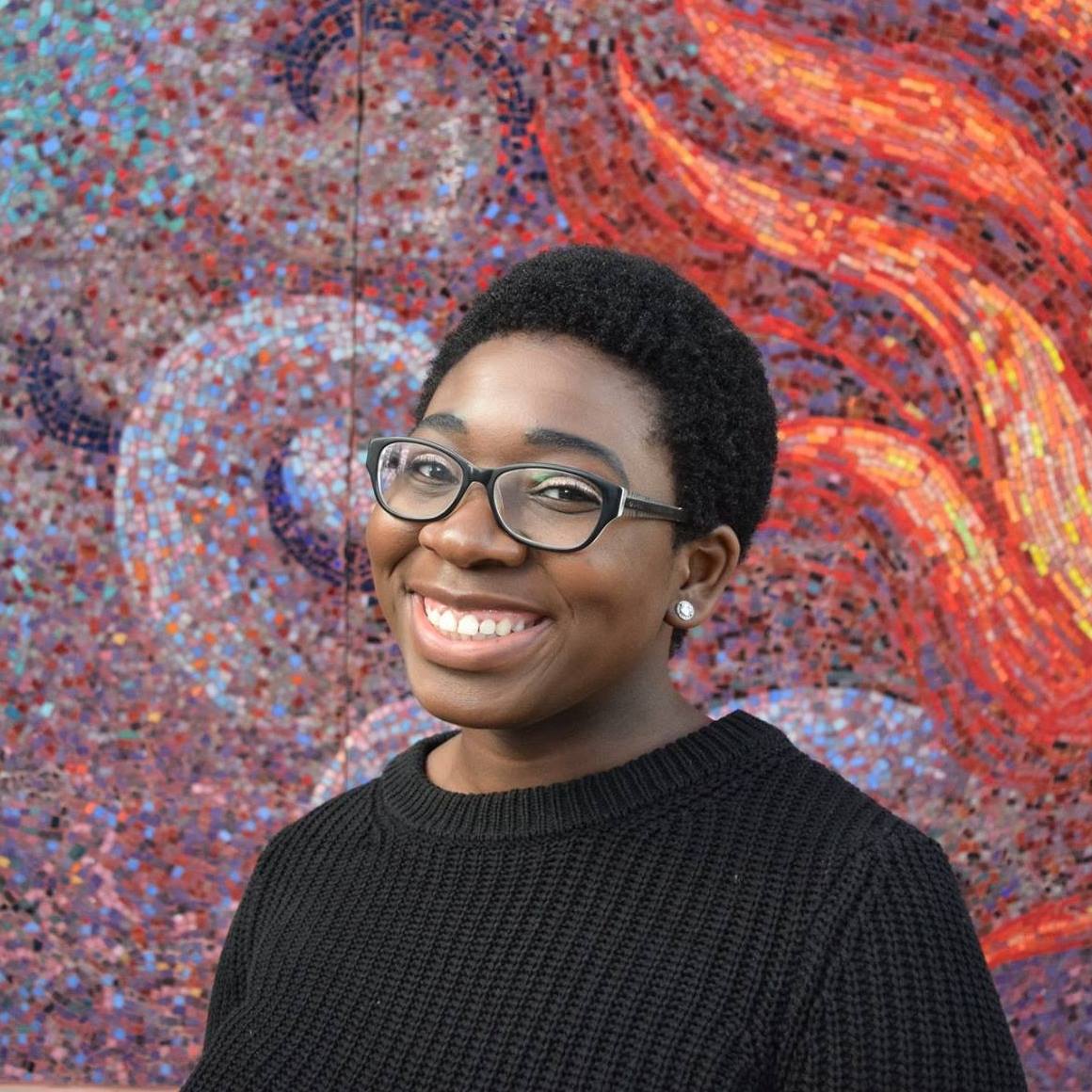 Emily Ndiokho graduated from Barnard College, Columbia University in 2022 with a B.A in Sociology and Educational Studies. In her studies, Emily focused on the intersections of race and socioeconomic status, and their impacts on educational access. Emily's studies led her to write a senior thesis, "(Not Many) New Kids on the Block: The Impact of Gentrification on Local Public Schools and the Urban Teacher Experience", earning her honors. Her thesis examined how New York City public schools are impacted by the gentrification of their surrounding neighborhood.
During her time in college, Emily served as President of Barnard's Student Government Association, as the Executive Producer of the Black Theatre Ensemble, as a tour guide for Barnard's Admissions Office, and as a mentor for high schoolers at the Double Discovery Center. Outside of campus, Emily explored her interest in law through attending the 2019 Harvard Public Policy and Leadership Conference (PPLC) and through her internship in the pro bono department at the New York Legal Assistance Group, where she helped connect low-income New Yorkers with attorneys at New York City law firms.
In her downtime, Emily enjoys watching (or working on!) plays and musicals, reading graphic novels, and searching for the best boba milk tea.
---
Joe Ort
e-mail

Joe Ort graduated summa cum laude from Princeton University in 2021 with a BA in History and certificates in Spanish Language & Culture and Values & Public Life. Joe's senior thesis grappled with the intersections of historical amnesia and local agency in the dramatized violence of the so-called "Royal Gorge War" (1878-79), a prolonged conflict between two railroad companies in southern Colorado. Outside of the classroom, Joe competed with and served as president of Princeton Mock Trial, tour guided for the Princeton University Art Museum, and volunteer tutored underprivileged elementary and high school students in the Trenton area. 
In his summers, Joe studied abroad in Toledo, Spain, canvassed for evidence as an investigator for the Bronx Defenders, and conducted research for the Department of Justice's Human Rights & Special Prosecutions Section. In his free time, Joe enjoys playing guitar and extremely patchy tennis, biking, and backpacking. 
---
Riya Rana
e-mail

Riya Rana graduated with honors and Phi Beta Kappa from Johns Hopkins University with a B.A. in Economics, International Studies, and Sociology. She pursued courses and research projects in core specialties including asylum law, human rights frameworks, and socioeconomic development in BRIC nations and South Asia. Her interdisciplinary coursework culminated in a senior independent study and capstone paper on the relevant case law and political history of a de facto stateless community in Bangladesh. In addition to her studies, Riya served as member and chair for several organizations on campus, including Model United Nations, the Foreign Affairs Symposium, Alpha Phi Omega, and South Asian Students at Hopkins. She also helped launch the Johns Hopkins Undergraduate Law Review as well as the Economics Club to build communities for students interested in law and economics.
As an undergraduate, Riya spent two summers interning at Sharma-Crawford Attorneys at Law, an immigration litigation firm and nonprofit clinic, where she gained substantial experience in immigration law and conducted research for asylum and cancellation of removal cases. After graduating, Riya accepted roles in financial consulting and urban economics research, working as a mortgage banking analyst and publishing translational writing on policy applications of econometric research, including infrastructure investment, environmental conservation, and poverty reduction. While she's normally buried in a book (usually poetry), her other hobbies include yoga, journaling, sampling coffeeshops, and overwhelming her tiny kitchen with baked goods and new recipes.
---
Shaina Sikka
e-mail

Shaina Sikka graduated magna cum laude from Boston University with a B.A. in International Relations and Political Science. While at Boston University, Shaina was an active participant in community building initiatives. She served as President of the Pre-Law Society and as Vice President of a high school mentorship program. Her interest in the intersection between legal aid and community organization began during her internship at the Boston Court Service Center, where Shaina had the opportunity to work one-on-one with self-represented litigants and gained an in-depth knowledge of the court system. The following summer, she continued her interest in legal aid at the Harvard Legal Services Center. As a legal intern, she helped low-income clients resolve wrongful denials of Social Security disability benefits.
In 2019, Shaina's academic concentration in European International Systems and World Order inspired her to study abroad in London. She explored civil liberty violations and criminal defense law as an intern at UK Law Firm Tuckers Solicitors. After her abroad experience, she worked as a Resident Assistant for freshmen on a floor dedicated to environmental sustainability. Her senior year, Shaina participated in environmental research through her internship at a start-up focusing on high-density living climate policy.
---
Cassidy Wang
e-mail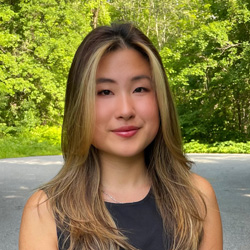 Cassidy Wang graduated from Northwestern University with a B.S. in Journalism, concentrating in Economics, and a double major in Legal Studies. In her senior year, Cassidy wrote a Legal Studies major thesis probing into how one enterprising public interest law firm, through both judicial and political advocacy, brandished the First Amendment as an expansive tool to challenge federal regulations.
At Northwestern, Cassidy worked on grant-funded research examining the empirical link between private equity acquisitions of distressed mortgages, under a Federal Housing Authority program, and housing outcomes for consumers. The research received the Fletcher Award for the best undergraduate research in the social sciences. As a research assistant at the American Bar Foundation, she worked on an Urban Institute-funded legal research project investigating landlords' compliance with COVID-19 eviction moratoria laws. A former aspiring journalist, Cassidy was selected to be a credentialed reporter on Capitol Hill through Northwestern's DC program, and covered congressional hearings, the impeachment trial, and federal housing policy. She also interned at The Capitol Forum, a legal analysis publication examining how policy affects market competition, where she conducted corporate investigations for the consumer protection and antitrust analysis teams.
---
Rachel Wang
e-mail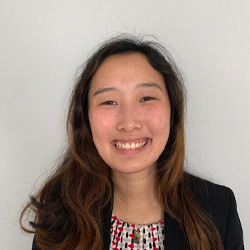 Rachel Wang graduated summa cum laude from Tufts University in 2022 with a B.A. in Psychology and Sociology. For her senior honors thesis - entitled "Publishing Hierarchies in Sociology" - she earned highest thesis honors and interrogated the disparities in who gets to produce 'mainstream' knowledge centered in the field's seminal journals. While at Tufts, Rachel was the Chapter Director of a mentorship organization called Strong Women Strong Girls, a Head Fellow of the Writing Fellows program, a community service pre-orientation leader, and an active member of various departmental DEI committees.
During her summers, Rachel returned home to Seattle to work for the Eastside Legal Assistance Program and the King County Bar Association's Housing Justice Program. She has also enjoyed working as a research assistant on various projects with the Stanford Legal Design lab to better understand how courts navigated the shift to online legal systems amidst the pandemic. In her free time, Rachel enjoys dancing, watching A24 films, and talking about mental health awareness with anyone who's up for listening.
---
New York
Tucker Kelsch
e-mail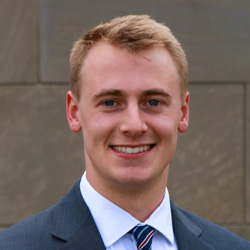 Tucker Kelsch graduated from Wesleyan University in 2022 with a B.A. in Government and Environmental Studies. His independent capstone project examined a trend in American environmental politics away from the legislative momentum of the "Environmental Decade'' toward a new era characterized by measured administrative problem-solving and judicial review. Tucker also contributed to American political science research with three faculty members over his four years.
While at Wesleyan, Tucker was a proud member of the varsity men's soccer team. He also spent his time on campus serving as an Academic Peer Advisor for the Dean's office, editing for the Wesleyan Business Review, and volunteering with special needs students in central Connecticut. His senior year, Tucker interned with the government affairs team of an international transportation infrastructure firm, and conducted mitigation work for the Virginia Indigent Defense Commission.
---
Robyn Stewart
e-mail

Robyn Stewart graduated from Columbia University in 2021 with a BA in Political Science and a concentration in History. Awarded the Richard Lewis Kohn Travelling Fellowship, she spent her junior year at the London School of Economics studying International History. While at Columbia, Robyn participated in clubs promoting inclusivity, serving as Vice President for the Women of Color Pre-Law Society, Publicity Chairperson for the Caribbean Students' Association, and as a mentor with the Columbia Mentoring Initiative for students from underrepresented backgrounds. She also researched Columbia University's historical connections to slavery through a research project with the Columbia Global Center in Rio de Janeiro.
Off campus, Robyn explored law and public service through professional experiences. She interned for Senator Cory Booker in the fall of 2018, and in 2019 she was selected as a Navab Fellow for her summer research internship at the U.S. Circuit Court of Appeals for the Third Circuit. She also has previously interned for the African American Policy Forum and American Documentary.
---
Washington D.C.
Raj Gambhir
e-mail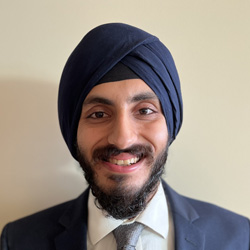 Raj Karan Gambhir graduated magna cum laude and Phi Beta Kappa from Harvard University, where he studied Social Studies and Computer Science with a citation in Mandarin Chinese. His research interests include technology policy and political philosophy.
Raj was previously a researcher at New America, the Brookings Institution, and the Harvard Kennedy School's Belfer Center. In addition to his professional and research experience, Raj has involved himself in Sikh and Asian American organizing and community advocacy. In his spare time, Raj enjoys reading, learning languages, and spending quality time with his friends and family.
---
Amy Martin
e-mail

Amy Martin graduated cum laude from The George Washington University in 2021 with a B.A. in International Affairs concentrating in Africa Studies. Throughout her undergraduate years Amy held several student government positions including a year serving as the Executive Vice President. Actively involved in campus life, Amy served in leadership roles of several other organizations and was a member of the all-female a cappella group the Gw Pitches. 
Outside of classes, Amy also pursued several professional and educational experiences. She spent her first two years of college working in her university's Media Relations department. In the spring of 2019 she began an internship in Senator Ron Wyden's office. That same spring she spent her break learning about refugee resettlement processes in Clarkston, GA. As her classes shifted online, Amy found herself getting involved with The Every Voice Coalition. Working with them first as a fellow and then as the State Director of their Virginia efforts, Amy was able to write and advocate for legislation aimed at creating additional supports for students and survivors at the university level. In her senior year, she was part of a team that established the GW Mutual Aid network and worked with her peers to distribute over $25,000 in direct aid to community members in need.