2014 IPO Statistics: IPO Boom?
IPO recovery? Last year was the most active year for IPOs in the United States since 2000. That's right: an astounding 275 IPOs were completed in 2014, topping the 2013 total of 222 by more than 23%.[1] Total U.S. IPO proceeds also shattered 2013's high-water mark of $55 billion (most since $96.9 billion in 2000) with a whopping $85 billion in proceeds. These proceeds, including the highest quarterly total (Q3: $37 billion) since the fourth quarter of 1999 ($46 billion), were boosted by the record-setting $22 billion IPO from Chinese e-commerce giant Alibaba in September 2014.[2]  The year 2000 (over 400 IPOs) was the last year of a 10-year boom in US IPOs that reached its peak in 1996 (over 700 IPOs).
After the "irrational exuberance" of the tech bubble of the late 1990s, the U.S. IPO market has been slow to regain momentum. It took four years to cross the mark for 200 IPOs in a year, after which the market was roughly flat for another three years. This slow growth was dealt a major blow, however, by the 2008 financial crisis: only 31 IPOs were completed in 2008, and it wasn't until 2013 that we crossed the mark for 200 IPOs in a year again, with a total of 222 IPOs.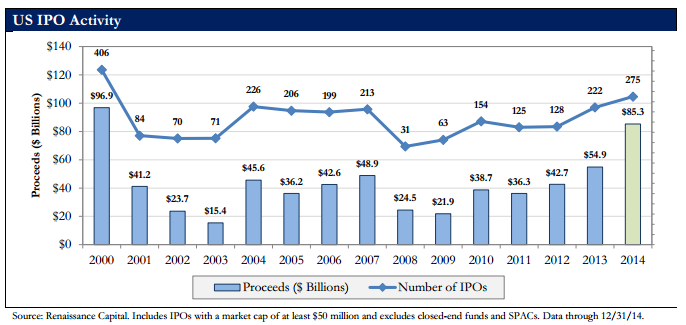 2014 U.S. IPO Statistics:
275 IPOs, $85.2b raised. 275 IPOs represents a 23% increase over 2013 totals.
Highest sector total: 102 healthcare IPOs, boosted by the continued biotech boom. Biotech issuance nearly doubled from 37 in 2013 to 71 in 2014, good for 25% of total deal volume.
Average IPO performance: 21% (above 10-year mean, but below 41% in 2013).
Alibaba and 10 other companies posted

>

$1b deals, a post-2000 record.
Energy IPOs beat their previous record with over $12b in proceeds raised. This includes traditional oil and gas companies.
With 7 IPOs in excess of a billion dollars, the financial industry increased IPO proceeds by 82% over 2013. The number of offerings fell by 20% to 36, however.
Valuation pressures were higher in 2014 than in 2013: on average, IPOs priced 7% below the midpoint, with 40% coming to market below the proposed range (second highest level in the past decade).
The current backlog of publicly filed potential IPOs sits at around 125 companies.  I expect that we will see more than 200 IPOs in 2015 – but we will see if the market shows continued growth and tops last year's total.

---
[1] Please note that there will be some variance in the statistics for IPOs generally. This is because most data sets exclude extremely small initial public offerings and uniquely structured offerings that don't match up with the more commonly understood public offering for operating companies. The IPO data in this post is based on information from http://bear.warrington.ufl.edu/ritter/IPOs2012Statistics.pdf and Renaissance Capital- manager of IPO-focused ETFs-  www.renaissancecapital.com.
Author
Member / Co-chair, Energy & Sustainability Practice
Sahir Surmeli is a Mintz business counselor who advises companies, boards, entrepreneurs, investment banks, and venture and private equity investors as they build and grow companies. He handles public offerings, 144A and private financings, acquisitions, joint ventures, and strategic partnerships.