2015 Employment Law Issues Tournament: The Bracket Revealed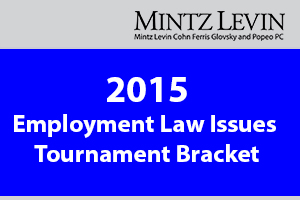 Folks, this is the postest with the mostest; the entry of the century.  That's right ladies and gentlemen, employers of all industries, it's time for a little fun; it's time for the 2015 Employment Law Issues Tournament, brought to you by your friends over at Mintz Levin's Employment, Labor and Benefits practice.  We couldn't think of a better way to help kick off the March Madness season than by creating an employment law issues bracket and picking the winners over the next few weeks.
Before we move on, however, a little business:  we want to remind employers to pay careful attention to the workplace issues associated with March Madness.  We wrote a wonderful post on these issues last year entitled Does March Madness = Workplace Madness? Some Thoughts on the Legality of NCAA Bracket Pools, the Tournament's Effect on the Workplace, and of course, a Rendition of One Shining Moment.  We encourage you to revisit that post as you prepare for this year's tournament.  The basketball references are a bit dated (obviously), but the analysis still holds water.
Okay, now on to the bracket, which you can access here.  As you will see, it contains 64 employment law issues seeded Numbers 1 through 16 across four (appropriately-named) regions.  Some of the higher-seeded issues will be quite familiar to you (Independent Contractor Misclassification, Hostile Work Environment, Non-Competition Covenants), while some of the lower-seeded ones may not be (OWBPA Waivers, Associational Discrimination, Ban the Box).  And some bubble issues just fell short of making it in (The Faragher-Ellerth Affirmative Defense, the Computer Employee Exemption, Undue Hardship).
As the rounds in the real NCAA tournament progress, we will release the winners in our rounds (or, as we call them, litigation stages).  Therefore, check back for additional postings, which will have the updated bracket along with a discussion of some of the most highly-anticipated matchups.  I mean do you really want to miss out on who we think will win a matchup between the perennial powerhouse Joint Employers (No. 5) versus the up-and-comer BYOD Policies (No. 12)?  No, you don't.  And is there an upset brewing between Paid Sick Leave (No. 7) and WARN Liability (No. 10)?  You will have to tune in to find out.
So what will determine the winner of each matchup and ultimately allow us to crown an employment law issue champion?  To answer that question, we considered what makes an employment law issue "important."  While all issues are important in their own way and some more than others to certain employers, we settled on the following criteria for purposes of this tournament:  (1) the extent to which parties are litigating over this issue; (2) the extent to which it is cutting edge; (3) its potential impact on an employer's business; and (4) its headline-grabbing potential.  With limited exceptions, we did not include Labor or Benefits issues (and that means no ACA).
While we don't expect you to agree with all of our seedings and picks, we don't really care, because this is fake.  What we do expect is that you'll have as much fun reading and discussing the matchups and making your picks as we had putting this all together, and that you'll learn something along the way.
Check back on Monday for our next post in which we will reveal our first round winners.
Best,
The Mintz Levin Employment Law Issues Tournament Selection Committee
PS: important reminder: this is all just for fun, and you are not eligible to win a billion dollars if you pick the perfect bracket.