Corporate Divorce Series: The Courtship of Employment Negotiation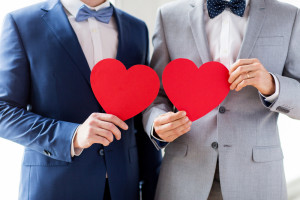 Yes I realize that had my Corporate Divorce series progressed in a linear way, I would have started with The Courtship instead of The Break Up, but employment law metaphors are sometimes unpredictable.  In my defense, I note that if you end up in divorce, you must have started with marriage, so there is a certain logic to this after all.
Marriage typically (though not always) starts with courtship, which is the "wooing of one person by another" and the "period during which such wooing takes place."  It occurred to me that the marriage metaphor is particularly apt for the very unique "wooing" that takes place during the employment recruiting process.  And, like the courtship process, there is, during this time, some significant insecurities regarding how a love interest (or a prospective employer) might actually feel about you.  An employer's feelings toward a recruit are often, though not always, expressed through financial and other tangible benefits.
How do you test that theory without turning off your suitor?  The answer is to use your courtship period to your financial benefit without spoiling the mood. It can be done but it must be done with care.
Know the Market
Don't ask for a higher salary (or other benefits) just for bragging rights. Ask for a higher salary because you can back up your ask with data points (not anecdotes) to support it. Empty requests will not prove your worth to your prospective employer but a considered – indeed calculated request – confirms your thoughtful approach and good judgment.  So if $X is the median wage for your job, but you believe your qualities (more relevant experience, unique educational background, or other differentiating qualities) justify a higher salary, then you might ask for $X+Y. Keep in mind however that the employer may have already factored your experience into the job offer so be prepared to advocate for your position.
Tell Them How Much You Love Them
You can ask for more from your metaphorical partner without turning the partner off: one way is to couple a request for more with a communication that clearly expresses your delight at the job offer, your excitement about your collective future, and your intent to prove your worth down the road.  It is remarkable how many people fail to communicate these thoughts effectively and simply disguise the "ask" in a "but I want more money" type of request. And if you can't honestly make those statements, do you really want to work for that particular employer?
Consider the Options
Often applicants overlook the concept of the "total compensation package" which includes not only salary and bonus and other cash compensation, but benefits and other perks that could be very valuable depending on what is important to the applicant. One person's tuition reimbursement or relocation benefits may be another's equity incentives or bonus guarantee. The point is that like finding true love, one size does not fit all, and when negotiating an employment package, sometimes it makes sense to give back on some items to get others. In other words, don't be linear in your approach because it is possible you can trade an item from column B for an item from column A and still improve upon your job offer.
You Need to Think About the Long Term Proposition
Sadly, the sometimes casual approach to marriage in the twenty-first century is reflected in the approach to long-term employment. It seems these days that jobs are viewed as stepping stones to highly individualized personal goals as opposed to building a future together.  You need to give these long-term concepts due consideration during the courtship and really think about whether you and the employer are a good match. Because once the courtship is over, and you've walked down the metaphorical aisle by signing on the dotted line, you (and your employer) have made a (hopefully) mutually beneficial commitment to one another.
-------------------------
You can read previous installments here:
- Corporate Divorce: Is Unemployment Like Alimony?
- Corporate Divorce: Relationship Advice for the Broken-Hearted Employee
- Corporate Divorce: Treat Your Employment Contract Like a Prenup
- Corporate Divorce: Property (Re)Distribution
- Corporate Divorce: No Fault Employment?
Author
Jennifer B. Rubin is a Mintz Member who advises clients on employment issues like wage and hour compliance. Her clients range from start-ups to Fortune 50 companies and business executives in the technology, financial services, publishing, professional services, and health care industries.