Register Now for Mintz's Fourth Annual Employment Law Summit (April 19, 2018)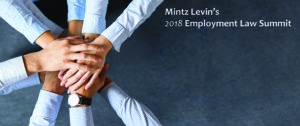 On April 19, 2018, Mintz will be hosting its Fourth Annual Employment Law Summit at the Princeton Club in New York City. This half-day seminar will feature as its keynote speaker Kevin Berry, the District Director of the EEOC's New York District Office. District Director Berry will discuss the main objectives of the EEOC's recently-released Strategic Enforcement Plan, as well as sexual harassment in the workplace and best practices for responding to charges of discrimination. The seminar will also offer various segments on the most important workplace issues of the day, including sexual harassment in the wake of #metoo, family leave and caregiver accommodations, implications of the new federal tax law, wage and hour issues, and more. It's a program you will not want to miss, so register now!
This event is intended for C-Level Executives, HR Executives, Compliance Officers, In-house Counsel, and HR Directors and Staff.
For more information and to register, click here.