Report Details Uneven Implementation of the New Drug Tracing Law
Last month, the Department of Health and Human Services' Office of Inspector General (OIG) released its latest report on compliance with the Drug Supply Chain Security Act (DSCSA). As we discussed in a prior post, the DSCSA requires enhanced security and accountability for prescription drugs throughout the U.S. pharmaceutical supply chain, with phased-in obligations for the various trading partners over 10 years, beginning with the law's passage in November 2013. Covered trading partners include manufacturers, repackagers, wholesale distributors, and dispensers.
The OIG's most recent study focuses on dispensers of various sizes and types, including independent retail pharmacies, chain retail pharmacies, and small and large hospital pharmacies. Of the 40 dispensers interviewed, the agency found that all them had received at least some drug product tracing information from their trading partners, and 26 of these dispensers received all required elements of this information. The remaining 14 dispensers were missing a few of the required elements. Two of the dispensers were unaware of the DSCSA. The following table summarizes the missing information: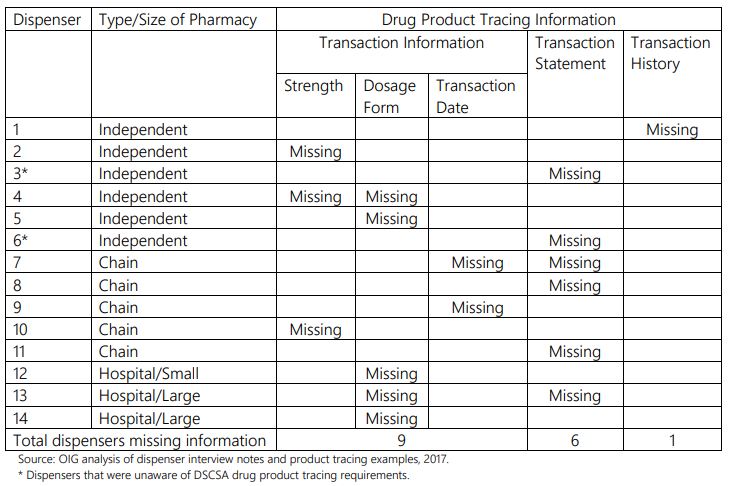 The OIG also found that dispensers received drug product tracing information in a variety of transmission modes and formats. The agency believes this is a result of dispensers and their trading partners using different systems rather than adopting a standardized way to exchange this information. Neither the DSCSA nor FDA guidance requires a uniform transmission mode or format for the exchange of drug product tracing information.
To facilitate dispensers' compliance with the DSCSA, the OIG recommends that FDA offer educational outreach to dispensers where appropriate. Specifically, the agency recommends that FDA provide education to ensure that dispensers understand their responsibilities to receive complete drug product tracing information from trading partners before taking ownership of drug products.
For its part, FDA concurred with the OIG's recommendation and intends to review its dispenser communications plan and identify and create opportunities to work with dispenser-centric trade and professional organizations to provide additional education and outreach. FDA also noted in its response that, as the last trading partner in the supply chain before a drug product is dispensed to a patient, dispensers play a vital role in ensuring patient safety, making it essential that they understand their product tracing responsibilities under DSCSA.
We will continue to monitor and report on the industry's implementation of the DSCSA, including the OIG's planned study of the extent to which drug product tracing information can be used to trace drugs through the entire supply chain.