CPSC Sues Britax over Stroller Wheel Detachments
On Friday, February 16, the U.S. Consumer Product Safety Commission ("CPSC") announced that it had voted 3-1 (along party lines) to authorize CPSC staff to file an administrative complaint against Britax Child Safety, Inc., ("Britax") a global manufacturer of car seats, strollers, and other juvenile products. In its Complaint, CPSC alleges certain models of Britax's B.O.B. jogging strollers contain a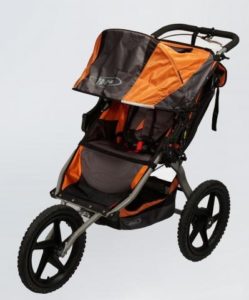 design defect which results in stroller wheel detachments.  The Complaint seeks an order finding that the strollers present a substantial product hazard and directing Britax take action to recall the products, among other things.
One aspect of this case that's especially noteworthy is that it was opposed by Republican Acting Chairman Ann Marie Buerkle, who is President Trump's nominee for permanent Chairman. The three Commissioners who voted affirmatively are all Democratic Commissioners who, as a supermajority, still have control over many areas of the agency over one year into the Trump administration.
As we have written about previously, the Democratic Commissioners will continue to hold a majority until the confirmation of Republican Commissioner nominee Dana Baiocco. Of course, it is difficult to say how the composition of the Commission could have shaped the outcome of this vote, considering that the Zen Magnets litigation was only possible because a Republican Commissioner voted in favor of authorizing that Complaint while the Commission was composed of two Republicans and two Democrats in 2012.
According to the Complaint, the strollers, which sold at retail for $400 to $650, contained a "dropout fork assembly that enable consumers to quickly detach and remove" the front wheel – what is most commonly-known as a "quick release" mechanism. The Commission alleges that the strollers are defective because consumers can operate the stroller without correctly utilizing the quick release mechanism to securely attach the front wheel. The Complaint also alleged that consumers cannot discern whether the quick release is appropriately engaged by visually inspecting it. The CPSC goes on to state that the front wheel can suddenly detach during use if the quick release mechanism is not correctly secured to the front wheel. The agency's position is that this presents a substantial product hazard to both adults and children because, if the front wheel detaches, the front fork can dig into the ground and suddenly stop and overturn the stroller.
Consumers have reported multiple serious injuries to children including a concussion, head and face injuries requiring stitches, as well as injuries to adults including torn ligaments, broken bones, and contusions. From December 2011 through September 2015, Britax sold approximately 493,000 units.  Since January 2012, there have been 200 reports of front wheel detachments, resulting in at least 50 injuries to children and 47 injuries to adults.
Britax is no stranger to dealings with the CPSC. They initiated a recall of strollers in 2017 and infant car seats in 2016. The fact that Britax conducted two recalls for other products very recently suggests that the company feels strongly about their position that there is no defect associated with these strollers.
BOB Gear by Britax issued a press release, defending their position by stating, in part:
There is no defect in these products. They are safe when used as instructed. The quick release, which is used to secure the removable front wheel to the frame, is a widely-used feature. It has a history stretching back decades – first in bicycles and then in strollers. While we respect the CPSC and its mission, we cannot agree to recall a product that is not defective.
Unless it is settled, this lawsuit could drag out for years. The Zen Magnets administrative litigation is currently on appeal in federal court and has been ongoing for well over five years now. It took almost four years to even obtain a ruling by the administrative law judge in that case. Given this recent precedent concerning timing, the CPSC's lawsuit against Britax could eventually be pending before a Republican or a Democratic controlled commission depending on the time it takes for the administrative law judge to make a ruling, whether that ruling is appealed, and the makeup of the Commission at that time.