Powers of a District Court to Grant Interim Relief After Compelling Arbitration of All Claims Before It
Last month, we described the split among Federal Circuit Courts regarding the question of whether the Federal Arbitration Act ("FAA"), 9 U.S.C. § 3, mandates a stay rather than dismissal of a judicial proceeding after a district court compels arbitration of all of the claims in an action before it. (LINK) But what is the practical significance of the district court's retaining jurisdiction?  Among other things, it may thus be able to grant interim relief in order to preserve the status quo pending arbitration.
However (no surprise) the Circuit Courts are not unanimous in their holdings in this regard either. The majority of the U.S. Courts of Appeal have held that district courts may grant injunctive relief to preserve the status quo pending arbitration in the absence an express contractual provision permitting it.  But the Eighth Circuit has held that granting an injunction under such circumstances is contrary to the spirit of the FAA, see Merrill Lynch, Pierce, Fenner & Smith, Inc. v. Hovey, 726 F.2d 1286, 1291 (8th Cir. 1984), and three other circuits have yet to weigh in on the issue (but acknowledge the jurisprudential divide), see, e.g., RGI, Inc. v. Tucker & Assocs., 858 F.2d 227, 229-30 (5th Cir. 1998) ("The crux of the problem is whether the commands of the [FAA] require that a federal court immediately divest itself of any power to act to maintain the status quo once it decides that the case before it is arbitrable.").
Moreover, the Supreme Court declined to resolve the Circuit court split before it deepened, and has not had occasion to revisit the issue since. See Merrill Lynch, Pierce, Fenner & Smith, Inc. v. McCollum, 469 U.S. 1187 (1985) (denying certiorari).
The Majority Rule
The First, Second, Third, Fourth, Sixth, Seventh, Ninth, and Tenth Circuits each have held that a district court can and may afford injunctive relief pending arbitration. In Blumenthal v. Merrill Lynch, Pierce, Fenner & Smith, 910 F.2d 1049, 1053 (2d Cir. 1990), the Second Circuit explained that arbitration could become a "'hollow formality' if parties are able to alter irreversibly the status quo before the arbitrators are able to render a decision in the dispute."  The First Circuit in Teradyne, Inc. v. Mostek Corp., 797 F.2d 43, 51 (1st Cir. 1986), reasoned that because it preserves the live controversy and its stakes for the arbitrators, injunctive relief "reinforces rather than detracts from the policy of the [FAA]." Accord, Ortho Pharm. Corp. v. Amgen, Inc., 882 F.2d 806, 813-14 (3d Cir. 1989) (district court has jurisdiction to provide injunctive relief pending arbitration, provided movant satisfies traditional four-pronged test); Merrill Lynch, Pierce, Fenner & Smith, Inc. v. Bradley, 756 F.2d 1048, 1050-55 (4th Cir. 1985); Performance Unlimited Inc. v. Questar Publishers, Inc., 52 F.3d 1373, 1377-80 (6th Cir. 1995) ("a district court has subject matter jurisdiction under § 3 of the [FAA] to grant preliminary injunctive relief"); Sauer-Getriebe, KG v. White Hydraulics, Inc., 715 F.2d 348, 351-52 (7th Cir. 1983); Toyo Tire Holdings of Ams., Inc. v. Cont'l Tire N. Am., Inc., 609 F.3d 975, 981-82 (9th Cir. 2010); Merrill Lynch, Pierce, Fenner & Smith, Inc. v. Dutton, 844 F.2d 726, 726-28 (10th Cir. 1988).
The Minority View
The Eighth Circuit is the only federal appellate court to have decided the issue differently. In Merrill Lynch, Pierce, Fenner & Smith, Inc. v. Hovey, 726 F.2d 1286 at 1291, it reversed the district court's order of a preliminary injunction pending arbitration.  Unlike the First Circuit in Teradyne, the Eighth Circuit concluded that granting injunctive relief under the same circumstances "abrogates the intent of the Federal Arbitration Act and consequently was an abuse of discretion." Id. The Hovey court reasoned that "the judicial inquiry requisite to determine the propriety of injunctive relief necessarily would inject the court into the merits of issues more appropriately left to the arbitrator." Id. at 1292 (citing Buffalo Forge Co. v. United Steelworkers of Am., AFL-CIO, 428 U.S. 397, 412 (1976) (emphasis added)).  The court held that "where the [FAA] is applicable and no qualifying contractual language [permitting injunctive relief] has been alleged, the district court errs in granting injunctive relief." Id.
The Eighth Circuit later revisited its Hovey decision in Peabody Coalsales Co. v. Tampa Electric Company, 36 F.3d 46, 47 (8th Cir. 1994) (emphasis added), because the Hovey court did not decide "whether injunctive relief could be granted if the contract contains 'qualifying language'."  In Peabody Coalsales, the Eighth Circuit held that, pursuant FAA § 4, a district court may only grant a preliminary injunction pending the arbitration when the contract at issue "require[s] continued performance as part of the dispute resolution process."  36 F.3d at 48 (citing Volt Info. Sciences, Inc. v. Leland Stanford Jr. Univ., 489 U.S. 474-75 (1989) (holding that FAA § 4 confers only the right to obtain an order directing that 'arbitration proceed in the manner provided for in [the parties' agreement]") (emphasis in original)).
The Undecideds
The Fifth Circuit has expressly declined to reach the issue. See RGI, supra, 858 F.2d at 230 (affirming grant of preliminary injunction where contract at issue provided for maintenance of the status quo pending arbitration); Janvey v. Alguire, 647 F.3d 585, 595 (5th Cir. 2011) (affirming grant of preliminary injunction where district court had not yet decided whether the claims in question were arbitrable).  However, most district courts within the Fifth Circuit follow the majority position. See Amegy Bank N.A. v. Monarch Flight II, LLC, 870 F. Supp. 2d 441, 452 (S.D. Tex. 2012) (citing Speedee Oil Change Sys., Inc. v. State Street Capital, Inc., 727 F. Supp. 289, 292 (E.D. La. 1989)).
Finally, neither the Eleventh Circuit nor the D.C. Circuit have had occasion to address the issue. See, e.g., Amtrak v. Expresstrak, 233 F. Supp.2d 39, 51 (D.D.C. 2002).
The Consequences for Litigants
Arguing that the Supreme Court should have granted certiorari in McCollum, Justice White noted that "[w]hether the Arbitration Act bars the issuance of a preliminary injunction pending arbitration appears to be a frequently litigated question of considerable importance to the parties to arbitration agreements." McCollum, 469 U.S. at 1131 (White, J., dissenting).  Confusion or uncertainty in the district courts on this question is particularly troubling because their decisions to grant or deny interlocutory relief "are often effectively final, given that the imminence of arbitration may sharply limit a party's incentives to appeal an adverse decision." Id. at 1130.  Absent immediate entry of an injunction to maintain the status quo pending arbitration, most subsequent requests for injunctive relief are effectively moot.
For now, it seems prudent that a party who foresees a need to maintain the status quo pending the resolution of disputes in arbitration should include language in its arbitration clause providing, for example, that the relevant commercial contract shall continue in full force and effect until a decision is rendered in the arbitration. See, e.g., RGI, 858 F.2d at 230 (affirming grant of injunctive relief where contract contained qualifying language); Peabody Coalsales, 36 F.3d at 47-48 (reversing district court's order denying motion for an order requiring continuing performance where contract provided that "performance of [the parties'] respective obligations under this Agreement shall be continued in full by the parties during the dispute resolution process….").
Author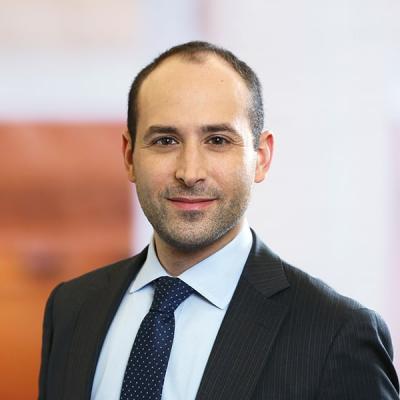 Todd Rosenbaum is a Mintz litigator whose practice encompasses general commercial litigation, securities litigation, white collar criminal defense, government enforcement matters, and internal investigations. Todd represents clients at trial and appellate courts as well as arbitration.