2015 Employment Law Issues Tournament: Elite Eight Results and Recaps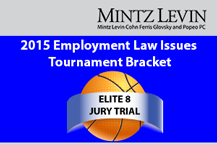 We're still at it over here.  We can't stop.  We have tons of clever basketball-employment law-related puns left in our arsenal and we expect to deploy them.  This is what our readers want and this is what we'll give our readers until the bitter end.  Up next: The Eight Elite.  The surviving eight employment law issues duked it out over the past weekend for the opportunity to move on to the Final Four.  These games were incredible and resulted in two huge upsets.  We even scored an unheard of 71.8 Nielsen rating among the employment lawyer and HR professionals demographic, which was odd because the networks weren't broadcasting the games.
Also odd: our reader comments.  First up we had Emily, Vice President and Employment Counsel at Gruber, an up and coming ride-sharing service that only employs(?)/engages(?) drivers that have an uncanny resemblance to Die Hard's infamous villain, Hans Gruber.  Emily e-mailed us wondering if scientists had already named the planet we must have been on to think that No. 2 Retaliation Claims was capable of defeating the heavily-favored and No. 1 ranked Overtime.  Then we heard from Blake, a Human Capital Manager at Superfluous.com, a legal coaching firm that focuses on helping attorneys with Chronic Verbosity Syndrome or CVS (which we hear will make an appearance in DSM-VI).  In just a 23 word e-mail, she questioned how the Wage & Hour Collective Actions could possibly win while the Wage & Hour Class Actions lost, and then she signed off: "You'll be hearing from my lawyer."  Yikes.  We must say, we've really enjoyed all of your feedback throughout the tournament.  Please keep it coming.
More coverage on the Elite Eight below.
Guess what?  We checked, and 4 out of 5 dentists still recommend that before moving onto the Elite Eight recap that you read Does March Madness = Workplace Madness? Some Thoughts on the Legality of NCAA Bracket Pools, the Tournament's Effect on the Workplace, and of course, a Rendition of One Shining Moment.  Doing so will help you avoid cavities and better manage workplace issues related to the NCAA tournament.
ELITE EIGHT RESULTS
Here are the results from the Elite Eight, with the winners in BOLD.  You can find the updated bracket here.
Wage and Hour Region: Social Media Policies (3) v. Accrued But Unused PTO (13) (recap below)
Discrimination Region: Overtime Pay (1) v. Retaliation Claims (2) (recap below)
Restrictive Covenant Region: Wage & Hour Collective Actions (1) v. FMLA Leave (2)
Leave Management Region: Wage & Hour Class Actions (2) v. Non-Competition Covenants (4)
ELITE EIGHT RECAPS
These were the featured matchups from the Elite Eight.
Wage and Hour Region: Social Media Policies (3) v. Accrued But Unused PTO (13)
By Michael Arnold and Brent Douglas
The Matchup:
Coming off a shocking win over Team Hostile Work Environment, the Social Media Policies Sabercats are clearly trending as they head into the Elite Eight.  The Social Media Policies have quickly become a fan favorite with their razzle-dazzle style of play.  Who can forget their victory over the BYODs earlier this year when their shooting forward updated his Facebook status while calmly nailing a three.  Or when their center dunked while taking a selfie in a blowout win against the Electronic Use Policies?  This team is at its best when it distracts the opposing players making them less productive on and off the floor.  They are masters at this.  How many times have we seen them trick the opposing team into sharing its confidential playbook over the internet before the game?  Or tempting the opposing team's best player to talk trash them over instant messenger, which always leads to a disqualification? It's tactics like these that have gotten them this far and they expect it will carry them into the Final Four.
What can we say about the Accrued but Unused PTOs?  They squeezed through the tournament virtually unnoticed and by unnoticed we mean that they've inexplicably made it this far as a No. 13 seed without a single comment from us.  How is that possible?  We don't know, but we will remedy that wrong today with the following analysis: It sounds so innocuous – paid time off.  It's like all the benefits of working but without having to do anything.  Employees love it, and some employers give it out like candy to lure talent.  After all, no one really takes the four weeks of vacation they are given each year (said the lawyer…), so what's the big deal?  Well, just wait until you terminate the severely-underperforming IT person only to discover that he hasn't recorded a single PTO day in three years.  He has an enormous balance of accrued-but-unused PTO and you are all, "WAIT, WHAT?  I OWE THIS GUY $14,000 TO LEAVE??!?!"  Or wait until you think you are being super-generous/cool/progressive by instituting an unlimited PTO policy, only you later find out that you structured it the wrong way and it violates local law.  Employers who don't address and enforce consistent PTO policies from the beginning of employment are like coaches who don't properly scout and otherwise underestimate their opponents – they may find themselves losing otherwise winnable games against far weaker opponents.  Employee handbooks should clearly define policies, including accrual rates (with caps where appropriate), forfeitures for non-use, carryover, payouts upon termination, etc. and employers must work with management and HR to ensure all vacation is recorded and deducted from accrued PTO.
The Result
Accrued But Unused PTO's Cinderella run comes to an end.  Yes, national employers must navigate an expanding patchwork of conflicting laws that will likely affect their PTO policies.  Some states codify paid PTO as wages and mandate its payment upon termination.  Some states require PTO accrual to be a line item on paystubs.  Some states allow employers to create a use-it-or-lose it policy each year, but others (like California) only allow employers to cap accrual at no less than 1.75 times the amount of paid vacation the employee accrues annually.  And some states require you to square your PTO policy with their new paid sick leave laws that have their own accrual requirements.  And the pièce de résistance: If employers fail to abide by these rules and issue an incorrect paycheck or fail to pay wages owed upon termination, they may face waiting time penalties, liquidated damages, and attorney's fees.  A good-hearted promise to a salesperson of a week's vacation can balloon into a $30,000 demand letter quicker than your NCAA bracket probably fell apart after the first day.  So certainly don't sleep on this up-and-coming issue, but sadly, this was not their year.  And why was that?  Because the Social Media Policies came ready to play.  They used the ABUPs as clickbait.  They friended each of the ABUP's players just before the game, which sapped the ABUP's competitive spirit.  And then there was the SMP's projected first round pick point guard, who is widely known as the player who has the best handle with the best handle, who just dominated the ABUP's from one end of the floor/computer to the other.  You should have seen him (conversation) thread the needle and (blog) post up the other team's guards all game long.  This game ended up being no contest.  Only two questions remain now: the first is whether the Social Media Policies will have enough left in the tank to take down Retaliation Claims in the Final Four.  And the second is whether you have an effective social media policy in place as your employees continue to use social media in the workplace with increasing frequency.  If you are answering the first question in the negative, it really doesn't matter, but if you are answering the second question in the negative, you are long past due to call your trusted legal advisor.
Discrimination Region: Overtime Pay (1) v. Retaliation Claims (2)
By George Patterson and Michael Arnold
The Matchup:
Coming off a hard-fought win requiring six overtimes against Pregnancy Accommodation in the sweet sixteen, team Overtime now seeks to avoid an upset from challenger Retaliation in this Elite Employment Issue matchup.  While Overtime had a stellar record these season, it still experienced its share of disappointments as it watched several of its employer opponents hoist up game-winning shots just before the 40-hour game clock expired.  One of its worse losses of the season came when ConAgra Foods exposed Overtime's primary vulnerability in Eastern District of Arkansas Arena: eligibility.  There, a judge granted summary judgment in a collective action because ConAgra properly classified the plaintiff-employees as exempt from overtime.  Overtime has lost so many players due to eligibility issues this season, but luckily it continues to have an unpredictable knack for turning up where employers and opponents least expect it in order to pull out a win.  Because of this, Team Overtime finished the season on an incredible winning streak and the story has been no different in the tournament thus far.  And because of this, most commentators believe that Team Overtime holds the advantage against Retaliation Claims in the Elite Eight.
Meanwhile, Team Retaliation Claims is no slouch.  They've had a remarkable season.  Every time an employer thought they were about to win, the Retaliation Claims reared its ugly head and stole it away.  Team Adverse Employment Action shoots 63% from the field against the RCs; nope, still not good enough – still lost the Retaliation Claim.  Team Protected Activity commits just 3 turnovers; nope, can't escape that pesky Retaliation Claim.  And why can't teams seem to get over the hump?  A stifling West Virginia-like full court press is the reason – Retaliation Claims seem to be everywhere on the court at once – from discrimination and harassment complaints, to disability accommodation requests, to wage and hour complaints, to leave requests, etc., and in federal and state courts, the EEOC and state human rights divisions and Departments of Labor around the country.  They stand ready to make it to their first Final Four.
The Result
There's nothing better than two rivals squaring off in a regional final.  And this 1-2 matchup delivered.  With the Overtime cheerleaders chanting O! O! O! Overtime!, the Overtimes raced out to a commanding 37.5 point lead.  After halftime the story was no different until with just a few minutes to play the Retaliations did what they do best – snatch victory from the jaws of defeat.  The last few minutes were filled with dishing and swishing, posting and toasting, shaking and baking, and spinning, and most importantly, winning.  The Overtimes thought they had it, but as has become the story for many employers these days, the RC's counterattack just proved too much to handle forcing the OTs to settle (for bad shots).  In the end, no matter how much hard work the Overtime's players put in, no matter how many claims they filed against employers, they knew it still wasn't enough, and Retaliation Claims will be headed to the Final Four where it will square off against The Social Media Policies.  But don't be fooled: Overtime continues to be one of the top issues of our time.  As long as employers continue to misclassify their employees, fail to track hours worked, and/or fail to calculate overtime pay properly, employees will continue to flood the dockets with these claims.
------------------
Stay tuned for the Final Four coming later this week.  Earlier coverage of Round 1, Round 2, and the Sweet Sixteen of our 2015 Employment Law Issues Tournament can be accessed here.