Privacy Monday - May 11, 2015
On this Privacy Monday, we have some upcoming events that you might want to add to your calendar.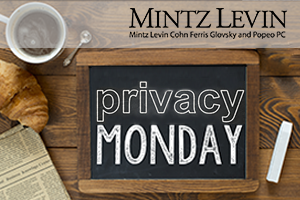 Wednesday, May 13 - Mintz Employment Law Summit (Boston)
A discussion of hot topics facing employers, including Privacy in the Workplace.  Free event, breakfast and lunch included.   Register here.
Wednesday, May 13 - National Security, Privacy, and Renewing the USA PATRIOT Act, Hudson Institute, NY
Live streaming starts at noon. #PATRIOTAct.  More information here.
Wednesday, May 13 - Ninth Annual Law & Information Society Symposium - Fordham Law School
Trends in the global processing of data, developments in new technologies, privacy enforcement actions and government surveillance put international privacy at the center of the global law and policy agenda. Government regulators, policymakers, legal experts, and industry players need to find solutions to cross-border conflicts and to the issues presented by innovative technologies. This conference seeks to create a robust, but informal dialog that will explore possible solutions to current questions arising from the international legal framework, infrastructure architecture and commercial practices.
Thursday, May 14 - IAPP KnowledgeNet (Boston area)
Learn about data privacy issues posed by wearables, wellness tracking apps, company wellness programs and other technologies and services here in the U.S. and abroad.   Register here.
Monday, May 18 - 36th IEEE Symposium on Security & Privacy - Fairmont Hotel (San Jose)
Since 1980, the IEEE Symposium on Security and Privacy has been the premier forum for presenting developments in computer security and electronic privacy, and for bringing together researchers and practitioners in the field. The 2015 Symposium will mark the 36th annual meeting of this flagship conference.  More information here.
Wednesday, May 27 - Mintz Privacy Wednesday Webinar - The Long Reach of COPPA
The fifth in our Wednesday Webinar series will focus on a discussion of COPPA, the long-awaited amendment and issues.   We'll also discuss the latest Federal Trade Commission settlements and how to avoid being the next target.   Register here.
Author
Member / Chair, Privacy & Cybersecurity Practice
Cynthia J. Larose is Chair of the firm's Privacy & Cybersecurity Practice, a Certified Information Privacy Professional-US (CIPP-US), and a Certified Information Privacy Professional-Europe (CIPP-E). She works with clients in various industries to develop comprehensive information security programs on the front end, and provides timely counsel when it becomes necessary to respond to a data breach.