U.S. IPO Market: Can We Bounce Back From Two Slow Years?
The U.S. IPO market began 2017 with a solid start, with 25 IPOs raising nearly $10 billion in the first quarter and another 31 IPOs in the second quarter through May 15. We have a number of U.S. and non-U.S. clients moving ahead on U.S. IPO plans in 2017. Will the IPO market in the United States experience a renaissance? While IPOs in the U.S. fell off the map after a slowdown in 2015, the market looks to be bouncing back.
The 25 IPOs in Q1 2017 differs drastically from 2016's first quarter, which had just 8 IPOs raising $0.7 billion. First quarter IPO activity in 2017 also reflected broad sector diversification, with energy, technology, and healthcare deals topping the lists. Tech raised the greatest amount of money thanks to the long-awaited Snap IPO of $3.4 billion, the largest IPO of a U.S. tech company since Facebook. Yet, the energy sector had the highest number of IPOs, with five companies going public last quarter—more than the total number of energy IPOs in all of 2016. [1]
Chart A: U.S. IPO Activity (2017 data through May 15, 2017)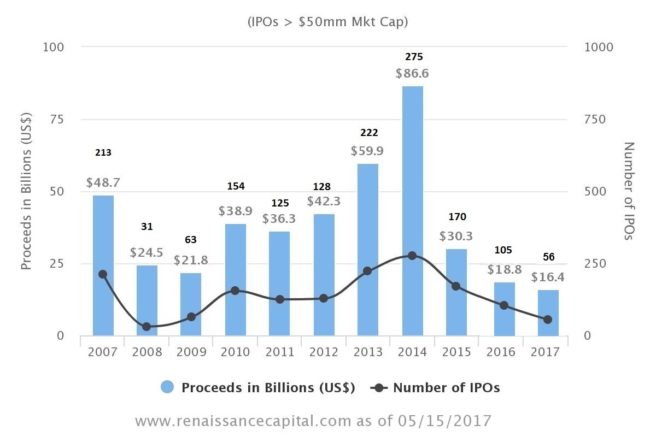 These signs of life come after a drop off in IPOs in 2015 and 2016, a steep fall after the IPO boom of 2014. The U.S. IPO market has been slow to regain strength after the tech boom of the late 1990s, facing a particularly major blow after the 2008 financial crisis. With only 31 IPOs completed in 2008, the market had its lowest number of IPOs in over the last 20 years. 2014 marked the most active year for IPOs in the U.S. since 2000, with 275 IPOs and $86.6 billion raised. Market instability in the second half of 2015 and early 2016 hurt the U.S. IPO market, but I believe that the solid start to 2017 indicates a possible renaissance of companies going public. If the momentum carries into the following quarters, I believe we could see a steady revival of the IPO market from 2017 into the next few years. Still, there are a number of bigger companies that have continued to raise private capital and hold off on an IPO, including Airbnb, Lyft, and Houzz. Airbnb is leading the pack with $1 billion raised in its latest round of funding, while Lyft just closed a $600 million round.  [2]
Chart B: Key US IPO Statistics

IPO Statistics for the First Quarter of 2017:
25 U.S. IPOs and $9.9 billion raised. This compares to 8 IPOs and $0.7 billion raised in the first quarter of 2016.
Average IPO performance in 1Q 2017: 11% gain.
Snap raised $3.4 billion in the largest US IPO since Alibaba in 2014, and the largest IPO of a US tech company since Facebook in 2012.
The quarter's second-largest IPO, Blackstone's $1.5 billion offering of home rental REIT Initiation Homes, was also a larger deal than any IPO in 2016.
Nearly half of all the IPOs in the first quarter were backed by private equity, beating venture capital for the first time since 2013.
The median deal size for the first quarter was $190 million, the largest it has been in years and double the full-year 2016 median.
Energy led the quarter in terms of deal count, with 5 IPOs. The Keane Group had the largest deal, raising $584.7 million.
Through May 15, 2017, there have been 56 U.S. IPOs, a 154.5% increase from the same date last year.
Global IPO issuance totaled $24.2 billion in the first quarter of 2017, with 70 deals closed. Asia Pacific led the market with 41% share of all proceeds raised, while North America took a close second with 39% share of proceeds.
[1] Please note that there will be some variance in the statistics for IPOs generally. This is because most data sets exclude extremely small initial public offerings and uniquely structured offerings that don't match up with the more commonly understood public offering for operating companies. The IPO data in this post is based on information from Renaissance Capital- manager of IPO-focused ETFs- www.renaissancecapital.com.   
[2] Listed in company profiles at http://pitchbook.com.
Authors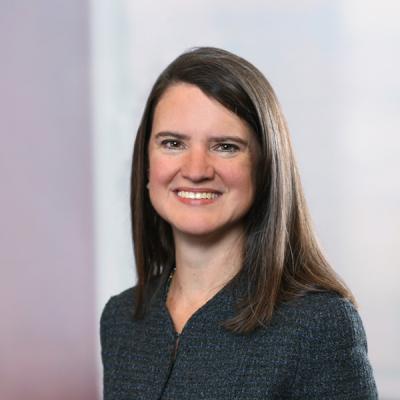 Megan Gates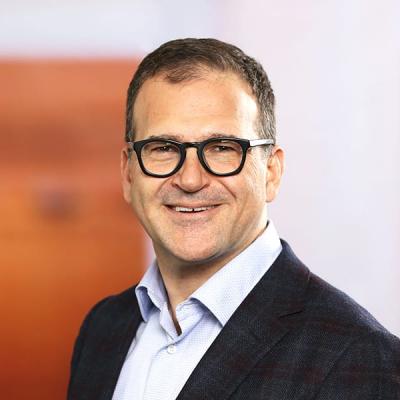 Member / Co-chair, Energy & Sustainability Practice
Sahir Surmeli is a Mintz business counselor who advises companies, boards, entrepreneurs, investment banks, and venture and private equity investors as they build and grow companies. He handles public offerings, 144A and private financings, acquisitions, joint ventures, and strategic partnerships.