2015 Employment Law Issues Tournament: Final Four Results and Recap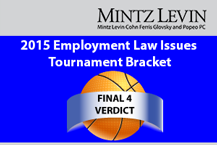 "There's a tradition in tournament play – not to talk about the next step until you've climbed the one in front of you.  I'm sure writing a tournament championship blog entry is beyond your wildest dreams, so let's just keep it right there."  That's a direct, completely unaltered quote from Norman Dale, Esq. in Barristers, a movie about a small town law firm that unexpectedly wins the biggest case of the year.  Alternatively, that's a slightly-altered quote from Coach Norman Dale in Hoosiers, a movie about a small-town high school basketball team that defies the odds to win the 1952 Indiana State High School Basketball Championship.  And although we're super excited that the finish line is near, we are going to heed Counselor Dale's advice and focus squarely on this Final Four post.
The Final Four was spectacular – Social Media Policies battling it out against the Retaliation Claims; Non-Competition Agreements taking on Wage & Hour Collective Actions – each is an important employment law issue in its own right, but only one can call itself the most important of 2015.  These games were everything we hoped they would be and more.  Our readers, of course, vehemently disagreed.  Here now, as we inch closer to the proverbial cutting down of the nets, are two relevant reader comments.
Melvin, an Employee Relations Associate at CrossKnit, the premier high-intensity multi-stitching technique workout club in the US, wrote in to say: "What a sham.  Social Media Policies ran the weave flawlessly and threaded the needle consistently throughout the game and still lost?!?  Impossible.  I'm never reading this blog again."  And then there was Allan, a Training and Development Manager at The Walking Thread, a local company offering walking tours of the city's finest yarn stores.  Allan emailed us to simply say: "Unsubscribe."  No single word hurts a blogger more than that.  Please reconsider Allan.  Please.
Okay, onto the Final Four games.
FINAL FOUR RESULTS
Here are the results from the Final Four, with the winners in BOLD.  You can find the updated bracket here.
Retaliation Claims (2) v. Social Media Policies (3)
Wage & Hour Collective Actions (1) v. Non-Competition Covenants (4) (recap below)
FINAL FOUR RECAP
This was the featured matchup from the Final Four.
Wage & Hour Collective Actions (1) v. Non-Competition Covenants (4)
By Michael Arnold and Jennifer Rubin
The Matchup:
The Wage & Hour Collective Actions have been dominating the court(room) for years now.  Where discrimination lawsuits once reigned supreme, wage and hour collective actions are quickly taking over.  They are the Kentucky Wildcats of the employment law world.  John Calipari, Kentucky's coach, openly embraces the NBA's minimum age requirement by forming a team (over)loaded with the nation's top one-and-doners.  They act as a finishing school for NBA prospects and in return those players send Kentucky deep into the tournament each year.  This year, those players are poised to bring Kentucky another championship and become the first undefeated team since Bobby Knight's 1976 Hoosier squad.  Similarly, plaintiffs' attorneys have openly embraced the ambiguities in the FLSA and its interpreting regulations, which the policymakers have yet to update to account for the modern workplace and its realities.  Incentivized by the FLSA's generous fee shifting provision, plaintiffs' attorneys can represent dozens and sometimes hundreds of plaintiffs to recover millions of dollars on their behalf even for the most technical and inadvertent of wage and hour violations.  But just like Kentucky showed at various points this year, they can be beaten.  (Does anyone remember the pre-season game against the Dominican Republic national team?!)  Sticking with the Barrister's theme from earlier, as Norman Dale, Esq. also noted: "If you put your effort and concentration into auditing your wage and hour practices; to having the best timekeeping practices in place, I don't care what lawsuit is filed, at the end of the day, in my book, there will be no class certification."  Let's see if the Non-Competes will take Mr. Dale's words to heart.
Oh those Non-Competes.  Coming off a narrowly-tailored win over the Wellness Programs, Team Non-Competition Covenants comes into the Final Four more than ready for the Wage and Hour Collective Actions.  After all, Team NCA's starting five: Legitimate Business Interest Larry, Gary Geographical Restriction, Temporal Limitation Tim, Gregory Garden Leave, and Ricky Reasonableness are just what is needed to enforce their will on the court.  They have been playing together for years and have a tried and true formula: just get out on the floor and play that Syracuse-like famed zone defense.  What could possibly go wrong?  And for this game in particular, they expect to "borrow" a play from the Social Media Policies' playbook.  That's right, they expect to give freshman phenom Lou LinkedIn serious minutes!  LinkedIn, who shunned the Social Media Policies last year for the Non-Competes in a recruiting war that rivaled Western University's signing of Butch McRae, was pivotal in helping disrupt Wellness Programs' standard motion (to dismiss) offense in the Sweet Sixteen.  But he has his flaws too as some courts have been slow to recognize where LinkedIn and other social media profiles fit into the restrictive covenant equation.  Is this call desperate or the right play at the right time?  We shall see.  But we know this much: even if Lou LinkedIn is drawing contact(s) and getting to the free throw (on)line, if the rest of the team plays/drafts sloppy basketball/language – like they did in a recent game against the Severability Seahawks – then their championship hopes will be dashed.  Late in that game, they ran a play where they tried to assign a non-compete agreement in connection with an asset purchase agreement, but since the agreement lacked the appropriate language authorizing the assignment in that context, the refs called an offensive foul.  If they are going to beat the Wage & Hour Collective Actions they can't run into problems like these and will need to be at their most enforceable.
The Result
This one was Will.I.Am's cousin: What.A.Game!  The Non-Competition Covenants raced to the court(house) first to build an early lead by filing a TRO/PI seeking immediate relief to prevent the Wage & Hour Collective Actions from inserting two players into the game that recently transferred from the Non-Competes to the Collective Actions.  But the refs refused to blow the whistle because merely trying to retain talent without more is not a legitimate business interest sufficient to stop a player from joining another team.  Then the Wage & Hour Collective Actions went on the offensive by successfully filing a motion to authorize a collective action notice.  After that, they never looked back as the NCA's second-half attempt to decertify the Wage & Hour Collective Actions fell short.  While Non-Competition Covenants continues to be a hot-button issue that employers must address deftly to maintain their competitive edge, Wage & Hour Collective Actions continue to fill up the statsheets/dockets with no signs of slowing down (see: almost 8,000 cases filed last year alone).
------------------------------
So there you have it: the No. 1 ranked undefeated Wage and Hour Collective Actions will square off against the surging No. 2 Retaliation Claims in the Championship for the right to call itself the most important employment law issue of 2015.  We'll cover that matchup and wrap up the tournament next week.
For earlier coverage of Round 1, Round 2, the Sweet Sixteen and the Elite Eight of our 2015 Employment Law Issues Tournament, click here.
Oh, yeah, and before we forget, please read Does March Madness = Workplace Madness? Some Thoughts on the Legality of NCAA Bracket Pools, the Tournament's Effect on the Workplace, and of course, a Rendition of One Shining Moment.  It will help you address workplace issues while the NCAA tournament wraps up and office pools are completed.