Patent Quality Chat: How Is A USPTO Examiner's Work Product Reviewed?
In patent prosecution, the feedback loop between interested parties including patent prosecutors, inventors, and in-house counsel helps to provide the best patent applications and office action responses for a high quality issued patent. However, this work product represents only half of the overall patent prosecution effort, since the patent prosecutor works with a patent examiner sitting on the other side at the U.S. Patent and Trademark Office (USPTO). Given that, have you ever wondered how a patent examiner's work product is reviewed to help improve patent quality? In its most recent Patent Quality Chat on November 14, 2017, a panel of USPTO quality experts provided insight on this topic in a presentation entitled "How is an Examiner's Work Product Reviewed?", highlights of which are provided in this article. The USPTO has provided the presentation slides and webinar video at their website.
Like the other monthly chats, this November chat featured a 20-minute presentation by two USPTO Supervisors, followed by a 40-minute Q and A session, with questions provided by external stakeholders. The chat provided an overview of two formal processes where a patent examiner's work product (non-final rejection, final rejection, allowance) is reviewed. First, within the patent examiner's Technology Center (TC) and second, within the Office of Patent Quality Assurance (OPQA).
Providing the Technology Center perspective, Supervisor Christyann Pulliam noted that each examiner has a performance appraisal plan (PAP) which sets forth standards for performance. These standards are based on the examiner's government scale (GS) level or pay grade and increase with grade. Examples of PAP quality elements include analyzing disclosure and claims for compliance with 35 USC 112 (GS 5 through 15), properly rejecting all rejectable claims in a final rejection (GS 14 and 15), and properly allowing all claims in an allowance (GS 14 and 15). All actions of junior examiners must be signed either by a supervisor or by an authorized primary examiner. Thus, yet another level of review is built into the process. The TC also has several post-mailing reviews, including quarterly PAP rating reviews, appeal and pre-appeal conferences, and various other quality initiatives.
Providing the OPQA perspective, Supervisor Sandie Spyrou described the OPQA random compliance review process. The sample set of actions that are reviewed is based on the volume of work completed by each TC to achieve a statistically significant sample. The OPQA spends approximately 4 hours per review, using a master review form to note rejections made and omitted rejections, as well as other issues such as search, restriction, or objections. These reviews are focused on the office action matter at hand and do not generally involve review of the prosecution history. An example of a compliant rejection will include correct claim(s), correct statute(s), and sufficient evidence to support the rejection or allowance. The OPQA review will include positive reinforcement, best practices, areas for improvement, and issues for consideration. Finally, the OPQA review will provide to the TC an appropriate action categorized as noncompliant, for consideration, or pass through. Particularly excellent work receives an "accolade" categorization.
Towards the end of the Q and A session, the USPTO encouraged practitioners to reach out to the appropriate supervisor if any issue arises. Although some practitioners might be wary of reaching out to supervisors for fear of jeopardizing existing working relationships with examiners, the chat's speakers reaffirmed that the USPTO encourages improvement and welcomes more feedback from practitioners.
Author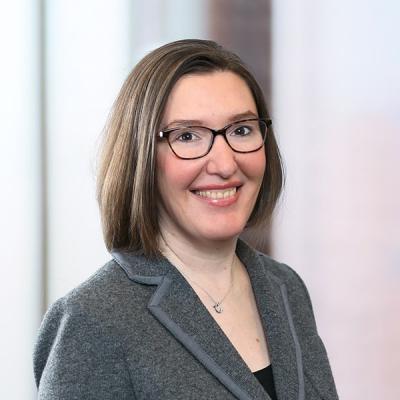 Christina Sperry is a Mintz patent attorney who drafts and prosecutes patents for clients in the electrical, mechanical, and electro-mechanical fields. She represents companies and academic institutions in the medical technology field and helps protect patent innovations for medical and surgical devices.