Mintz 4th Annual Employment Law Summit -- The Role of In House Counsel and Human Resources Professionals in the #MeToo Movement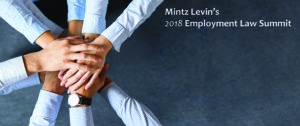 Join me and a panel of corporate counsel and human resources professionals to discuss the #MeToo movement and its impact on the HR function at Mintz Fourth Annual Employment Law Summit in New York City on April 19, 2018.
Human resources professionals and in-house counsel have been thrust into the spotlight at the center of the #MeToo movement in organizations throughout the country. These folks are often the most important (and occasionally the only) source of communication between an employee and employer regarding sexual harassment complaints in the workplace, and play a dual role as protector of both the organization and its employees.
How do they balance their duties to take and investigate complaints on the one hand, and also manage employment compliance, implement training, and advise the corporation on the other hand? While we can't promise a one-size-fits-all way to address this issue, we can promise a lively discussion that offers many perspectives and recommended best practices.
The panel will follow a presentation by Kevin Berry, District Director of the EEOC's New York District Office, regarding findings from the EEOC's sexual harassment task force and the EEOC's strategic plan moving forward.
You can read more about the April 19 Summit and our agenda here.
Author
Jennifer B. Rubin is a Mintz Member who advises clients on employment issues like wage and hour compliance. Her clients range from start-ups to Fortune 50 companies and business executives in the technology, financial services, publishing, professional services, and health care industries.