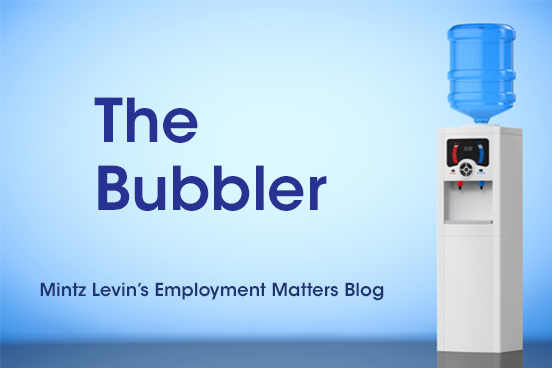 Lots to talk about in the Labor & Employment world!  The Massachusetts Pregnant Workers Fairness Act went into effect on April 1, 2018, imposing stricter non-discrimination rules on employers of pregnant workers. The U.S. Department of Labor launched the Payroll Audit Independent Determination program, which encourages employers to self-report wage and hour violations. The Sixth Circuit issued a decision in EEOC v. R.G. & R.G. Harris Funeral Homes, holding that transgendered employees are protected under Title VII, even mounted against an employer's religious objections under the Religious Freedom Restoration Act.  The Commonwealth of Massachusetts lost a step in the legal challenge to the contraceptive mandate exemptions in the Affordable Care Act, on the grounds that it did not have standing to assert the relief it sought. Still on the federal landscape, Congress added an amendment to the FLSA in the recent omnibus budget bill, providing that an employer may not keep tips received by its employees for any purpose. The Supreme Court issued an important ruling holding that service advisors are exempt from the FLSA's overtime requirements and rejecting the principle that FLSA exemptions should be narrowly construed.   The State of Washington followed suit with many other states, including California, New York, and Massachusetts, becoming the most recent state to add an updated Equal Pay Act, and a "Ban the Box" law.  In the wake of the #MeToo movement, Washington also barred nondisclosure agreements in sexual harassment suits.  As always, stay tuned for further updates and more details on these developments which we will be covering more extensively here in the coming weeks, including a post on the Massachusetts Pay Equity Act coming up later this week.
Finally, there's still time! Don't forget to register to attend our Fourth Annual Employment Law Summit on April 19.
Author
Paul M. Huston is an attorney in Mintz's employment labor and benefits practice group, where he litigates employment and general commercial issues. Paul has experience handling single plaintiff and class action lawsuits, covering issues from wrongful termination to disability discrimination.