USPTO Weighs in on IT Modernization in CXOTalk Interview
How does an important U.S. government agency modernize its operations, especially during a global health crisis? What IT modernization approach can U.S. patent and trademark practitioners expect from the United States Patent and Trademark Office (USPTO)? How has the USPTO handled remote working due to COVID-19? To help answer these questions, Michael Krigsman of CXOTalk interviewed Jamie Holcombe, Chief Information Officer (CIO) for the USPTO on August 28, 2020 to discuss the USPTO's IT modernization under Mr. Holcombe. 
The interview featured a conversation between Mr. Krigsman and Mr. Holcombe regarding how a big government agency, such as the USPTO, implements an IT modernization policy. Mr. Holcombe compared commercial IT modernization to government IT modernization. Mr. Holcombe noted that the government often lags the commercial industry because of compliance with government laws and regulations.  
Mr. Holcombe mentioned a 30/60/90 day for any modernization. If you can't complete an IT modernization project in 90 days then don't do it. Mr. Holcombe noted that the government gets trapped in the sunk cost fallacy. Mr. Holcombe mentioned his goal is "Better, Cheaper, Faster" and that projects in the 30-60 day timeframe should be used to try different solutions and learn from them quickly.   
Mr. Holcombe says the solution to implementing the USPTO IT modernization is to have reasonable people in charge to make sure the necessary security in IT systems is present while also being agile to adapt to new technology. Mr. Holcombe wants to move from the old client-server base to a more internet-cloud based system to be able to add new tools to be implemented. This move, says Mr. Holcombe, can future-proof the USPTO and allow it to more easily implement and use efficient tools to improve functionality. USPTO is fee-based/funded so it needs to squeeze all the value out of those dollars.
During the webinar's Q and A session, attendees asked about how Mr. Holcombe plans to implement the IT modernization at the USPTO.  Mr. Holcombe noted that a change in culture to USPTO workflow is needed. Mr. Holcombe challenges the USPTO IT staff to automate more steps of workflows to make things better, cheaper, and faster. If you fail in the 30/60 days, then learn and adapt.
Mr. Holcombe noted that the USPTO already has productivity metrics for its examiners, so this history of examiner metrics facilitates measurements of efficiency as they implement new procedures or technology. Mr. Holcombe was against implementing enterprise resource planning (ERP) systems because of inflexibility and stickiness with a particular system. When discussing how the USPTO staff is handling the changes Mr. Holcombe is implementing, Mr. Holcombe noted that IT staff is mostly embracing new ways of working (nWOW) and willing to train to gain new skills associated with new technology. The new tools are mainly for patent and trademark examiners as well as external users (e.g., patent practitioners, trademark practitioners, and the public). The USPTO is trying to implement Robotic process automation (RPA), but it is still in the initial stages and is learning from other government agencies (e.g., the Copyright Office). Mr. Holcombe is not too concerned about automation eliminating jobs because there is so much work to do. He is more concerned with the goals of the USPTO IT Department of "Better, Cheaper, Faster" technology.  Mr. Holcombe wants to focus on team-oriented tasks related to goals.
A question from the audience was, "How does the USPTO scale IT modernization and implement the culture shift Mr. Holcombe responded that the ideal solution would be to have a core USPTO team and augment the team with outside contractors with specific skills. The USPTO team would then be exposed to outside contractors' skills and would disseminate learned skills to others in the USPTO. Scaling may require utilization of more outside vendors.
Another question was "How has USPTO adapted to working from home?" Mr. Holcombe responded that 7,800 to 9,000 examiners were working from home before COVID-19. USPTO had recently doubled bandwidth by moving some processes to the cloud. Mr. Holcombe noted that productivity numbers for examiners have actually improved while more examiners have been working from home due to COVID-19. Going forward, Mr. Holcomb says, the USPTO can keep the current work from home structure indefinitely, but it still wants to return to offices.
Mr. Krigsman asked for 3 lessons learned during COVID-19. Mr. Holcombe responded 1) don't assume you know the answer. Things change so fast and there are a lot of diverse ways to do things.  2) need to have a secure and stabilized core IT to allow you to try new technologies and processes. 3) don't accept that contractors are going to take more than 90 days. If you push hard enough, most projects can be accomplished within 90 days.
In closing, Mr. Holcombe emphasized that he believes the solutions to COVID-19 will occur through innovation and that for us to return to work safely and open up businesses safely, we should embrace innovation.
There are often glitches when a new technology is rolled out in practice. Patent and trademark practitioners may be cautiously optimistic on the USPTO implementing its IT modernization which will hopefully lead to more efficient filings and prosecution. 
Author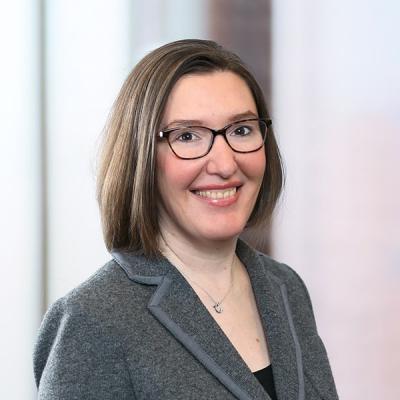 Christina Sperry is a Mintz patent attorney who drafts and prosecutes patents for clients in the electrical, mechanical, and electro-mechanical fields. She represents companies and academic institutions in the medical technology field and helps protect patent innovations for medical and surgical devices.