Joinder to the Rescue: Federal Circuit holds that joinder of instituted IPRs does not result in estoppel under § 315(e)
In Network-1 Techs., Inc. v. Hewlett-Packard, No. 18-2338, the Federal Circuit reversed and vacated multiple aspects of the district court's final judgment holding that Hewlett-Packard (HP) did not infringe U.S. Patent No. 6,218,930 ("the '930 patent") disclosing an apparatus and method for remotely powering Ethernet compatible equipment. In addition to reversing one of the district court's claim constructions resulting in a remand, the Court also disagreed with the district court's decision to grant judgment as a matter of law ("JMOL") on validity. Specifically the Court held that HP was erroneously estopped from raising new invalidity grounds under 35 U.S.C. § 315(e) based on HP's joinder of an already-instituted inter partes review ("IPR"). Consistent with its holding earlier in the month in Facebook, Inc. v. Windy City Innov., No. 18-1400, prohibiting a joining party from bringing new grounds into an IPR proceeding, the court reasoned that HP could not have been estopped under § 315(e) because HP could not have reasonably raised its proposed invalidity grounds before the PTAB.
The case began in 2011, when plaintiff Network-1 sued several defendants for patent infringement of the '930 patent. One of the defendants, Avaya, petitioned for an IPR resulting in partial institution and a stay of the district court proceedings pending the IPR outcome. After Avaya's institution, HP timely filed its own IPR petition, which included additional proposed invalidity grounds, and moved to join the Avaya IPR. The PTAB denied HP's initial IPR petition and joinder motion, which would have brought in new invalidity grounds in contravention of the Federal Circuit's Facebook decision. HP filed a second petition limited to the already-instituted grounds of invalidity in the Avaya IPR, and moved again to join that proceeding. Notwithstanding the fact that HP's second petition was time-barred under § 315(b), the PTAB granted HP's request pursuant to § 315(c) which allows for joinder under those circumstances.
The PTAB ultimately issued a final written decision in the Avaya IPR finding the challenged claims valid, and the district court subsequently lifted the stay. Following a jury verdict of non-infringement by HP and that all of the asserted '930 patent claims were invalid, Network-1 moved for JMOL and for a new trial on the issue of invalidity based on its theory of estoppel. (Network-1 also filed post-verdict motions on other aspects of the case that were not related to the issue of statutory estoppel under 35 U.S.C. § 315(e).) The district court granted the JMOL motion, reasoning that allowing HP to raise arguments "that it elected not to raise during the IPR would give it a second bite at the apple and allow it to reap the benefits of the IPR without the downside of meaningful estoppel."
The Federal Circuit reversed and concluded that contrary to the district court's conclusion, HP would not be receiving a "second bite at the apple" because it had never had a first bite. Because HP, as the joining party, could not have raised and introduced any invalidity grounds in the Avaya IPR, § 315(e) which prohibits "any ground that the petitioner raised or reasonably could have raised" – did not apply. While the Federal Circuit vacated the lower court's decision, a remand was ultimately necessary to allow the district court to rule on Network-1's motion for a new trial on validity as required by Federal Rule of Civil Procedure 50(c).
The decision clarifies that estoppel under § 315(e) does not attach to parties solely on the basis of a joinder under 35 U.S.C. § 315(c). It also highlights the ability of petitioner/defendants to join and potentially preserve an instituted IPR proceeding, while also retaining the ability to challenge the validity of asserted claims in a district court proceeding under 35 U.S.C. §§ 102 and 103.
Author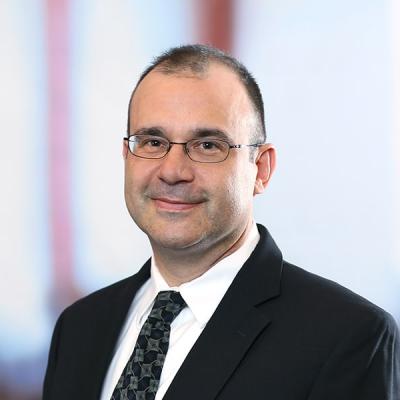 Peter J. Cuomo focuses his practice at Mintz on intellectual property enforcement and defense and counseling clients on issues related to IP rights. He handles all phases of patent litigation, and he has experience with resolving inventorship disputes.