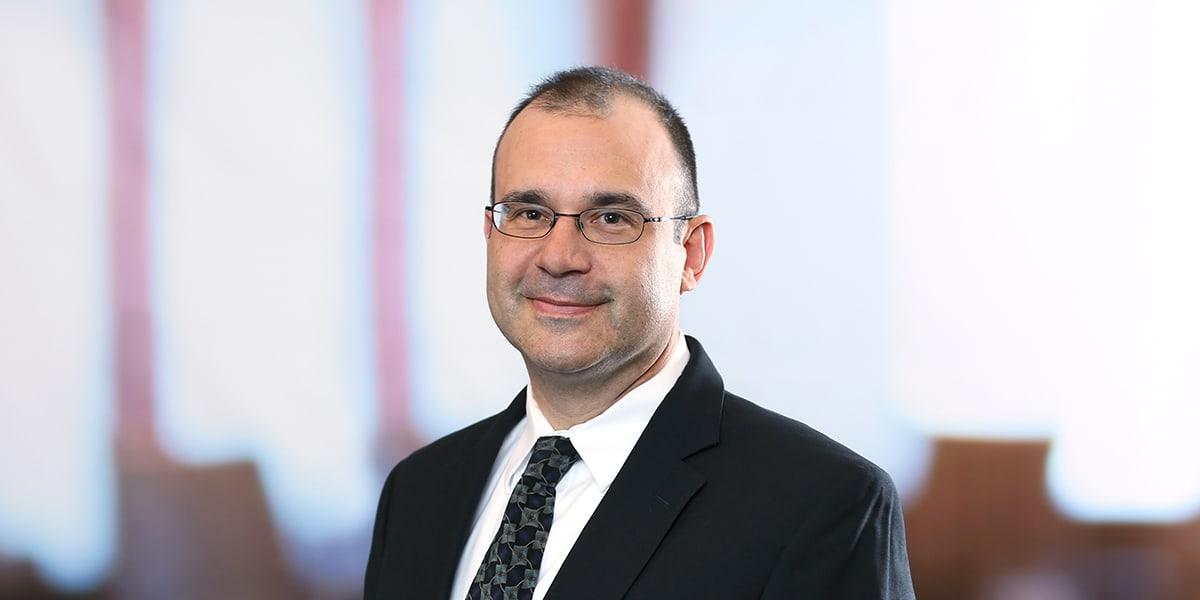 Peter's practice involves intellectual property enforcement and defense, and client counseling on issues related to IP rights. Peter's primary focus is in patent litigation where he has experience in every phase from pre-suit investigations through appeal, including, initial evaluation and case initiation, fact and expert discovery, pre-and post-trial motion practice, and trials and appeals. In addition to suits centered on the assertion and defense of infringement claims, Peter has experience with the successful resolution of multiple inventorship disputes and related misappropriation claims.
Peter has represented clients across a wide range of technologies such as biotechnology inventions, automotive parts, medical and mechanical devices, consumer products. He has also worked on numerous high-stakes Hatch-Waxman litigations for major pharmaceutical companies through trial and appeals. In addition to patent litigation, Peter has experience in disputes involving breach of contracts, unfair competition, trademarks and trade secret misappropriation claims.
Peter is a registered patent attorney licensed to practice and argue before the United States Patent and Trademark Office. In addition to representing clients in US District Courts and the US Court of Appeals for the Federal Circuit, he has experience in multiple post-grant proceedings before the Patent Trial and Appeal Board and its predecessor. He also provides patent and product analyses, and evaluations of prior art related to infringement and invalidity opinions.
Prior to joining the firm, he practiced in the intellectual property litigation practice in the Boston office of another international law firm. Peter also previously worked in and supervised an academic laboratory focused on researching infectious diseases. He is a co-author on multiple scientific papers and spent time in Zambia investigating the co-infection of measles and HIV. During law school, Peter was an editor on the Boston University Journal of Science and Technology Law and worked as a research assistant in intellectual property and the Health Law Department.
Education
Boston University School of Law (JD, Intellectual Property, Honors)
Johns Hopkins University (MS, Biotechnology)
Trinity College (BS, Biology)
Experience
Validity Challenge in Inter Partes Reexamination – Counsel to a medical device company as the third-party requester in a complex inter partes reexamination at the United States Patent and Trademark Office involving nearly 300 claims related to video laryngoscopy. On appeal and after more than six years, the Patent Office invalidated all but one claim that did not pose a risk of infringement to our client.
Member of a trial team that represents major international pharmaceutical companies and has successfully litigated cases at both the district court and appellate level in ANDA patent infringement actions under the Hatch-Waxman Act.  Representative civil actions: Mitsubishi Chem. Co. v. Barr Labs., Inc., 718 F. Supp. 2d 382 (S.D.N.Y. 2010), aff'd, 435 Fed. Appx. 927 (Fed. Cir. Aug. 2, 2011); Takeda Pharmaceutical Company Limited et al v. Mylan, Inc. et al, (S.D.N.Y. -12-cv-00024); Takeda Chem. Indus., Ltd. v. Alphapharm Pty., Ltd., 492 F.3d 1350 (Fed. Cir. 2007), cert. denied, 552 U.S. 1295 (2008).
 
Defense of Multiple IPRs – Pharmaceuticals (IPR2015-01069, IPR2015-01647, IPR2015-01648): Representing Kowa Company in defense of three inter partes reviews filed by Mylan and Sawai. Petitioners are defendants in Hatch-Waxman cases asserting Kowa's patent rights related to the drug product Livalo.
Validity Challenge in IPR Proceeding – Bed Spring (IPR2014-01119): Represented ACE Bed Co., Ltd., in an inter partes review proceeding that resulted a final decision invalidating all of the challenged claims of a patent assigned to Sealey Technology LLC relating to bed springs.
Validity Challenge in IPR Proceeding – Recombinant proteins (IPR2016-00258): Representing Green Cross Corporation as the petitioner in an IPR proceeding challenging the validity of patent claims on a recombinant therapeutic enzyme.
Validity Challenge in IPR Proceeding – Vehicle Headlights (IPR2016-00193): Representing SL Corporation as the petitioner in an IPR proceeding challenging the validity of patent claims on an automatic control system for vehicle headlights.
Inline Plastics Corp. v. EasyPak, LLC, Appeal No. 14-1305 (Fed. Cir.): Represented Inline Plastics while obtaining dismissal of invalidity counterclaims and entry of judgment on infringement to expedite appeal and .reversal and remand of case-dispositive claim construction. Inline achieved highly-favorable settlement on remand.
MeadWestvaco v. Rexam, Appeal No. 12-1518 (Fed. Cir.): Represented the plaintiff-appellee on appeal to the Federal Circuit following a bench trial awarding the company with permanent injunctions against two direct competitors. While considering numerous challenges to infringement and validity from both defendant-appellants in a consolidated appeal, the Federal Circuit affirmed, inter alia, the district court's decisions on infringement and did not disturb injunctions awarded to our client.
Dallakian v. IPG Photonics, 3:14-cv-11863-TSH (D. Mass.): Represented IPG Photonics while successfully defending against claims for correction of inventorship and trade secret misappropriation. Plaintiff voluntarily dismissed the complaint after defendant secured expedited discovery and an early summary judgment motion.
VLP Watertown Limited Partnership v. TriState Breeders Coop., 07-cv-11487-GAO (D. Mass. 2010): Represented VLP Watertown in a breach of contract and trade secret misappropriation case in the United States District Court for the District of Massachusetts. Helped secure a multimillion-dollar jury verdict for the client at trial.
Recognition & Awards
Paul J. Liacos Scholar, Boston University School of Law
Dean's Award for Corporate Law, Boston University School of Law
Involvement
Member, American Intellectual Property Law Association
Member, Boston Bar Association
Member, Boston Patent Law Association
Recent Insights
News & Press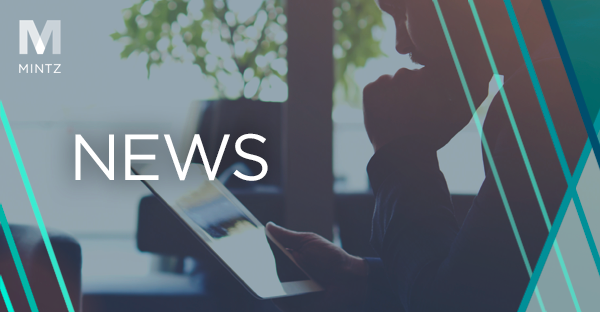 Mintz Members Peter Cuomo and Adam Samansky co-authored an article published by IAM examining the U.S. Supreme Court's decision to deny a petition for certiorari in Eli Lilly and Co. v Hospira, Inc., upholding the infringement of Eli Lilly's chemotherapy drug Alimta (pemetrexed), and what the development means for the doctrine of equivalents and for patent application amendments. An article published by Law360 reported that following the U.S. International Trade Commission's initial decision that Jennewein Biotechnologie GmbH's imports infringe a Glycosyn LLC patent on human milk oligosaccharides, the Patent Trial and Appeal Board denied Jennewein's petition for post-grant review of a related patent.

The Mintz team representing Glycosyn at the ITC includes Michael Newman, Thomas Wintner, Michael Renaud and James Wodarski; and the Mintz team representing Glycosyn at the PTAB includes Michael Newman, Thomas Wintner, Peter Cuomo and Daniel Weinger. In this article published by Law360, Mintz Members Adam Samansky and Peter Cuomo commented on lingering questions related to the America Invents Act's estoppel provision, which prevents challengers from arguing in court that a patent is invalid on grounds that were raised — or reasonably could have been raised — during inter partes review at the Patent Trial and Appeal Board.
Events
Speaker
USPTO and American Intellectual Property Law Association
USPTO Headquarters 600 Dulany Street, Madison Auditorium Alexandria , VA