Overview of USPTO Webinar: Understanding Patenting in China
Patent protection in China has been a hot topic of discussion and strategy for U.S. companies. The U.S. Patent and Trademark Office (USPTO) China team within the USPTO's Office of Policy and International Affairs is a dedicated group of intellectual property (IP) attorneys and specialists with knowledge and experience on China manners from the U.S. law perspective as well as the Chinese law perspective. There are about 20 China team members at USPTO offices in Virginia, Shanghai, Beijing, Guangzhou, and Shanghai. In order to advance one of the principal strategic goals of the USPTO—to improve IP rights protection and enforcement domestically and abroad—the China team works to establish strong relationships with China's IP agencies. Additionally, the China team has regular contact with industry associations and individual companies as well. As part of the China team's outreach, the USPTO held a webinar on December 15, 2020 entitled "Understanding patenting in China." This article provides an overview of the helpful information the webinar provided for patent practitioners and patent decision-makers.
Larry Lian of the USPTO moderated the webinar and provided an introduction to the USPTO China team. The webinar featured a 45-minute presentation by Chenyan Wu, a partner at the firm Chang Tsi & Partners, followed by a 30-minute presentation by Jonathan Miao, a partner at the firm NTD IP attorneys, and the webinar ended with a short Q & A session.
Ms. Wu discussed patent prosecution in China. She outlined the three types of patents in China: an invention patent, a utility model patent, and a design patent.  Invention patents are similar to U.S. utility patents. Since the utility model patent is unique from U.S. patent practice, Ms. Wu focused her discussion on utility model patent protection.
Ms. Wu explained that the utility model only protects fixed shape and/or structure (e.g., apparatus claims) and excludes process/methods claims, ingredients, microstructure, and unfixed shapes or structures. Ms. Wu further explained that for utility models there is a lower threshold for inventive step, making it easier to obtain a granted utility model than an invention patent. The term for a utility model is 10 years, and there is limited prosecution that takes typically 6 to 8 months as opposed to approximately 3 years for an invention patent in China.
For maximum protection in China, Ms. Wu suggested a dual filing strategy: filing an invention application and utility model application on the same day. The dual filing strategy option is not available for Chinese national stage cases. Dual filing allows a patentee to get a utility model patent quickly, enforce it, and choose which patent to keep once the invention patent matures to grant. Thus, the patentee can enforce a utility model very quickly and can extend the enforceable time on essentially the same invention.
Next, Ms. Wu discussed common issues for companies with R&D in China. For Chinese inventors, a foreign filing license is required. For Chinese inventors residing in China, the company/applicant would need to apply for a Chinese foreign filing license before a patent for the invention is filed and before the invention is disclosed to anyone outside of China. A Chinese foreign filing license can be applied for in various ways, explained Ms. Wu, so it can be helpful to consult with Chinese counsel to effectively and most quickly obtain the license.
In recent Chinese law updates, Ms. Wu noted that a fourth amendment to the Chinese Patent Law was approved on October 17, 2020 by the China Congress that will come into effect on June 1, 2021. The changes include extending the design patent protection term from 10 years to 15 years. Statutory damages are raised to 30,000-5,000,000 RMB (approximately $744,000) plus attorneys' fees. Willful infringement can result in punitive damages up to five times. For more information on the fourth amendment, please see Ms. Wu's article discussing the changes here.
Next, Mr. Miao discussed judicial enforcement and administrative enforcement of patents in China. To enforce a patent in China, the patentee may bring an enforcement action against an infringer in a court having jurisdiction or seek to resolve the dispute in an administrative way by submitting enforcement requests with the local IP office.
Administrative enforcement - The local IP office in China is empowered to order the infringer to stop the infringement and upon request of the parties, mediate the amount of damages. The advantages of administrative enforcement versus judicial enforcement as outlined by Mr. Miao include:
higher efficiency: most administrative proceedings take 3 to 6 months from the filing of the complaint until the local IP office issues its decision (vs. the average time needed for court proceeding ~1 to 2 years).
Local IP offices themselves can seek to obtain evidence. This eases the pressure of the patentee to gather its own evidence. For example, evidence of the manufacturer sales and information related to process and equipment (which would otherwise have been done itself or through private investigators). The evidence gained by local IP offices can be used either to support the administrator proceedings or a court action.
Administrative actions are typically more suitable for utility model patents and design patents, compared with complex invention patent disputes.
Can seize and/or destroy infringing items and provide injunctive relief.
Mr. Miao noted a disadvantage to administrative proceedings is that local IP offices have discretion on whether or not to take a case and are often unwilling to take complex cases. Another disadvantage Mr. Miao noted is that there are no monetary remedies in administrative actions.
Judicial enforcement - There are two types of litigation jurisdiction criteria: territorial jurisdiction determines that the court has the power to hear a case that appears within the geographical range of its region, and court-level jurisdiction determines the level of the court a case would be heard. A Chinese court will decide which specific court has jurisdiction over a case based on both territorial jurisdiction and court-level jurisdiction. Usually, explained Mr. Miao, a party wishes to choose the place where he or she is located, while avoiding the opposing party's location to carry out the trial.
Other factors to consider in judicial enforcement in China discussed by Mr. Miao include:
No discovery process.
No jury trials.
There is a high and rigid requirement for the authenticity of evidence, and there is a heavy reliance on documentary evidence.
Probative values of affidavit and witnesses are underrated (e.g., affidavits and depositions have lower weight than in-person testimony).
Relatively low compensation in monetary damages.
In summary, Mr. Miao stressed that patent protection in China is getting better and better. Patent protection has become a fundamental need of China itself in changing the old development pattern to a technology driven economy. A patentee should consider selecting China as an important battlefield for patent infringement because the court can conclude a patent litigation in a faster way (e.g., faster than the U.S. court system), there is a higher rate of being awarded an injunction, and China has a huge population and a huge market.
During the Q & A session, attendees asked about general prosecution procedures in China and specific hypotheticals for US companies. Highlights of information shared during the Q & A include:
Is it possible to convert invention patent applications to a utility model after filing? No, this is not available in China. Ms. Wu explained that a patentee must decide whether it wants a utility model and/or an invention patent at the time of filing.
What protections are provided when the Chinese government wants to use a patent invention (e.g., will the Chinese government take a compulsory license to my patent)? Mr. Miao stated that the Chinese law is cautious on granting compulsory licenses and that in his experience there are limitations to the government obtaining a compulsory license in that there must be reasonable compensation to the patentee, and if the patentee is unsatisfied with the compulsory license, the patentee has remedies to discourage abuse of power.
The webinar provided a good overview of patenting inventions in China and enforcement. It is encouraging that the USPTO has resources for US companies trying to protect their patent rights in China. Additionally, Mr. Lian noted that the webinar materials will be made available at the webinar's webpage at a later date.
Author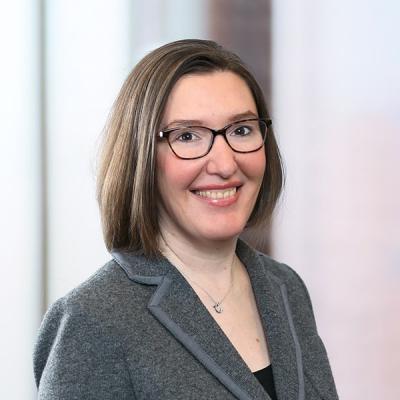 Christina Sperry is a Mintz patent attorney who drafts and prosecutes patents for clients in the electrical, mechanical, and electro-mechanical fields. She represents companies and academic institutions in the medical technology field and helps protect patent innovations for medical and surgical devices.