Year in Review: The Most Popular IP Posts of 2022
As 2023 begins and intellectual property (IP) strategies are being developed for the new year, it is a good time to reflect on what IP issues were prominent in 2022.  According to many readers, hot IP topics included entity size at the USPTO, expert opinions, the ITC, artificial intelligence and machine learning, and institution of inter partes reviews (IPRs).
1. Determining Entity Status Before the United States and Patent Trademark Office (USPTO): Large, Small, or Micro? – This article explores the requirements and benefits of determining the correct entity size for U.S. patent applications.
2. Expert Patent Damages Opinions Hit the Spotlight as Federal Circuit Scuttles Two Patent Infringement Verdicts Worth $1.2 Billion in One Day – This article discusses Federal Circuit decisions that erased two huge patent damages awards because the underlying expert opinion on damages was untethered to the specific facts of each case.
3. Domestic Industry Alive and Well at ITC; Important New Opinion Continues Trend – The ITC extended a series of final determinations that complainants had satisfied the "economic prong" of Section 337's domestic industry requirement, reinforcing the Commission's critical role in defending U.S. intellectual property rights as explained in this article.
4. Benefits of and Best Practices for Protecting Artificial Intelligence (AI) and Machine Learning (ML) Inventions as Trade Secrets – Part of a series about AI and ML, this article explores important considerations and essential business practices to keep in mind when working to protect the value of trade secrets specific to AI/ML platforms, as well as the pros and cons of trade secret versus patent protection.
5. Fintiv in Decline? – This article discusses the status of the "Fintiv factors," which are six factors that the Patent Trial and Appeal Board (PTAB) announced in 2020 are to be used in determining whether to institute an IPR when a fast-moving parallel district court litigation could determine the validity of a patent before the PTAB's final written decision would be due.
Author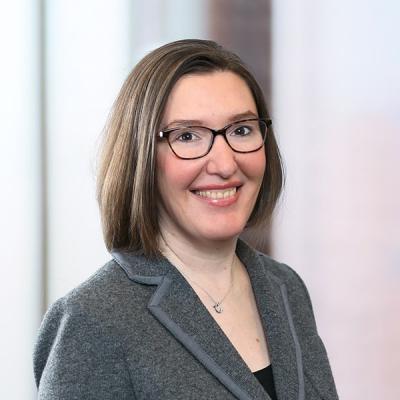 Christina Sperry is a Mintz patent attorney who drafts and prosecutes patents for clients in the electrical, mechanical, and electro-mechanical fields. She represents companies and academic institutions in the medical technology field and helps protect patent innovations for medical and surgical devices.