Founding Chair of Mintz's Immigration Practice Susan Cohen Pens Book Sharing Clients' Poignant Immigration Journeys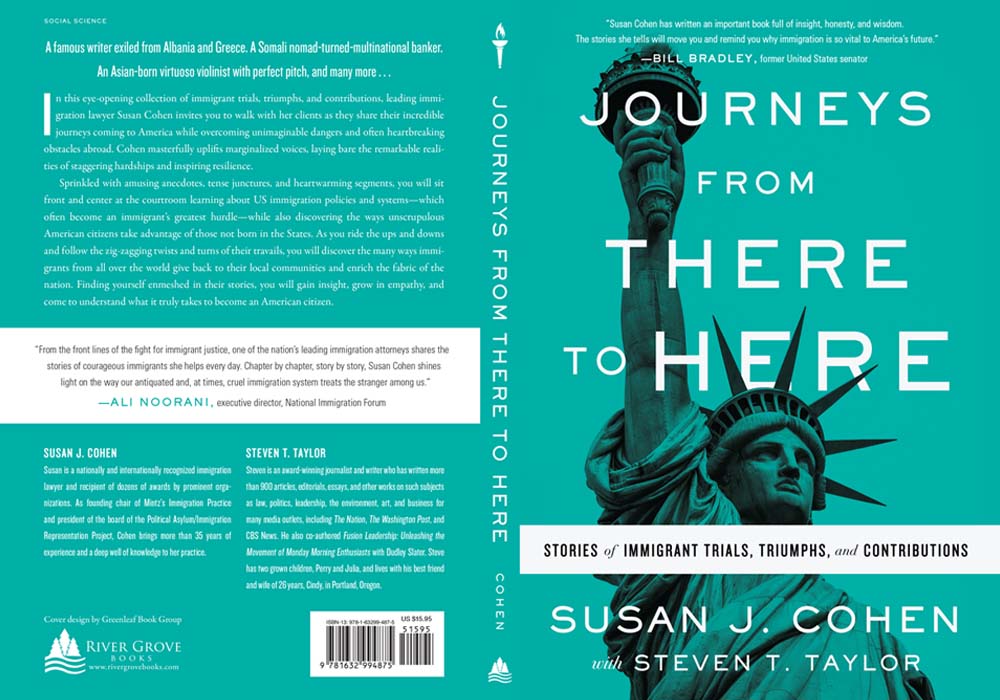 A new book written by Mintz Member and Founding Chair of the firm's Immigration Practice Susan J. Cohen explores the journeys of 11 immigrants, all of whom faced heart-wrenching trials and tribulations throughout their efforts to forge a new life in the United States.
In Journeys From There to Here: Stories of Immigrant Trials, Triumphs and Contributions (Greenleaf Publishing/River Grove Press, Nov. 2, 2021), Ms. Cohen dives into her clients' bureaucratic nightmares, the effects of xenophobia, discrimination, and racial profiling, and a severely flawed system. But at the end of the day the stories end joyously, are uplifting, and leave the reader with a renewed understanding of the value and contributions immigrants bring to the United States and the vital importance of being a welcoming America.
"It is an incredible privilege for me," Ms. Cohen explains, "to witness firsthand the strength, resilience and tremendous dignity of my immigration clients, who have overcome unimaginable hardships and persecution to make it to our shores, and with their passion, love for democracy and love of learning, have taught me what it means to never give up and to truly become American. I wrote this book to share my clients' stories with the world, so others can see firsthand how lucky we are to have these brave and dignified souls as our neighbors, co-workers, and friends."
"Susan Cohen's masterful case studies of the adventures of 11 of her immigration clients are rich in detail," said former Massachusetts Governor Bill Weld, who is a Member at Mintz and Principal at ML Strategies. "The heartbeat of her narrative is the heartbeat of the immigrants themselves, intensely grateful for the opportunity to work hard to secure life for themselves and their children."
Ms. Cohen brings over 35 years of experience to her cutting-edge immigration practice, where she oversees a team of attorneys and immigration specialists. She is the recipient of dozens of awards for her immigration work and contributions to the nation's immigration law, policy, and regulations. Among her many accomplishments are contributions to the U.S. Citizenship and Immigration Services regulations implementing the Immigration Act of 1990, the Department of Labor regulations implementing changes to the H-1B visa category as a result of the American Competitiveness and Workforce Improvement Act of 1998, the Department of Labor Program Electronic Review Management labor certification regulations issued in 2004, the drafting of the Commonwealth of Massachusetts legislation that resulted in the Massachusetts Global Entrepreneur in Residence  program in 2014, and the temporary restraining order on the 2017 Travel Ban obtained by the American Civil Liberties Union of Massachusetts and other organizations. More recently, she led a Mintz team supporting efforts by many U.S. universities and hundreds of thousands of foreign students in litigation, which overturned the U.S. Immigration and Customs Enforcement's controversial and dangerous COVID-related student visa policy. Ms. Cohen is also President of the Board of the Political Asylum/Immigration Representation Project (PAIR) Project, which since 1989, provides free legal services to asylum seekers and promotes the rights of detained immigrants.
In addition to this recent endeavor, Ms. Cohen is also a songwriter and the founder of White Dove Projects. Two of her songs have been performed by students and alumni of the Berklee College of Music in Boston — "Beyond the Borders," which concerns the plight of a Syrian refugee family, and "Looking for the Angels," her second music video about a Honduran teenager bidding farewell to his grandmother, as he leaves to escape the brutal violence in their country.
A paperback or e-book of Journeys From There to Here: Stories of Immigrant Trials, Triumphs and Contributions can be purchased at Amazon by clicking here. All proceeds from sales of the book will be donated to the PAIR Project.