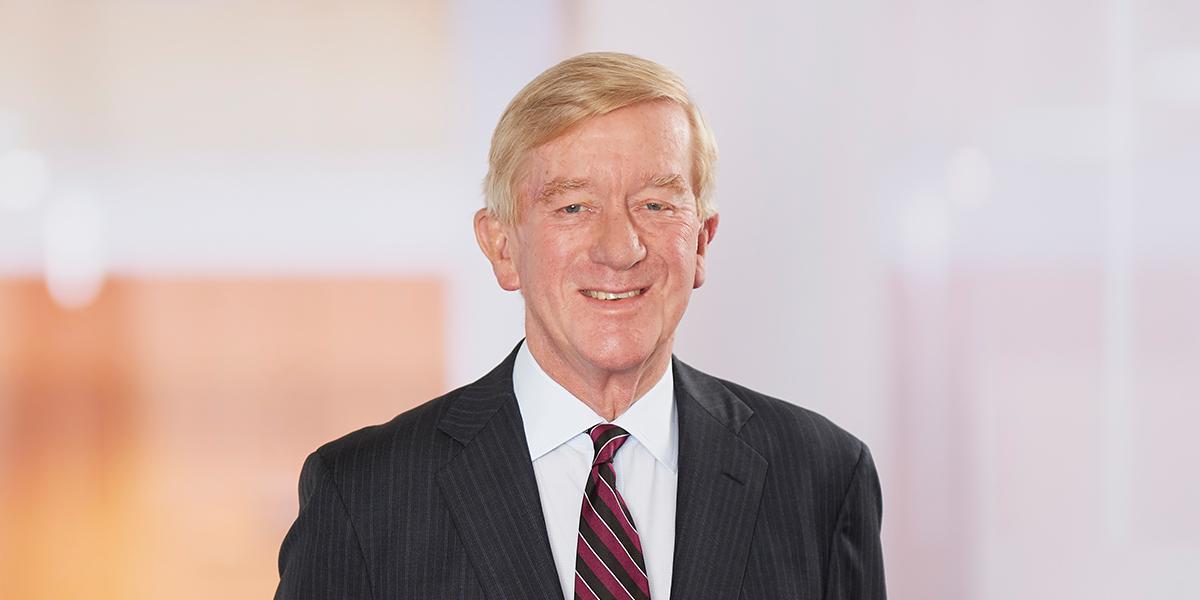 Former Massachusetts Governor Bill Weld is on an official leave of absence from ML Strategies as he focuses on his presidential campaign.
Former Governor Weld provides clients with counsel related to government strategies, litigation, and general business advice.
Bill was elected Governor of Massachusetts in 1990 and reelected in 1994 with 71% of the vote. During his terms, he succeeded in reducing taxes and unemployment. His pro-business policies are widely considered to have made a positive impact on the state.
As Governor, Bill led sixteen official trade missions to Asia, Africa, Latin America, and Europe. He also served as national co-chair of the Privatization Council, which pioneered public-private partnerships, particularly in the area of infrastructure.
During his term as Governor, Bill deregulated the electric industry, setting a model for other US states to introduce competition and market mechanisms. He mandated the use of natural gas as fuel for government bus fleets, and was an early proponent of the development of hybrid electric vehicles.
In 2016, Bill received four and a half million votes as the Vice-Presidential nominee of the Libertarian Party, culturally liberal and fiscally conservative. This was more than triple the party's best previous showing.
Bill served in Washington as Assistant US Attorney General in charge of the Criminal Division of the Justice Department, and previously as US Attorney for Massachusetts for five years, earning national recognition for his work fighting public corruption and white-collar crime. He also spent a dozen years practicing as a securities and anti-trust litigator. Earlier, Bill served as a staff member in both the US House of Representatives, where he participated in the Watergate impeachment inquiry, and the US Senate.
Bill is an active member of the Council on Foreign Relations in New York, and served by appointment of the President on the US Holocaust Memorial Council.
He also serves as an associate member of the InterAction Council, a working society of former heads of state from throughout the world, which convenes annually to consider and report on issues of global concern such as energy, natural resources, food, water, nuclear proliferation, and religious sectarianism.
Education
Harvard Law School (JD, cum laude)
Harvard College (BA, summa cum laude)
Oxford University (DegreeEP, with distinction)
Languages
- French
- German
- Latin
- Spanish
Events
Speaker
Environmental Business Council of New England, Inc.
Mariott Newton, Newtam, MA