Part Three of the COVID-19 Roadmap Series: Ensuring a Safe Workplace - Key Guidance for a Healthy Workspace
As economies begin restarting and the doors to traditional workplaces are opening, employers face challenges in reorganizing and protecting their places of business. However, the exact measures appropriate and effective for each workspace will largely depend on a worksite risk assessment (see our prior blog posts regarding OSHA and COVID-19 infrastructure).  In Part 3 of our Roadmap Series, we outline important guidance, procedures, and concerns employers need to consider to successfully and safely bring back employees to their worksite.
Stay Informed of OSHA and CDC Guidelines
In addition to the recommendations from state and local authorities, employers should look to CDC and OSHA guidelines when determining which actions are most appropriate. Both agencies continue to update insightful guidance on their websites relating to COVID-19 prevention and maintaining safe workplaces in light of the pandemic. Below are some key takeaways from the agencies' recent guidelines:
OSHA
Section 5(a) of the Occupational Safety and Health Act (the General Duty Clause), requires that employers provide their employees with a workplace free from recognized hazards likely to cause serious physical harm or death. OSHA's guidance breaks down the risk of exposure in the workplace into four categories, from the highest risk (e.g., jobs with direct contact with potential COVID-19 patients) to the lowest risk (e.g., jobs with infrequent contact with the public or potential COVID-19 patients). For each category, OSHA details the type and extent of personal protective equipment ("PPE") and safety procedures that are appropriate, as well as the administrative and engineering controls that can be implemented to reduce viral transmission.  In addition, OSHA requires employers to comply with existing health and safety standards and regulations disseminated by OSHA or a state with an OSHA-approved plan. OSHA also recently issued a poster (in English and Spanish) outlining key infection prevention measures employers can take to protect worker safety and health during the COVID-19 pandemic. Although employers are not required to post this information in the workplace, doing so may assist the employer in showing that it has taken good-faith steps to comply with OSHA's workplace safety requirements. In guidance issued on April 16th, OSHA stated it will evaluate an employer's good faith efforts to comply with applicable OSHA standards by exploring all options the employer had to comply. An employer should be able to demonstrate its good faith attempts to meet the applicable requirements as soon as possible following the reopening of the workplace. Where employers cannot demonstrate good faith efforts to comply, they risk an OSHA citation.
The CDC
The CDC has issued a significant amount of guidance on how businesses and employers should respond to the pandemic. Recently, the CDC issued guidance to assist employers in making decisions regarding reopening their businesses during the COVID-19 pandemic. Key takeaways from the CDC guidance are as follows:
1. Employers should consider three key questions when determining whether to reopen. The CDC recommends employers only consider reopening if they can answer "yes" to each of the following:
Are you in a community no longer requiring significant mitigation?;
Will you be able to limit non-essential employees to those from the local geographic area?; and
Do you have protective measures for employees at higher risk (e.g. teleworking, tasks that minimize contact)? 
2. Once an employer confirms that it satisfies these three preliminary questions, the employer should consider certain safety actions, including:
Promoting healthy hygiene practices;
Intensifying cleaning and disinfection;
Canceling non-essential travel and encouraging alternative commuting and telework;
Spacing out seating (more than six feet) and staggering gathering times;
Restricting use of any shared items and spaces; and
Training staff on the above safety actions.
3. Next, employers should consider implanting safeguards to assist the continued monitoring of employees, including:
Encouraging workers who are sick to stay home (see our previous post on what to do if an employee tests positive for COVID-19);
Establishing a routine;
Daily employee health checks;
Monitoring absenteeism and having flexible time off policies;
Having an action plan if a staff member gets COVID-19;
Creating and testing emergency communication channels for employees; and
Establishing communication with state and local health authorities.
4. The final step before reopening involves preparing the physical workspace for the reentry of workers, vendors, customers, and visitors. This step is addressed in the CDC's guidance regarding cleaning and disinfecting public spaces, workplaces, schools, and businesses (discussed further below).  Once employers' doors are open again, the CDC recommends routine cleaning and disinfectant procedures, along with continued monitoring of COVID-19 in the area to ensure that businesses are prepared for the potential of additional closures if another outbreak occurs.
Creating Robust Cleaning and Disinfecting Protocols
Not surprisingly, one of the most important safety measures for the workplace is a robust and regular process to regularly clean and disinfect the workspace. Before employers bring employees back to the worksite, they should consider updating worksite cleaning and disinfection procedures, including lining up vendors. 
As a best practice, businesses should ensure that they follow the most up-to-date CDC guidelines for cleaning and disinfecting their worksites. To prepare indoor and/or outdoor spaces that have been unoccupied for at least seven days, businesses need only perform "normal, routine cleaning." However, for indoor areas that have been occupied within the last seven days, businesses need to take a more thorough approach. For frequently touched surfaces and objects made of hard and non-porous materials (e.g., glass, metal, or plastic), the CDC recommends frequent cleaning and disinfecting. For frequently touched surfaces and objects made of soft and porous materials (e.g., carpet, rugs, or material in seating areas), the CDC recommends that these materials be thoroughly cleaned or laundered, and if possible, materials of this sort in highly trafficked areas should be removed. Surfaces and objects that are not frequently touched should be cleaned on a routine basis. Employers should ensure their worksites have sufficient supplies of soap, sanitizer, tissues, paper towels, and other items employees will need to practice good hygiene, as well as products employees can use to clean and sanitize their own work areas.
Businesses should be aware of how often and with what supplies their workspace is being cleaned, and should determine if the level of cleaning and disinfecting is sufficient, or needs to be increased. When workers are present, the workspace should be cleaned and disinfected at least once per day. However, there is no one-size-fits-all plan, as each workplace is different and will demand different cleaning strategies. In addition to CDC guidance, businesses should consider the following issues when determining their cleaning plan:
Identify areas of low exposure (e.g. non-shared workstations or areas closed off to the public) or higher exposure (e.g. areas where employees congregate together or are exposed to the public), and tailor the cleaning plan accordingly.
Anticipate cleaning and disinfecting supplies that employees will need to clean and disinfect their areas at work and equipment (e.g. disposable wipes).
Determine where the "high-touch" areas are in the workplace (e.g. elevator buttons, printers or copiers, door handles) and ensure those areas receive more frequent disinfecting.
Additionally, employers in multi-tenant buildings or shared worksites should work with landlords and business management teams to ensure adequate cleaning and disinfectant measures are in place in all common areas outside of the business's control, including escalators, lobbies, and elevators. 
Procuring, Providing, and Requiring Personal Protective Equipment (PPE)
At least for the foreseeable future as the COVID-19 threat remains high, there will be considerable focus paid to PPE in the workplace.  PPE is equipment worn to minimize exposure to hazards that cause serious workplace injuries or illnesses, and include items such as gloves, goggles, face shields, face masks, and respiratory protection masks. Employers should refer to local regulations and orders (see our prior blog post outlining New York's mandatory order here), as well as guidance from the CDC and OSHA to determine the extent of PPE necessary for their workplace.  This determination will depend on the employees' job tasks and level of exposure, as well as the employer's risk assessment.  Once employers determine their PPE needs, they should immediately take steps to obtain the PPE in order to have it available when needed.  Current backlog and issues surrounding the procurement of certain types of PPE may delay receipt of these type of products.  Specifically, OSHA recommends workers in higher risk jobs wear a combination of gloves, a gown, a face mask and/or face shield, and goggles, and the CDC recommends using cloth face coverings for all individuals when in public and/or around other individuals. Beyond local orders and official guidance, employers may consider requiring additional PPE use by employees in light of safety or other business concerns such as customer or employee comfort.
In addition to considering the use of PPE, employers should prioritize training employees on how to properly wear, maintain, remove, and dispose of PPE. Improperly worn or maintained PPE will likely be ineffective at protecting against viral risks, and improper disposal of PPE can potentially expose others to unnecessary risk. If these situations occur due to lack of employee training, an employer could face liability. Appropriate and effective training plans can mitigate this risk.
Parting Thoughts & More to Come
The fluidity of the COVID-19 situation will require businesses to consider numerous issues as they navigate tough decisions as to whether, when, and how to reopen their facilities to employees and the public. However, employers should take appropriate steps now to ensure they are ready to open their doors while ensuring the safety of their workers and customers.  An employer's implementation of appropriate controls to maintain a clean environment should remain a hallmark of any return to work strategy. 
In our next installments, we will cover additional workplace safety practices, including considerations around reimagining the physical workplace and business travel. We will also examine employer best practices for various types of COVID-19 screening and testing.
Find more information from Mintz's COVID-19 Roadmap Series here:
Preparing for the New Workplace Paradigm Series: a Roadmap for Employers in the Time of COVID-19
Author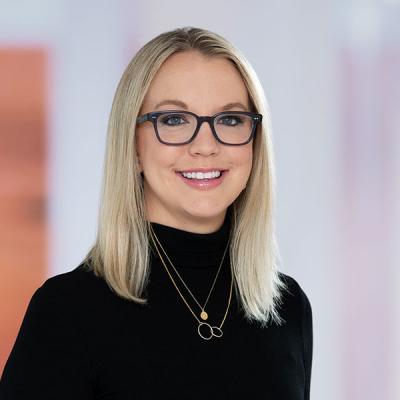 Delaney Busch is a Mintz associate in the firm's Boston office. Focusing on federal and state employment matters, Delaney defends clients against claims of discrimination, sexual misconduct, harassment, and wage and hour violations in federal and state courts and before administrative agencies. Her clients have included Fortune 500 companies, insurance companies, prominent medical providers, manufacturers, and luxury fitness facilities.