Federal Circuit Clarifies What Constitutes Use "In Commerce" Under the Lanham Act
On November 14, 2016, the Federal Circuit clarified confusion regarding what is necessary to satisfy the registration requirement that a mark be used "in commerce."
Christian Faith Fellowship Church v. adidas AG involved the Church's appeal from a Trademark Trial and Appeal Board ("TTAB") decision cancelling its mark "ADD A ZERO."  The Church, located in Illinois, began selling apparel bearing the phrase "ADD A ZERO" in January 2005 and later applied for and obtained a federal registration for the mark based on actual use in commerce.  In 2009, Adidas sought to register "ADIZERO" but had its application denied by the Trademark Office based on likely confusion with the Church's "ADD A ZERO" mark.  Adidas then brought an action to cancel the Church's mark arguing that the Church had failed to use the marks in commerce before registration.
As evidence of use in commerce before registration, the Church provided a cancelled check from a Wisconsin resident for the sale of two "ADD A ZERO" hats for $38.34 dated February 2005.  The TTAB concluded that such a small transaction was de minimus and insufficient to show use affecting commerce that Congress can regulate.
The Federal Circuit on appeal clarified the broad protection of the Lanham Act as a function of the regulatory powers Congress possesses under the Commerce Clause.  The Court explained that Supreme Court precedent, including Wickard v. Filburn, 317 U.S. 111 (1942) and Taylor v. U.S., 136 S. Ct. 2074 (2016), allows Congress to regulate individual and local conduct that, in the aggregate, could affect interstate commerce.  The panel indicated that under this aggregation approach, there is no need to show that an individual's activity itself affected commerce -- only that the conduct fell into a category that, in the aggregate, would affect commerce.  Writing for the Court, Judge Stoll noted that the Federal Circuit in Larry Harmon Pictures Corp. v. Williams Rest. Corp, 929 F.2d 662 (Fed. Cir. 1991) specifically declined to adopt a de minimus test for the "use in commerce" requirement for registration.
In light of this broad precedent, the Court found it "clear" that the two sales of shirts bearing the Church's mark could be regulated by Congress under the Commerce Clause and therefore is sufficient use in commerce for registration.  Slip Op. at 11.  The Court seemed to suggest that the collective quality and type of use of the mark, rather than quantity of use, should be the focus in determining whether interstate commerce is affected.  The Court also went a step further and clarified that two TTAB decisions, In re Cook, United, Inc., 188 U.S.P.Q. 284 (T.T.A.B. 1975) and In re The Bagel Factory, Inc., 183 U.S.P.Q. 553 (T.T.A.B.), which "have been a source of confusion in our 'use in commerce' doctrine," are "incorrect"  to the extent the decisions "assert that the Lanham Act requires commercial activity, whether for goods or services, beyond that which is sufficient for Congress to regulate commercial activity under the Commerce Clause." Slip Op. at 15.
Authors
Brad M. Scheller is an attorney who handles patent disputes for Mintz clients in industries ranging from electronics and software to consumer goods and cosmetics. He represents clients in federal district courts, in the US Court of Appeals for the Federal Circuit, and at the Patent Trial and Appeal Board.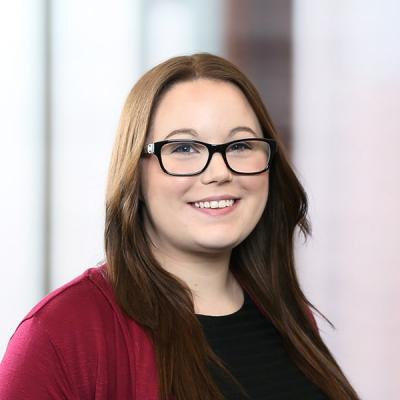 Tiffany Knapp is a Mintz Associate who focuses her practice on intellectual property litigation, with an emphasis on patent cases. She uses her background in computer science and mathematics to help clients in matters at the International Trade Commission and in federal district courts.