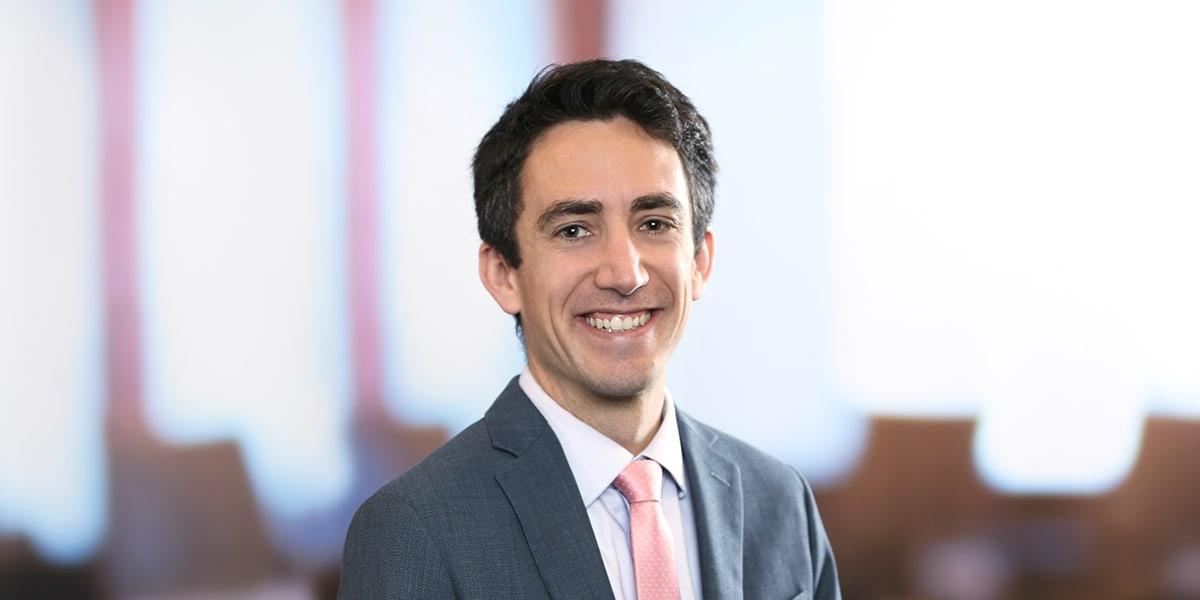 Geoff's practice focuses on complex commercial litigation, with a particular emphasis on serving clients in the life sciences industry. He advises clients at all stages of dispute resolution, from pre-litigation case analysis, fact investigation and discovery, to dispositive motion practice, evidentiary hearings, trials and appeals. His experience includes examining witnesses at domestic and international arbitration proceedings, taking depositions and serving as second-chair during trial.
Geoff has significant experience in disputes involving collaboration agreements, patent licenses and earn-out obligations. He also has substantial experience defending clients against alleged violations of the False Claims Act and federal securities laws, and he regularly provides strategic advice on motion and briefing practice across a wide-range of disputes. His recent pro bono work includes a successful amicus brief before the Massachusetts Supreme Judicial Court in support of indigent parents' constitutional right to counsel when their parental rights are threatened in guardianship proceedings.
Before joining Mintz, Geoff served as a law clerk for judges on U.S. Court of Appeals for the Ninth Circuit and the U.S. District Court for the Central District of California. During law school, Geoff was a member of Harvard Law School's Board of Student Advisors and a teaching assistant for the first-year legal research and writing course.
Geoff's advocacy for clients in the life sciences industry draws on his background in genetics, including his work at a biotechnology company, where he researched novel gene modification techniques and contributed to several published papers.
Experience
Obtained nine-figure award for a biopharmaceutical company in contract dispute with an international pharmaceutical company involving milestone payments under a license and development agreement. Following extensive discovery, briefing, and an evidentiary hearing, an arbitration panel awarded our client all requested relief, including attorneys' fees and expenses, and rejected the respondents' nine-figure counterclaims in their entirety. 
Obtained seven-figure judgment and award of attorney's fees following an evidentiary hearing in a commercial arbitration involving the glass recycling industry.
Successfully moved to compel arbitration of a commercial dispute involving claims of trade secret misappropriation.
Earned complete victory for an international life sciences company in arbitration filed by former shareholders of company acquired by our client. Seeking over $40 million in damages, the former shareholders alleged that our client had failed to use commercially reasonable efforts to achieve post-closing sales that would have entitled the plaintiffs to additional earn-out payments under a stock purchase agreement. Following discovery, briefing, and evidentiary hearing, the arbitrator rejected the former shareholders' claims and entered judgment for our client.
Represented an elected official with respect to grand jury investigations.
Defended a leading national health care company in a False Claims Act action brought in federal court in South Carolina. Although the Department of Justice sought damages and penalties well in excess of $100 million, the matter settled for low seven figures.
Obtained dismissal of all claims brought by a local affiliate against a television network seeking to prevent the launch of new, directly-owned affiliate.
Successfully represented a former employee of a financial services industry firm charged with violations of the securities laws before the First Circuit Court of Appeals.
In complex civil RICO case, represented Taiwanese creditor in claims against 34 foreign and domestic defendants. Successfully defeated over 30 motions to dismiss, managed millions of pages of written discovery, over 40 depositions on two continents and hundreds of discovery disputes before two court-appointed Special Masters. Defeated summary judgment and in limine motions. Favorably settled case at commencement of trial.
Defended an insurer against claims that it converted subrogation claims, obtaining summary judgment from the US District Court for the District of Oregon.
Represented insurance carrier in high profile litigation matters related to Hurricane Sandy including several RICO actions and a New York State Department of Financial Services investigation.
Read less
Recognition & Awards
Best Lawyers in America "Ones to Watch": Appellate Practice, Commercial Litigation, Litigation - Securities (2022-2024) 
Best Lawyers in America "Ones to Watch": Criminal Defense: White-Collar (2024)
Massachusetts Super Lawyers: Rising Star - Business Litigation (2022)
Read less