Mintz Hosts Second Annual Corporate Debate Tournament with Boston Debate League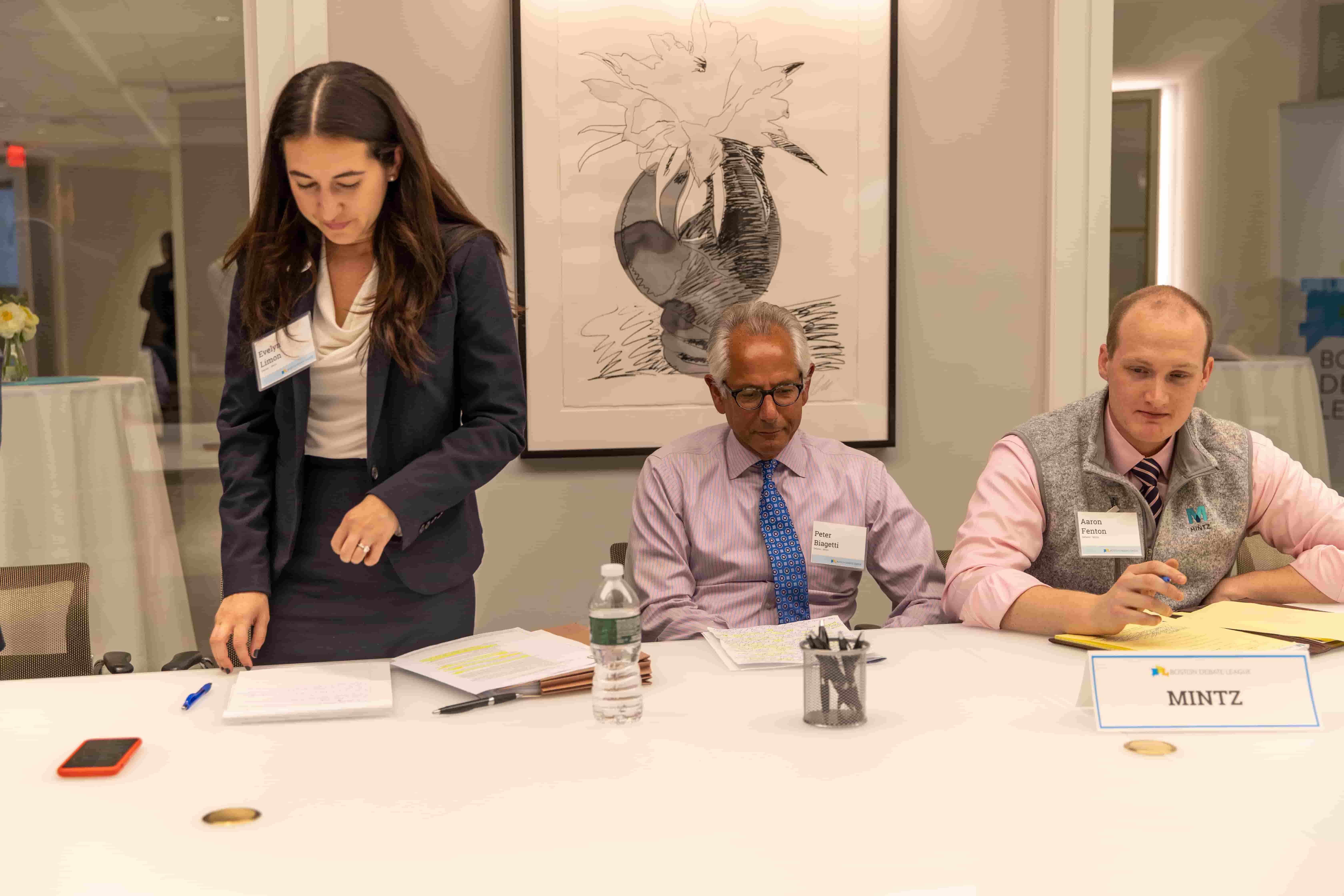 On November 5, Mintz, in partnership with Boston Debate League, a nonprofit organization focused on integrating argumentation and competitive debate into public schools in Boston, hosted the second annual Corporate Debate Tournament in Mintz's newly renovated Boston office. Proceeds from the evening of friendly competition will benefit Boston Debate League and help fund their weekend debate competitions, teacher trainings to develop debate-inspired classrooms, and more.
The event brought together key players in Boston's business and legal communities, with ten law firms and corporations sponsoring debate teams to participate in the tournament, including Mintz, Casner & Edwards, Foley Hoag, Goodwin, Latham & Watkins, Nixon Peabody, Seyfarth Shaw, WilmerHale, State Street and Suffolk University Law School. The Mintz team that participated in the debate included Member Peter Biagetti, and Associates Evelyn Limón and Aaron Fenton.
During the program, the teams addressed two timely questions:
What would be the most effective strategy for increasing voter turnout in the United States?
What is the most effective way to effect political change in the United States?
The debate rounds were judged by alumni of Boston Debate League's After-School Debate League and the Hon. Page Kelley, U.S. District Court for District of Massachusetts, while incorporating feedback from the audience.
"It was a pleasure to host such a spirited event and join forces with other law firms and local business leaders to benefit Boston Debate League," said Mintz Member Adrienne Walker, who spearheaded the event on behalf of Mintz. "We are proud to support the organization's important mission to incorporate competitive debate into Boston public schools' curriculum to develop critical thinkers and future leaders," she added.
Founded in 2005 as a completely volunteer-run organization, Boston Debate League is now one of 22 urban debate leagues in the country. Notably, Boston Debate League is the first league in the United States to have a Spanish-speaking division. Over 720 public school students from the Boston area participated in a Boston Debate League tournament last year. Learn more about the organization here.
For more information about Mintz, please visit www.mintz.com.