2015 Employment Law Issues Tournament: Sweet Sixteen Results and Recaps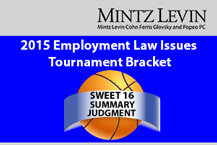 The Sweet Sixteen has come and gone and it was glorious.  Streamed live over our new Apple Watches, 16 employment law issues battled it out for the right to move onto the Elite Eight, which will be held next week at Sixth Circuit Stadium in Cincinnati.  The Sweet Sixteen featured some of our closest and most exciting games to date.
Before we move on though, let's quickly recap what we've learned during the first two weeks of the 2015 Employment Law Issues Tournament (previous coverage of which you can access here and here).
No, the Sticky Hamamuffamonut Claw™ is not actually a real pastry, but it should be, and we have made it the official sponsor of this tournament on a going forward basis.
Don't make your employment law bracket selections or confess your crimes while hot mic'd in a hotel bathroom.
Our tournament bracket is not white and gold; it is white and blue, and if you can't see that, it's on you.
And finally, never, ever, underestimate the ridiculousness of our readers' reactions.
For example, take Stella, SVP of Talent Management at Tabimals, the first-ever tablet made exclusively for pets.  After reading our matchup analysis where the Reasonable Accommodations ran Off-the-Clock Work off the court(room), she actually emailed us a blank FMLA leave request form, told us to complete it, and then submit it to our HR department because "you all really need professional help."  And Richard, the Chief Legal Officer at second-tier e-mail sarcasm translation service, added "you guys are like totally knocking this concept out of the park ;) #electroniceyerolls4eva."
Thanks Stella and Richard.  Let's move on.
But before we do, you know what's coming….wait for it….and there it is:
Employers should pay careful attention to the workplace issues associated with March Madness.  Here is our still-relevant post on this subject from last year: Does March Madness = Workplace Madness? Some Thoughts on the Legality of NCAA Bracket Pools, the Tournament's Effect on the Workplace, and of course, a Rendition of One Shining Moment.
Now on to the Sweet Sixteen . . .
SWEET SIXTEEN RESULTS
Here are the full results from the Sweet Sixteen with the winners in BOLD.  You can find the updated bracket here.
Wage and Hour Region
IC Misclassification (1) v. Accrued But Unused PTO (13)
Hostile Work Environment (2) v. Social Media Policies (3) (recap below)
Discrimination Region
Overtime Pay (1) v. Pregnancy Accommodations (4) (recap below)
Retaliation Claims (2) v. Arbitration Agreements (6)
Restrictive Covenant Region
Wage & Hour Collective Actions (1) v. Reasonable Accommodations (5)
FMLA Leave (2) v. Exemption Misclassification (3) (recap below)
Leave Management Region
Non-Competition Covenants (4) v. Wellness Programs (8) (recap below)
Wage & Hour Class Actions (2) v. Collective/Class Action Waivers (3)
SWEET SIXTEEN RECAPS
These were the featured matchups from the Sweet Sixteen:
Leave Management Region: Non-Competition Covenants (4) v. Wellness Programs (8)
By Michael Arnold and Jennifer Rubin
The Matchup
No. 4 Non-Compete Covenants quickly dispatched of Unemployment Benefits and Anti-Discrimination/Harassment Training in the earlier rounds, but knows it has its work cut out for it heading into the Sweet Sixteen.  But this storied program always expects to advance – how could it not when it consistently displays a swagger and well-deserved air of arrogance – both indirectly and directly by itself and/or on behalf of third parties – towards the idea that everyone should have non-competes and everyone should expect that they will be enforced.  And they have an absolute stellar starting five that backs up this attitude: Legitimate Business Interest Larry, Gary Geographical Restriction, Temporal Limitation Tim, Gregory Garden Leave, and Ricky Reasonableness; not to mention heralded sixth-man and secret weapon off the bench, Benny Blue Pencil, who have completely wiped out their competitors this season.  This team has had quite the year.  Who can forget their come from behind win to defeat the Declaratory Judgments or their thrilling victory at TRO Application Arena against the Choice of Law Provisions, which certainly caused that team irreparable harm by dashing their tournament hopes.  This team is ready to enforce their will against the Wellness Programs.
Coming off big wins against Genetic Information Discrimination and Disability Discrimination, Team Wellness Programs now looks to advance to the Elite Eight by severing powerhouse Non-Competition Covenants from the bracket.  This is the first-ever matchup between these two-hotly-contested issues.  Wellness Programs finally came into its own this past year as studies revealed that large majorities of employers are starting to implement or plan to implement robust programs.  Their strengths: they control the boards/health care costs, commit few turnovers/reduce employee turnover, and score a ton of points/increase employee productivity.  They really have only one weakness: shot selection.  But it's been a killer this year, especially for its All-American team captain and enforcer, the EEOC, which has disappointed many Wellness fans this year with its poor regular season play.  The EEOC missed from long-range when it unsuccessfully tried to shut down Honeywell's wellness program in federal court, and from short range as well by failing to issue regulations designed to clarify for employers when employee participation in a wellness program is truly "voluntary" in order to avoid an ADA violation.  But the EEOC turned things around just in time for the tournament with its recent announcement that it was close to publishing proposed regulations.  And coupled with the stellar play of fifth-year starter, the Affordable Care Act, which issued regulations endorsing the use of wellness programs in the workplace, the Wellness Programs are ready to put up a huge fight against the Non-Compete Covenants.
The Result:
A narrowly-tailored win for the Non-Compete Covenants.  The Wellness Programs just weren't able to overcome the leverage that Non-Competes provide employers.  This tournament isn't only about the Cinderella issue du jour.  It is also about the issues that are critical to employers on a day-to-day basis – and protecting the assets, intellectual property, customer base and investment in employees – those are the most mission-critical issues of the day.  If this tournament is about what you need to pay attention to – what you need help with – and what help you need from your counsel – then this matchup shouldn't have even been close.  But it was a close one, because the implementation of an employer Wellness Program presents an issue that will continue to grab headlines for the immediate future.  Any time your efforts to comply with one Federal statute (the ACA) may result in a violation of another Federal statute (the ADA), all while trying to do some good, you end up with the classic no good deed goes unpunished conundrum.  This is otherwise known as an employment lawyer's dream.  Stay tuned though – it isn't clear that the Non-Competition Covenants will be able to handle the man-to-man defense (or woman-to-woman, depending on which tournament you are watching) defense of the Wage & Hour Class Actions.
Wage and Hour Region: Hostile Work Environment (2) v. Social Media Policies (3)
By George Patterson and Cynthia Larose (special guest blogger and head of Mintz' Privacy and Security Practice)
The Matchup:
The heat has continued throughout the season with its star player, the NLRB, putting the pressure on employers for utilizing apparently overbroad social media policies that chill an employee's right to engage in protected team play (otherwise known as "concerted activity" in NLRB-speak).  The days of employees griping about work at the water cooler to a few colleagues has now turned into the airing of company laundry in tweets and with "likes" to the entire Internet – and what was once called as a blocking foul on employees is now being called as an offensive foul on employers.  With over 100 charges filed, referees over at the NLRB have blown the whistle repeatedly on employers who discipline employees for their online communications and it has resulted in 21 Office of the NLRB General Counsel Advice Memoranda, 10 NLRB General Counsel reviews, 4 Administrative Law Judge decisions, and one NLRB decision.  We expect the NLRB to continue to scrutinize these policies and thus here's a tip for in-house counsel/coaches: return to the fundamentals and start running a Coach-K motion style offense that incorporates your trusted counselors into the review process to make sure your policies won't be T'd up.
Riding this momentum into the Sweet Sixteen, the Social Media Policies face off against Hostile Work Environment (the HoWEs), which is coming off a second round trouncing of longtime rival Quid Pro Quo Harassment.  Just like the tournament stalwart, the North Carolina Tar Heels, the HoWEs have certainly faced their share of adversity this season.  First, they lost in an early upset when the Fourth Circuit ruled that a co-worker's use of a highly offensive racial epithet on two occasions did not rise to the level of a hostile work environment.  Later in the season, the team appeared to be on the rise when the New York City Council voted to extend hostile work environment and other anti-discrimination protections to interns.  Though the HoWEs ultimately lost their next game when the New Jersey Supreme Court expanded the definition of supervisor, fans were encouraged and rivals grudgingly impressed that the team nevertheless persuaded the court that an anti-harassment policy may serve as an affirmative defense.  In keeping with their tumultuous record this season, however, the HoWEs suffered yet another surprise loss when the Fifth Circuit decided (as a secondary matter in a retaliation case) that the use of a Nazi slogan did not necessarily create a hostile environment.  While the HoWEs have shown that they can play with heart when their backs are against the wall and the pressure is on, their shaky offense has them entering the Sweet Sixteen as the underdog despite the higher seed.
The Result
Social Media Policies pulls out the win.  The game was tight all the way until late into the second half when the Social Media Policies finally started to pull away on a series of beautifully-executed offensive sets.  First, the SMPs used the NLRB's Triple Play decision to run the picket fence to convert a wide-open three-pointer.  Next, they had the NLRB's Office of the General Counsel execute a perfect pick and roll by rewriting the rule book on employee handbook policies, including several pages on social media policies.  Then, to cap it off, they took the HoWE's off the first-ever "hesitation tweet and drive" for an easy layup, which fans everywhere "liked" on Facebook.  Although the HoWEs rallied to stage a comeback in the final moments, it was too little too late.  Still, like the Villanova piccolo player whose love for her team never wavered in the face of a heartbreaking defeat at the hands of NC State, HoWEs fans know their team will be back next season and that they will continue to command employers' attention.
Discrimination Region: Overtime Pay (1) v. Pregnancy Accommodations (4)
By Jillian Collins and Frank Hupfl
The Matchup
After flex(time)ing its muscles to easy victories in the first and second rounds over Short-Term Disability and Performance Evaluations respectively, Team Overtime appears poised to make it the Final Four.  Even President Obama picked Team Overtime to win it all in anticipation of his attempt qualify more workers to receive overtime pay later this year.  Team OT has been exempt from upsets during the regular season because they have expertly managed the clock late in games.  Like Kentucky, this team is so good that many analysts have wondered if they could beat a team of professionals (they couldn't).  We would expect nothing less given that their coach is the most highly compensated employee in their state.  Team Overtime has been practicing around the clock preparing for its Sweet Sixteen matchup with Team Pregnancy Accommodations.
Rumors were flying everywhere that prior to this game Team Pregnancy Accommodations' players were searching furiously for an accommodation that would help them prevail against the juggernaut that is Team Overtime Pay.  But team officials wondered whether an accommodation was really necessary after the PAs steamrolled the Bring Your Own Devices last round.  Rather than seeing if it made sense to sub players out of the game if they had been on the court for too long and provide them with an extra timeout for bathroom breaks, team officials decided simply to bench their pregnant players.  Having followed this team for several years now, I'm sure team officials thought it was doing what was best to ensure the health of their players, but they were going to subject themselves to serious sanctions if they proceeded down this road, which would not lead to the Final Four.  Luckily, just before tip-off, one team official was smart enough to read the Employment Matters blog and learned that you cannot discriminate based on pregnancy, and further, since they were playing the game in New York City, one of the states to recently pass a pregnancy accommodation law, they had to provide for an accommodation, and they quickly reversed course.  We'll see however, whether the previous damage to player morale was too great to expect a solid team performance against the OTs.
The Result:
For its part, Team Pregnancy Accommodations played its heart out, but it just couldn't seem to figure out how to calculate Overtime Pay.  They thought they had them figured out at Half-Time but then they realized that wasn't correct and they had to recalculate the strategy.  They worked double time to get the job done and it almost worked!  They shockingly forced the OTs into multiple shot clock violations and even forced them to take each of their timeouts with more than 5 minutes to go.  But as employment lawyers know ever so well, every minute counts, and a desperation three at the buzzer sent this game, not surprisingly, into overtime Buffalo Wild Wings style.  And then another overtime and then another and another and so on.  Of course, a 40-minute game just wasn't enough for Team Overtime to make their mark.  They finally prevailed in the sixth overtime, an Employment Law Issues Tournament Record – easily the game of the tournament.
[Update: the Supreme Court issued its Young v. UPS decision moments after we released this post.  We will have more on that decision in a separate post.]
Restrictive Covenant Region: FMLA Leave (2) v. Exemption Misclassification (3)
By Michael Arnold and David Katz
The Matchup
What can possibly be a more important issue around this time of year than FMLA Leave?  Did you know that more men take FMLA leave to have vasectomies and recover from said vasectomies during March than at any other month during the year?  This is no coincidence.  Some doctors are even offering vasectomies deals styled around the NCAA tournament.  They are calling it Vas Madness.  Really.  So HR departments everywhere: don't be surprised if you see a few FMLA leave requests come across your desk for this very reason.  But that's not the only reason this team is looking for its One Shining Moment.  They also have momentum on their side as they've become a scoring machine in the past few years (see: more and more FMLA-related lawsuits being filed).  Why the improvement? We think it's for these reasons.  Where FMLA is vulnerable however, is that it gets a little too aggressive with its opponents and has a penchant for racking up technical fouls at critical moments.  The FMLA regulations are littered with little-known requirements that continually trip up unsuspecting employers, whether it's complying with the Act's many notice and recordkeeping requirements, accounting for its prohibitions against interfering with employees on leave, or understanding the reinstatement rules – these are the reasons that FMLA Leave may be bounced from the bracket.  But FMLA Leave certainly will not be backing down to the Exemption Misclassifications, as it knows that every employee working at an employer with 50 or more employees within a 75-mile radius who has worked long enough (1 year/1,250 hours) – exempt or non-exempt – is entitled to FMLA leave.
So what to make of FMLA Leave's opponent, the Exemption Misclassification "Misfits" who come into this marquee matchup on a roll, having surprisingly blown out their first two opponents by a combined 99 points (after eking out a majority of their regular season victories in, wait for it, OVERTIME).  The Misfits seem to be taking out 11 years' worth of postseason frustration and failures on their foes, as they are coming off a self-imposed tournament ban since 2004 due to pervasive academic irregularities (after all, you can't spell Misclassification without "mis class")!  In any event, let's take a quick timeout (apologies to Chris Webber) to introduce the Misfits starting (fab) five.  And since we want you to really get to know this group of diaper dandies (freshman), we'll introduce them by their off-season jobs.  This White Collar group is led by Xavier the EXECUTIVE EXEMPTION, a 7'10" 350 lb. Center who is a real BMOC (big man on campus) and a bona fide SpaceEater (very large dude) averaging 12.5 blocks per game.  Xavier spends his off-seasons (being paid a handsome salary with no OT) managing the school book store.  He supervises a team of 10 employees and enjoys (too much) his authority to hire and fire his underlings.  He's likely properly classified as an overtime exempt employee.  At Power Forward is Adam the ADMINISTRATIVE EXEMPTION.  This grinder has gobbled up 44 rebounds in just two tournament games (but fouled out before halftime of each game), though he's been a Dow Joneser (up-and-down, inconsistent player) overall this year.  Adam spends his off-seasons as an "Executive Assistant" in Dean Wormer's office.  However, fancy titles aside, Dean Wormer has likely improperly classified Adam as overtime exempt under the administrative exemption, one of the most common misclassification mistakes made by employers.  Since Adam's key function is to fetch coffee for the Dean and he exercises no discretion or independent judgment with respect to matters of significance, he should likely be classified as non-exempt and eligible for overtime.  At Small Forward is Priscilla the PROFESSIONAL EXEMPTION.  She's a real High-Riser (good leaper) with a 48" vertical leap who does a bit of everything to help the team win.  Priscilla, a classic over-achiever with multiple advanced degrees (amazingly she didn't exhaust any athletic eligibility as an undergrad), spends her off-seasons filing away books in the library.  Her employer misclassified her as an exempt professional because of the long list of letters (Ph.D., etc.) following her name.  However, because her work is fairly routine and her primary duty doesn't require her to use her advanced degrees and knowledge, she should be non-exempt.  The team's Shooting Guard is Slick Rick the OUTSIDE SALES EXEMPTION, averaging 49.9 points per game.  Despite his name, he has a stellar inside and outside game, including a silky smooth area-code J (long distance jump shot).  During the off-season, Slick Rick spends his time peddling class rings across the country (he's now sold a total of two, but one is being used as a hood ornament).  Rick is likely properly classified as an exempt outside sales employee because his primary duty is sales and he is customarily and regularly engaged away from the employer's place of business.  Finally, the Point Guard is Data the COMPUTER EMPLOYEE EXEMPTION (yes, that Data from Goonies), who is averaging 3.14159265359 assists per game.  Though he has a low assist average, Data truly excels in the one-on-one isolation game.  Data spends his off-seasons working somewhere off-shore (the Jersey Shore) as a help-desk tech supporting the Bursar's Office website and closing out help-desk tickets like he dishes out dimes (assists).  However, since Data simply answers questions with pre-scripted answers and his job duties do not involve computer programming, software engineering or systems analysis, he is likely misclassified as an exempt computer employee.  So there you have it—the Exemption Misclassification "Misfits," a dream team of P.T.P.ers (prime-time players).
The Result
Possibly the best game of the tournament thus far ends in a double-overtime buzzer-beater thriller with FMLA Leave advancing to the next round.  The Misfits' starters were simply misclassified too many times—creating too many mismatches—which translated into too many turnovers and missed shots.  And then when it came down to it, their (affirmative) defense failed them when FMLA Leave hit the game-winning shot over the outstretched arm of Xavier the Giant.  Commentators are speculating that the primary reason the Misfits lost in this heartbreaker is because the DOL has yet to issue updated proposed regulations to the White Collar Exemptions.  We expect however that the DOL will release proposed regulations soon and finalize them in time for the Misfits to make a serious run in next year's tournament.  FMLA Leave now moves on to the Elite Eight Against the formidable and possibly unstoppable Wage & Hour Collective Actions.
-------------------------------------
Check back next week as we move onto the Elite Eight.  We hope it continues to be as exciting as the real thing.