Federal Circuit Dismisses Appeal of IPR Final Written Decision for Lack of Standing After Appellant Terminated Development of Potentially Infringing Pharmaceutical Product
On February 7, 2019, the United States Court of Appeals for the Federal Circuit, in Momenta Pharmaceuticals v. Bristol-Myers Squibb, No. 2017-1694, dismissed Momenta's appeal of a Final Written Decision in an Inter Partes Review ("IPR") because Momenta had terminated its potentially infringing drug development program. According to the panel, this left Momenta without a sufficiently concrete interest in the action to satisfy the standing requirements of Article III of the United States Constitution.
In 2015, Momenta filed an IPR petition challenging the validity of Bristol-Myers Squibb's ("BMS") United States Patent No. 8,476,239, which claims fluid formulations of the active ingredient in BMS's Orencia® (abatacept) rheumatoid arthritis treatment.  The Patent Trial and Appeal Board ("PTAB") instituted review and, after trial, sustained patentability of the challenged patent claims. Momenta appealed that decision to the Federal Circuit, per 35 U.S.C. § 319, and BMS moved to dismiss the appeal for lack of standing. (While petitioners need not satisfy the Article III standing requirements in IPR proceedings before the PTAB, Federal Circuit judicial review of IPR decisions requires the appellant to satisfy Article III standing.)
At the time Momenta filed its IPR petition in 2015, it was developing a biosimilar version of BMS's Orencia® with its collaboration partner, Mylan N.V. ("Mylan"). After Momenta's proposed and potentially infringing biosimilar failed Phase 1 clinical trials, however, BMS argued that Momenta lacked standing to appeal. Initially Momenta argued that it had not abandoned development of its biosimilar drug. But, by December 2018, Momenta stated in SEC filings that it had "elected to terminate [its] collaboration agreement with Mylan with respect to the development of" Orencia® and other biosimilar products.
Without any current "concrete plans" to develop a potentially infringing drug product, the Federal Circuit held that Momenta could not satisfy the Article III standing requirement. The court contrasted Momenta's product with the facts of recent Federal Circuit jurisprudence, in which the court held future infringement satisfied Article III. Unlike Momenta, that prior IPR appellant had "concrete plans" for present and future potentially infringing activity that created a "substantial future risk" of a patent infringement suit. For example, that appellant was a direct competitor of the patent owner, had opened and operated a plant capable of infringing the patent at issue in that case, and had also indicated that it would operate the plant in an allegedly infringing manner. In Momenta, however, the potential of future royalties in the event that Mylan decided to make and commercialize a potentially infringing Orencia® biosimilar, were too speculative and dependent on a third party's independent choices to establish Momenta's standing today.
The Federal Circuit did not decide the broader issue presented by Momenta's argument, namely that the IPR estoppel provision provides sufficiently concrete injury to satisfy Article III standing. The estoppel provision of 35 U.S.C. §315(e) essentially states that arguments actually raised, or that reasonably could have been raised, in an IPR petition may not be subsequently raised by the petitioner in any other civil action. Thus, Momenta argued that the prospect of being estopped from raising certain invalidity arguments in a future district court action involving the '239 patent's validity is sufficient injury to satisfy Article III standing. The Federal Circuit, however, dismissed this argument as "irrelevant" where Momenta's termination of its potentially infringing biosimilar development means that it is no longer engaged in any activity that would give rise to a future patent infringement suit.
Authors
Adam P. Samansky is an intellectual property litigator at Mintz. He primarily serves pharmaceutical, medical, high tech, and defense industry clients. Adam handles patent, trademark, and trade secret matters for innovators and investors, and he has a successful record in Hatch-Waxman litigation.
Peter J. Cuomo focuses his practice at Mintz on intellectual property enforcement and defense and counseling clients on issues related to IP rights. He handles all phases of patent litigation, and he has experience with resolving inventorship disputes.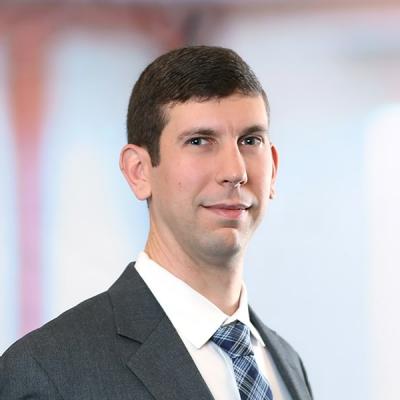 Joseph D. Rutkowski is Special Counsel who litigates intellectual property issues and counsels Mintz clients on IP rights. His primary focus is in patent litigation. Joseph's clients include companies in the pharmaceutical, medical device, consumer product, and telecommunications industries.