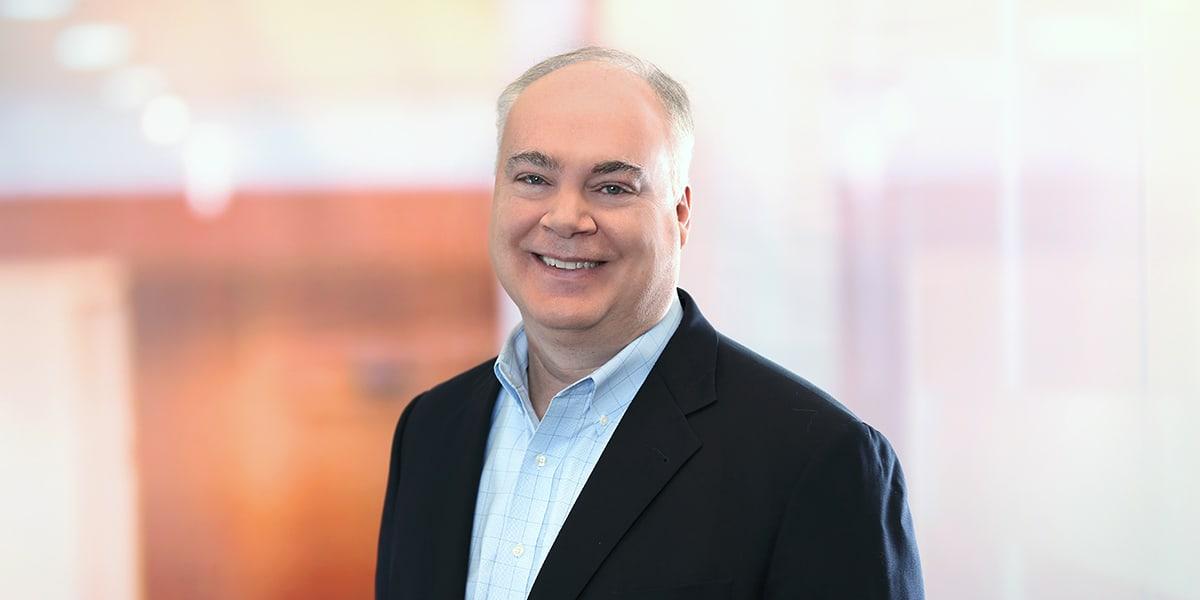 Mark has gained marketplace-based recognition and the trust of brand-name global clients for his strategic patent guidance. He counsels both US and international biotech and pharmaceutical companies at all stages of growth — serving clients ranging from start-ups to Fortune 100 companies. Mark builds close partnerships with his clients as he helps them develop and protect their innovations. IAM Strategy 300 has included Mark on its list of the World's Leading IP Strategists.
Mark provides biotech and pharmaceutical companies with strategic patent guidance at all stages of growth. He counsels clients on the development of their portfolios and handles initial patent applications. Mark represents domestic and international clientele with an emphasis on work in the biotech, pharmaceutical, and chemical spaces. He is truly a partner in a client's business, helping clients develop and protect their innovations in these highly competitive and research-intensive industries.

He has helped companies at the start-up stage file their first applications, and works with Fortune 100 companies in developing their long-term strategies. Mark helps clients with mature portfolios extend the life of those portfolios to help them achieve the optimal value from their key assets.

Mark's practice covers the gamut of patent services, from preparing patent applications and responses to office actions, to representing clients in reexamination and reissue proceedings, and drafting briefs and presenting arguments to appeal boards. He also prosecutes patent term extension requests, seeks supplementary protection certificates, and advises on Orange Book listings submitted to the FDA.

In contentious proceedings, Mark works closely with experts to prepare declarations or offer testimony in various courts and in front of administrative agencies. He participates in post-grant proceedings at the United States Patent and Trademark Office, patent oppositions before the European Patent Office, and patent annullity/infringement actions in international forums.

Mark's technical background covers subject matter involving pharmaceuticals, small molecule and protein formulations (including delayed-release, polymer matrixes), peptides, crystalline forms, syringes, transdermal delivery, implantable devices, manufacturing processes, cell and biochemical assays, inorganics, and polymers. Prior to becoming a patent attorney, he worked as a medicinal chemist at Agouron Pharmaceuticals, and contributed to the discovery of Viracept®, an anti-HIV inhibitor.
Education
Georgetown University (JD)
California State University (MS, Chemistry)
Augsburg College (BA)
Recognition & Awards
Selected for the 2017 edition of IAM Strategy 300 – The World's Leading IP Strategists
Patent Buddy and Patent Research Review: Top Patent Prosecutor, Pharmaceutical/Biotechnology areas (2011)
Involvement
Member, American Bar Association
Member. American Intellectual Property Law Association
Member, American Chemical Society
Viewpoints
December 21, 2016
|

Blog

|

By Mark Pino
The USPTO has published its notice of proposed rulemaking for the FY 2017 patent fee schedule in the Federal Register. The USPTO proposes fee increases to recover its estimated costs for patent operations and achieve its strategic goals of optimizing patent quality and timeliness and increasing international efforts to improve IP policy, protection, and enforcement.
Read more