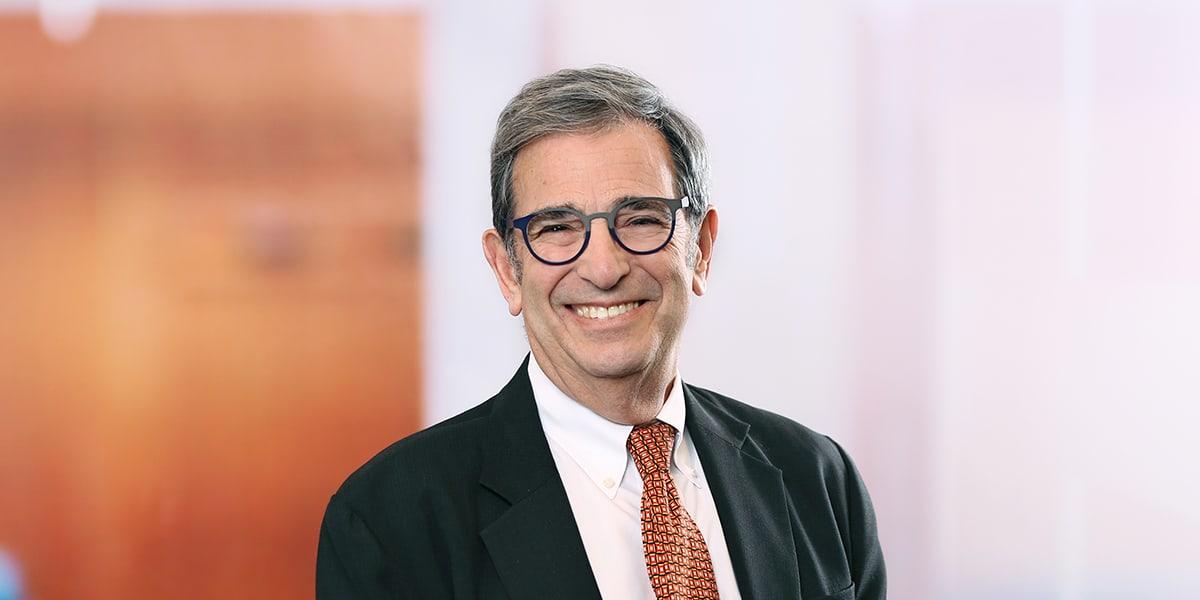 Stephen M. Weiner
Member / Founding Chair, Health Law Practice
+1.617.348.1757
Steve has an outstanding reputation in the arena of health care strategic affiliations, mergers, and acquisitions. He has led initiatives involving mergers of nonprofit providers, including community hospitals and academic center-based systems; acquisitions of nonprofits by for-profit companies, including private equity firms; joint ventures and partnerships among for-profit and nonprofit entities; and strategic realignments within academic medical systems among medical schools, academic medical centers and faculty practice plans. Steve has also facilitated the introduction of new and less costly care delivery alternatives, including the integration of retail clinics into pharmacy providers.  He has worked on Massachusetts health care reform, helped form the regulatory structure for Dubai Healthcare City, and undertaken several medical travel initiatives. Steve also serves as board chair for a major national charitable patient assistance foundation.
Steve is the founding chair of Mintz's Health Law Practice. He has over 30 years of experience in the health care field as a policy maker, educator, and attorney. He represents health care services providers and new technology companies in a broad array of legal matters, including strategic positioning; payer strategies; clinical integration initiatives; mergers, acquisitions, strategic affiliations, "demergers," and joint venture arrangements, including arrangements between tax-exempt and for-profit organizations; and navigating complex regulatory requirements.
In Massachusetts, Steve has been very active in matters relating to the development and implementation of the Commonwealth's signature health care reform program and in implementing the initiative to create a statewide interoperable electronic health record system, using both state and federal stimulus legislation funds.
Steve also represents health care providers in developing, monitoring, and restructuring relationships between hospitals and physicians; regulatory and reimbursement matters, including licensure, certification and determination (certificate) of need proceedings, managed care contracting, Medicare reimbursement and appeals, and Medicaid and uncompensated care pool reimbursement; fraud and abuse and Stark Law counseling; general contracting; and, for academic medical centers specifically, clinical research, conflict of interest, relationships with affiliated medical schools, and relationships with federally qualified community health centers.
He also works extensively with the US Department of Defense on matters relating to TRICARE and the operations of the US Family Health Plan program. Since its inception, Steve has served as pro bono legal counsel to the Schwartz Center for Compassionate Healthcare, a foundation promoting compassionate care and more effective communications between patients and caregivers.
He has also participated in a number of international health care activities, including structuring the health care regulatory system for the Dubai Healthcare City, where he then served for almost ten years as a member of the licensing board, and representing a number of organizations engaged in the medical travel industry.  He is a member of the Healthcare and Life Sciences Committee of the International Bar Association (IBA), where he has most recently served as Committee co-chair.  In his capacity as a Committee officer he has organized and/or moderated panels at annual meetings of the IBA on topics that have ranged from comparative international strategies related to regulating drug pricing to public health issues associated with drug-resistant microbes.
Steve has been an Associate Professor of Law at Boston University School of Law; a visiting lecturer teaching a course on health care restructuring at the Yale Law School; and for many years an adjunct faculty member at Suffolk University School of Law.
Experience
Represented a private equity firm in the acquisition of six diocesan hospitals.
Represented a community nonprofit acute care hospital and a nonprofit long-term care acute hospital in their acquisitions by a for-profit health care system.
Represented a nonprofit community hospital in its merger with a major academic medical center-based system.
Represented a major secular nonprofit community hospital in its full asset merger with a Catholic hospital, creating a unique structure that allowed the campus of the Catholic hospital to retain its Catholicity.
Led the formation of a new health care system consisting of a major academic medical center and a major community hospital.
Led efforts by a leading national medical school and its university to rationalize its relationship with both its teaching hospital and its associated faculty practice plan.
Led efforts in forming an academic research organization the members of which included a major national medical school and two of its key academic medical center affiliates.
Represented a leading provider of pharmacy services in forging a relationship with, and ultimately acquiring, a major retail clinic company. 
Represented Harvard Medical International, then a subsidiary of Harvard Medical School, in devising the regulatory framework for quality of care licensure in Dubai Healthcare City.
Represents a network of six health care systems in providing a fully at risk managed care product for uniformed services beneficiaries, including periodically negotiating contracts and capitation rates with the US Department of Defense. 
Represents a nonprofit entity providing products and services under an FDA enforcement discretion policy in devising a complex set of contractual arrangements with a for-profit entity to assure the nonprofit a revenue stream sufficient to support its ongoing charitable mission.
Represented a major for-profit national radiation oncology company in entering into joint ventures with academic medical centers and nonprofit physician practices.
Represents a major regional hospital cooperative (a "501(e)" organization) in devising strategic initiatives that allow for its expansion consistent with its tax status.
Recognition & Awards
Best Lawyers Lawyer of the Year for Health Care Law in Boston (2011)
Chambers USA: Massachusetts (Band 1) – Healthcare (2005 – 2022)
Massachusetts Super Lawyers: Health Care list (2004 – 2015)
Best Lawyers in America: Health Care Law (1991 – present)
Recognized by the The Legal 500 United States for Healthcare: Service Providers (2015)
Good Guy Award, Massachusetts Women's Political Caucus (2011)
Nightingale's Healthcare News Outstanding Hospital Lawyers (2009)
Massachusetts Medical Law Report Rx for Excellence Leaders in Quality Award (2008)
Martindale-Hubbell AV Preeminent
Who's Who in America
Involvement
Chair of the Board, The HealthWell Foundation
Member of the Advisory Committee to the Brown University Executive Masters in Healthcare Leadership program
Chair of the Board, American Lyric Theater
Trustee, Chair of the Governance and Audit Committee, Member of the Executive Committee, Jacob's Pillow Dance
Trustee Emeritus, Boston Ballet
Former Co-Chair, Healthcare and Life Sciences Committee, International Bar Association
Diversity Officer and Liaison to the North American Regional Forum, Healthcare and Life Sciences Committee, International Bar Association
Former Chair, Massachusetts Rate Setting Commission
Former Special assistant to the Governor of Massachusetts for health policy
Former Director, Boston University School of Law Center for Law and Health Sciences
Former Director, Massachusetts Health Council
Former Trustee, Beth Israel Hospital, Boston
Former Trustee, Spaulding Rehabilitation Hospital
Former Trustee, Conservatory Lab Charter School Foundation
Former Director, AIDS Action Committee of Massachusetts
Former Director, GLAD
Former Director, Massachusetts Chapter of the Healthcare Financial Management Association
Former Trustee, Opera Boston
Former Trustee, Huntington Theatre Company, Boston
Former Trustee and Treasurer, Boston Ballet
Former Member, House of Delegates of Easter Seals Massachusetts