Year in Review: The Most Popular IP Posts of 2020
As 2021 begins and intellectual property (IP) strategies are being developed for the new year, it is a good time to reflect on what IP issues were prominent in 2020.  According to many readers, hot topics included Chinese foreign filing licenses, patenting involving either artificial intelligence (AI) or COVID-19, inter partes review, and attorney fee awards.
Here are 2020's top 5 most popular Mintz IP posts:
1. Strategic Considerations for Obtaining a Foreign Filing License in China – This article outlines why and when a foreign filing license is needed in China as well as bypass continuations in the U.S. and the use of a PCT request filed in China to obtain a foreign filing license.
2. Patenting Considerations for Artificial Intelligence in Biotech and Synthetic Biology – Part 2: Key Issues in Patent Subject Matter Eligibility – This article provides helpful information on what is meant by Machine Learning as well as an analysis of some real world challenges in patenting AI biotech or synthetic biology inventions.
3. PTAB's Precedential Opinion Panel Rejects Review Decision Denying Institution Due to Proximity of District Court Trial, and Remands Back to Panel for Supplemental Briefing – In Sand Revolution II, LLC v. Continental Intermodal Group-Trucking LLC, the U.S. Patent Trial and Appeal Board declined to institute an inter partes review (IPR) based on parallel district court action where the jury trial was scheduled to occur prior to the Board's final written decision.  This article discusses the decision and its implications related to how delayed trials can affect IPR petitions.
4. Federal Circuit Awards Attorney Fees to Defendant Following Dismissal of Lawsuit by Plaintiff –This article discusses the Federal Circuit's decision in Blackbird Tech LLC v. Health in Motion LLC that affirmed a district court award of costs and attorneys' fees against a non-practicing entity, citing the need "to deter future abusive litigation."
5. COVID-19: Prioritized Patent Application Examination and Patents 4 Partnerships – This article provides a useful overview of the U.S. Patent and Trademark Office's 2020 initiatives to support COVID-19 innovations: 1) a COVID-19 Prioritized Examination Pilot Program, and 2) Patents 4 Partnerships that provides a searchable forum to list COVID-19 related published applications and patents available for licensing.
Author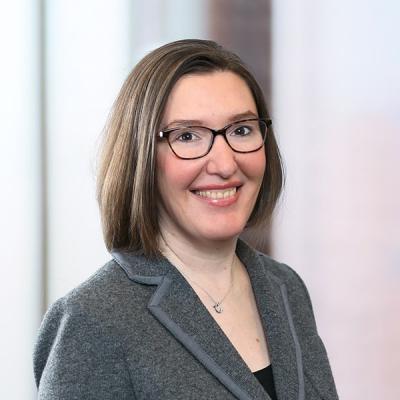 Christina Sperry is a Mintz patent attorney who drafts and prosecutes patents for clients in the electrical, mechanical, and electro-mechanical fields. She represents companies and academic institutions in the medical technology field and helps protect patent innovations for medical and surgical devices.