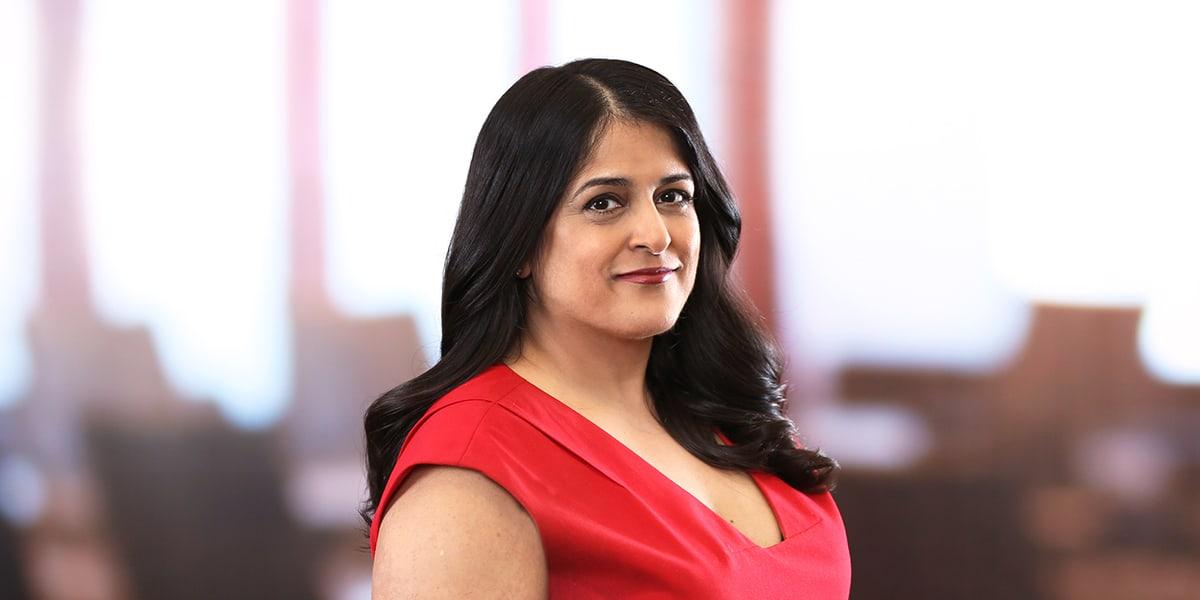 Aarti focuses her practice on patent litigation and has extensive experience as trial counsel. Leveraging her insider's view gained during her time spent as a senior investigative attorney in the US International Trade Commission (ITC), Aarti helps her clients develop and implement effective ITC strategies. She is frequently invited to write and comment on ITC litigation matters.
Aarti focuses her practice on patent litigation and has extensive experience as trial counsel, having served in the ITC as a senior investigative attorney prior to joining Mintz. During her tenure at the ITC's Office of Unfair Import Investigations, she served as lead counsel for the federal government in seven trials and in over 25 ITC investigations, covering trade secrets, trademarks, and electrical, computer, mechanical, and chemical patents. She particularly enjoys simplifying technology for judges and juries, devising creative and pragmatic strategies, and working closely with in-house counsel.
Prior to her work with the ITC, Aarti practiced as a patent litigator with an international law firm, where she handled district court litigations relating to computer, electrical, mechanical, and pharmaceutical technologies. She also handled appellate litigation before the Court of Appeals for the Federal Circuit and provided counsel on patent portfolios and infringement opinions.
Education
Georgetown University (JD, with honors)
Harvard College (BA, Government, with honors)
Experience
Certain Memory Modules and Components Thereof, and Products Containing Same (337-TA-1089) Represent Complainant Netlist, Inc., a California memory module company, in the ITC asserting six patents against the Korean-based memory company, SK hynix. The technology claimed by the asserted patents is essential to the JEDEC DDR4 RDIMM and LRDIMM standards, which are implemented by the accused imported products. The respondents are asserting novel RAND defenses in the ITC, and in a co-pending case involving the same patents in the District Court for the Central District of California. The ITC evidentiary hearing is scheduled for July 2019.
Certain Graphics Systems, Components Thereof, and Consumer Products Containing the Same (337-TA-1044) - Represented Advanced Micro Devices (AMD) as complainant in the ITC asserting patents covering graphics processing technology employed by smart devices such as televisions and handsets. Respondents include LG Electronics, VIZIO, MediaTek, and Sigma Designs, Inc. (SDI). Achieved settlement with LG prior to the conclusion of expert discovery. Following the evidentiary hearing, the presiding ALJ issued an initial determination finding a violation of Section 337 and recommending the imposition of an exclusion order against the remaining Respondents' accused products. The ITC affirmed the ALJ's finding of a violation on August 22, 2018. As a result, the Commission issued orders banning the importation of products made by VIZIO, MediaTek, and SDI and cease and desist orders against VIZIO and SDI.
Certain Computing or Graphics Systems, Components Thereof, and Vehicles Containing Same (337-TA-984) - Represented owner of portfolio of graphics processing and microprocessor patents, Advanced Silicon Technologies, LLC, as Complainant in an ITC investigation adverse to a number of automotive manufacturers, and infotainment system and chip suppliers. Respondents include Honda, Toyota, BMW, Audi, Volkswagen, NVIDIA, Texas Instruments, Renesas, Harman International, and Fujitsu-Ten. The investigation instituted in January of 2016 and resolved favorably prior to the conclusion of expert discovery in August of 2016.
Certain Communications or Computing Devices and Components Thereof (337-TA-925) - Represented owner of portfolio of communications and computing patents from former enterprise communications business unit of large multinational innovation company, Enterprise System Technologies, S.A.R.L. An ITC investigation was instituted in August 2014 as to respondent entities Apple, Samsung Electronics, LG Electronics and HTC Corporation. Google participated as an intervenor. The investigation resolved prior to evidentiary hearing in June of 2015.
Certain Consumer Electronics with Display and Processing Capabilities (337-TA-884) - Represented owners of the patent portfolio of the original Silicon Graphics, now known as Graphics Properties Holdings, as complainant in the ITC. Investigation was instituted in June 2013 and among the respondent entities were Panasonic, Toshiba, Vizio, and ZTE. Most respondents settled. After an evidentiary hearing held over several days in May 2014, on August 29, 2014 Mintz successfully obtained a recommendation for a Limited Exclusion Order against the remaining respondent, which chose to settle while Commission review of the Administrative Law Judge's Initial Determination was pending.
Recognition & Awards
Executive Committee, ITC Trial Lawyers' Association
Member, Giles S. Rich American Inn of Court
Recent Insights
News & Press The October 29 edition of the Skilled in the Art newsletter published by Law.com reported that Mintz achieved a favorable Notice of Initial Determination at the U.S. International Trade Commission on behalf of the firm's client Netlist, Inc., a California-based technology company focused on developing innovative server memory module products, including technology that is essential to certain JEDEC memory standards. Significantly, this is the first time since 2013 that a Section 337 violation has been found based on a standard-essential patent. Law360 reported that a U.S. International Trade Commission judge ruled that Korean manufacturer SK Hynix infringed on California-based technology company, and Mintz client, Netlist, Inc.'s standard essential patent related to server memory modules.

The article noted that the Mintz team representing Netlist includes Member and Chair of the Intellectual Property Division Michael Renaud, along with Members James Wodarski, Drew DeVoogd, Steve Akerley, Aarti Shah, and Associates Kristina Cary, Matthew Galica, and Tiffany Knapp.