Drew is an experienced patent litigator and trial attorney whose work encompasses a broad range of technologies. He regularly represents clients in high stakes International Trade Commission investigations involving some of the world's largest technology companies. He also litigates patent matters and other business disputes in federal district courts around the country, and advises clients in complex IP licensing and related transactions. Drew excels at helping clients make sense of nuanced legal issues while developing effective strategies to protect and leverage their intellectual property. 
Drew focuses his intellectual property practice in patent litigation, with an emphasis on Section 337 investigations in the International Trade Commission. Drew has participated in all phases of numerous ITC investigations involving some of the largest technology companies in the world. He has first-chair trial and strategy experience during multiple ITC evidentiary hearings, and regularly leads large litigation teams through fast-paced ITC investigations. Drew has also litigated patent infringement and trade secret cases and other complex business disputes in federal district courts across the country.  He has successfully argued on behalf of his clients during multiple Markman claim construction hearings, as well as on all manner of discovery, pretrial, and other motions, before the ITC and federal district courts.
In addition, Drew provides strategic counseling to help clients protect and leverage IP rights to maximize their value. Drew has participated in negotiating and closing numerous complex IP licensing and sale transactions, including elaborate multiparty agreements involving thousands of patents, as well as conducting pre-suit and transactional diligence relating to large portfolios of U.S. and foreign intellectual property assets. He also advises clients on trademark protection and related disputes.
Drew has worked in diverse technology areas such as embedded microprocessors, liquid crystal displays, graphics processors, consumer telecommunications systems, converged devices and related software and operating systems, mobile communications infrastructure, DDR4-compliant memory modules and their components, memory controllers, LED-based lighting systems, thermoplastics, electrical motors, and biochemical assays.
Drew is a member of the firm's Pro Bono Committee. His own pro bono work includes representing asylum-seekers, as well as clients of the Mintz Domestic Violence Program in obtaining and extending 209A abuse prevention orders on behalf of victims of domestic violence and sexual assault, including on appeal.
Prior to joining Mintz, Drew practiced with a national law firm. Prior to that, he clerked for Massachusetts Supreme Judicial Court Justice Barbara A. Lenk (then of the Massachusetts Appeals Court). In law school he served as a judicial intern to the late Hon. Reginald C. Lindsay of the U.S. District Court for the District of Massachusetts and as a legal intern with the Major Crimes Unit of the U.S. Attorney's Office for the District of Massachusetts, during which time he worked on multiple jury trials.
Education
Northeastern University (JD)
Earlham College (BA)
Experience
International Trade Commission
Certain Memory Modules and Components Thereof (337-TA-1089) – Represented Netlist, Inc. as complainant before the ITC against Korean-based memory company SK Hynix. The matter involved patents related to server memory module products, including technology that is essential to certain JEDEC memory standards. Following oral hearing in October 2019, the Administrative Law Judge issued an Initial Determination finding infringement of one of Netlist's patents and recommended a limited exclusion order be issued.
Certain Graphics Systems, Components Thereof, and Consumer Products Containing the Same (337-TA-1044) - Represented Advanced Micro Devices (AMD) as complainant in the ITC asserting patents covering graphics processing technology employed by smart devices such as televisions and handsets. Respondents include LG Electronics, VIZIO, MediaTek, and Sigma Designs, Inc. (SDI). Achieved settlement with LG prior to the conclusion of expert discovery. Following the evidentiary hearing, the presiding ALJ issued an initial determination finding a violation of Section 337 and recommending the imposition of an exclusion order against the remaining Respondents' accused products. The ITC affirmed the ALJ's finding of a violation on August 22, 2018. As a result, the Commission issued orders banning the importation of products made by VIZIO, MediaTek, and SDI and cease and desist orders against VIZIO and SDI.
Certain Computing or Graphics Systems, Components Thereof, and Vehicles Containing Same (337-TA-984) - Represented owner of portfolio of graphics processing and microprocessor patents, Advanced Silicon Technologies, LLC, as Complainant in an ITC investigation adverse to a number of automotive manufacturers, and infotainment system and chip suppliers. Respondents include Honda, Toyota, BMW, Audi, Volkswagen, NVIDIA, Texas Instruments, Renesas, Harman International, and Fujitsu-Ten. The investigation instituted in January of 2016 and resolved favorably prior to the conclusion of expert discovery in August of 2016.
Certain Communications or Computing Devices and Components Thereof (337-TA-925) - Represented owner of portfolio of communications and computing patents from former enterprise communications business unit of large multinational innovation company, Enterprise System Technologies, S.A.R.L. An ITC investigation was instituted in August 2014 as to respondent entities Apple, Samsung Electronics, LG Electronics and HTC Corporation. Google participated as an intervenor. The investigation resolved prior to evidentiary hearing in June of 2015.
Certain Consumer Electronics with Display and Processing Capabilities (337-TA-884) - Represented owners of the patent portfolio of the original Silicon Graphics, now known as Graphics Properties Holdings, as complainant in the ITC. Investigation was instituted in June 2013 and among the respondent entities were Panasonic, Toshiba, Vizio, and ZTE. Most respondents settled. After an evidentiary hearing held over several days in May 2014, on August 29, 2014 Mintz successfully obtained a recommendation for a Limited Exclusion Order against the remaining respondent, which chose to settle while Commission review of the Administrative Law Judge's Initial Determination was pending.
Certain Consumer Electronics and Display Devices and Products Containing Same (337-TA-836) - Represented owners of the patent portfolio of the original Silicon Graphics, now known as Graphics Properties Holdings, as complainant in the ITC, and as plaintiff in multiple parallel District of Delaware cases. Cases were filed between late 2011 and early 2012, and all were resolved by the end of January 2013. The technology at issue relates to LCD panels, central processor units, graphics processing units, and other microprocessor technology. Successfully licensed all respondents, including some of the largest and most recognized names in the converged device space – Apple, LG, Research in Motion, Samsung, and Sony.
Certain LED Photographic Lighting Devices and Components Thereof (337-TA-804) – Represented the complainant (plaintiff) that makes LED lighting systems for use in film and TV production, at the International Trade Commission. The ITC handed down its Final Initial Determination of infringement on September 7, 2012. On January 17, 2013, the ITC issued a General Exclusion Order (GEO) against respondents based in both China and the United States. The result in this case is particularly notable because it is rare for the ITC to issue a GEO due to the rigorous criteria and careful balancing of interests that apply to requests for GEOs.
Certain Electronic Imaging Devices (337-TA-726) - Represented complainant in three-patent ITC case. Filed in June 2010 against converged device manufacturers and focused on digital camera technology found in cell phones, laptop computers, and personal digital assistants, the matter went to trial in April 2011. The result was successful licenses with three out of four respondents, including recognized leaders in the electronics device manufacturing space.
Federal District Court
Netlist Inc. v. SK hynix Inc., et al. (CDCA 8:16-cv-1605; 8:17-cv-01030) - Represent plaintiff Netlist, Inc., a California memory module company, in asserting eight patents against the Korean-based memory company, SK hynix. The technology claimed by the asserted patents is essential to the JEDEC DDR4 RDIMM and LRDIMM standards, which are implemented by the accused products. The defendants are asserting novel RAND defenses, as well as in co-pending cases involving the same patents in the International Trade Commission.
Graphics Properties Holdings, Inc. v. ASUS Computer International, Inc. et al. (D. Del. 1:13-cv-864) - Represented the former Silicon Graphics in numerous litigations against multinational electronics companies in the District of Delaware alleging infringement of novel graphics, microprocessor, and LCD patents. All of these cases settled favorably. In the ASUS matter, Mintz persuaded the court to adopt the "stream-of-commerce" theory of personal jurisdiction despite conflicting precedent in the District of Delaware, and ASUS's motion to dismiss was denied in its entirety.
The Coca-Cola Company v. Johanna Foods, Inc. (N.D. Ga. 1:10-cv-3081) - Represented a major regional chilled-beverage supplier in defending design patent and trade dress infringement allegations by an international beverage supplier regarding clear plastic PET product packaging in the Northern District of Georgia. Case settled favorably.
Japan Cash Machine Co. Ltd. et al v. MEI, Inc. (D.N.J. 1:09-cv-351) - Represented a bill validator supplier adverse to its principal competitor in the Federal District of New Jersey and in the Court of Appeals for the Federal Circuit regarding patents directed to antifraud technology.
Siemens Healthcare Diagnostics Inc. v. Enzo Life Sciences, Inc. (D. Mass. 4:10-cv-40124) - Represented a clinical diagnostic testing supplier appealing a decision of the Board of Patent Appeals and Interferences to the Federal District of Massachusetts regarding the priority of invention of patent claims covering nucleic acid hybridization assays. Obtained reversal of adverse decision by the BPAI on behalf of client.
Pro Bono
AIDS Support Group of Cape Cod, Inc. v. Town of Barnstable & Others, 477 Mass. 296 (2017) - Co-authored an amicus brief to the Massachusetts Supreme Judicial Court on behalf of approximately 30 public health-related amici, including some of the largest hospital systems and health insurers in Massachusetts. In a case of first impression, the unanimous SJC agreed with the plaintiff and the amici that there is no restriction in the law on privately-run hypodermic needle access programs, which are designed to limit the spread of blood-borne diseases such as HIV and Hepatitis C.
J.S. v. J.G., 94 Mass. App. Ct. 1104 (Oct. 5, 2018) – Led the briefing team and successfully argued before the Massachusetts Appeals Court in an appeal from the denial of client's request for a c. 209A Order of Protection and No Contact against an abusive family member. The Appeals Court reversed the trial court's decision on multiple grounds and remanded for a new trial
Recent Insights
News & Press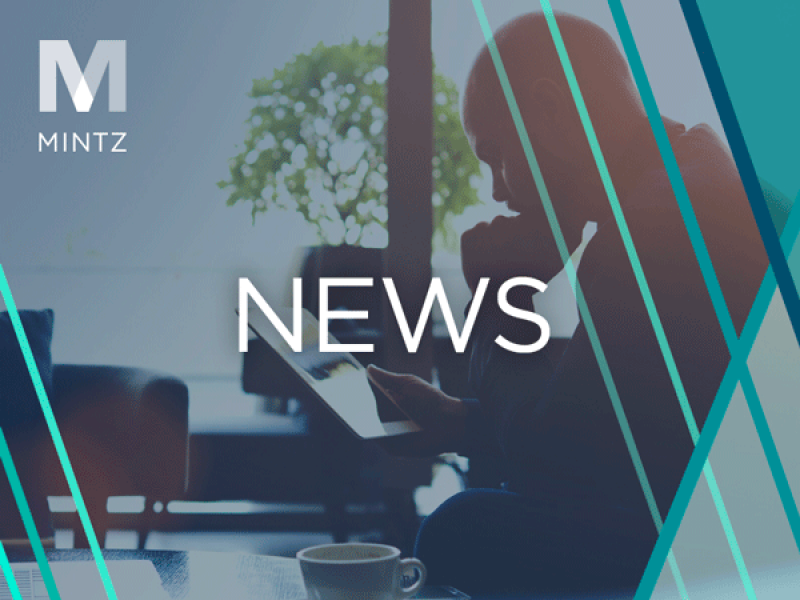 The October 29 edition of the Skilled in the Art newsletter published by Law.com reported that Mintz achieved a favorable Notice of Initial Determination at the U.S. International Trade Commission on behalf of the firm's client Netlist, Inc., a California-based technology company focused on developing innovative server memory module products, including technology that is essential to certain JEDEC memory standards. Significantly, this is the first time since 2013 that a Section 337 violation has been found based on a standard-essential patent.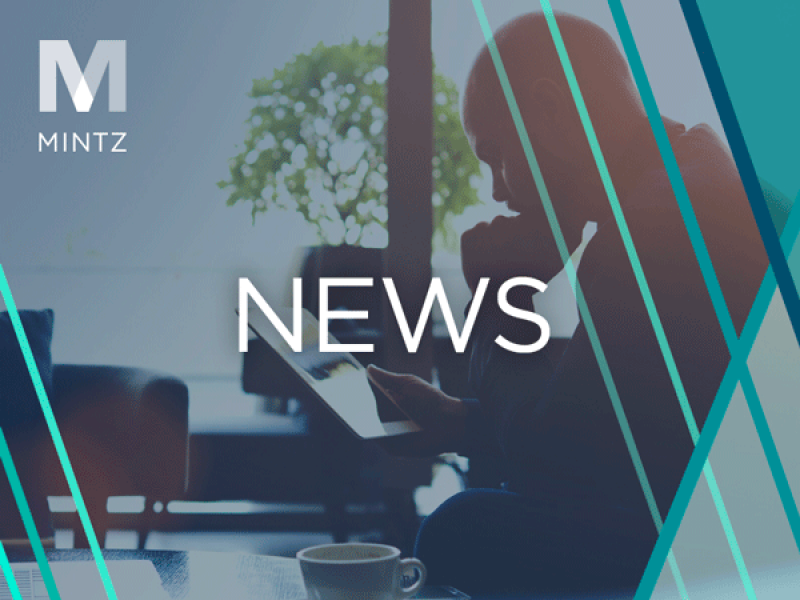 Law360 reported that a U.S. International Trade Commission judge ruled that Korean manufacturer SK Hynix infringed on California-based technology company, and Mintz client, Netlist, Inc.'s standard essential patent related to server memory modules.

The article noted that the Mintz team representing Netlist includes Member and Chair of the Intellectual Property Division Michael Renaud, along with Members James Wodarski, Drew DeVoogd, Steve Akerley, Aarti Shah, and Associates Kristina Cary, Matthew Galica, and Tiffany Knapp.