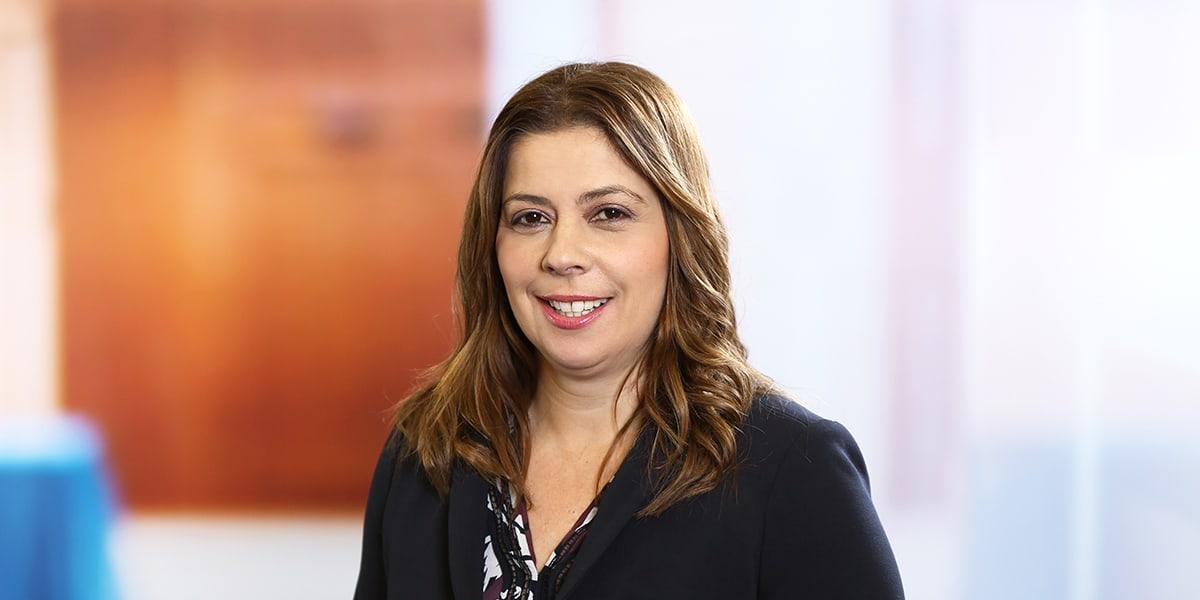 Jennifer focuses on intellectual property litigation and counseling, with an emphasis on issues related to patents, including infringement and validity analyses, the assessment of potential litigation exposure, and the intricacies of Hatch-Waxman pharmaceutical litigation. She has extensive experience in every stage of litigation, from pre-suit investigations, case initiation, and discovery to motion practice, alternative dispute resolution, and the successful preparation and participation in trials involving both the assertion and defense of patent infringement allegations. Jennifer represents large companies in diverse intellectual property matters in a wide variety of industries, including pharmaceuticals, chemical compounds, medical and mechanical devices, video surveillance technology, and computer software and hardware.
Her experience includes the analyses of patents, product information, and prior art in order to prepare infringement and invalidity opinions as well as future patent infringement prevention opinions. Jennifer has also represented clients in technology disputes involving breach of contracts, unfair competition, and trade secret misappropriation claims.
In addition to her intellectual property–focused practice, Jennifer has leveraged her background as a pharmacist when representing pharmaceutical clients and a retail drugstore chain in litigation and government investigations involving allegations of antitrust violations, the False Claims Act, the federal Anti-Kickback Statute, and Medicare and Medicaid fraud.
Prior to joining Mintz, Jennifer was an intellectual property attorney in the New York offices of two other international law firms. Before beginning her legal career, Jennifer was a Registered Pharmacist at a pharmacy in New Jersey. As an undergraduate, Jennifer played Division I softball for St. John's University.
Education
Seton Hall University (JD)
St. John's University (BS, Pharmacy)
Experience
Kowa Pharmaceuticals America et al v. Amneal Pharmaceuticals, LLC, and related cases - Represented plaintiffs Kowa Company, Ltd., Kowa Pharmaceuticals America, Inc. and Nissan Chemical Industries, Ltd. in litigation which involved compound, formulation, and polymorph patents directed toward quinoline-type mevalonolactones (or, pitavastatin calcium) relating to the drug product Livalo®. Several of the cases successfully resolved pre-trial, and after a 10-day trial plaintiffs prevailed on all issues in two court decisions against the remaining defendants, Amneal and Apotex. Mintz Levin represents Kowa and Nissan in the appeal filed by Amneal and Apotex in the Federal Circuit. The team also defeated institution of three inter partes reviews filed by generic manufacturer defendants in these cases.
Hy-Ko Products Company v. The Hillman Group, Inc., No. 08-1961 (N.D. Ohio) – Obtained successful settlement on eve of trial for a premier supplier of numbers, letters, and keys against allegations of patent infringement involving key duplication technology.
Roquette Frères v. SPI Pharma, Inc., No. 06-540 (D. Del. Oct. 4, 2010) (Sleet, C.J.) – Member of trial team that obtained a JMOL decision for SPI Pharma, Inc., a food and drug excipient manufacturer, against claims of patent infringement concerning sugar polyol additive, which resulted in a settlement for the parties.
Represented pharmaceutical company patentees in several Hatch-Waxman litigations asserting patented antidepressants, antibiotics, and antidiuretics.
Successfully obtained a settlement for a client whose confidential HIV-related information was inappropriately disclosed by a hospital employee.
Involvement
Member, American Bar Association, Intellectual Property Law Section
Member, American Intellectual Property Law Association
Member, New York State Bar Association
Member, American Pharmaceutical Association
Viewpoints
May 1, 2018
|

Advisory

|

By Muriel M. Liberto, PhD, Esq., Jennifer Dereka
The Federal Circuit's decision in Vanda Pharm. Inc. v West-Ward Pharm. Intl. Ltd. (2016-2707, 2016-2708 April 13, 2018) provided some good news on the subject matter eligibility front for innovators and other stakeholders in the personalized medicine space, as discussed in a previous post.
Read more