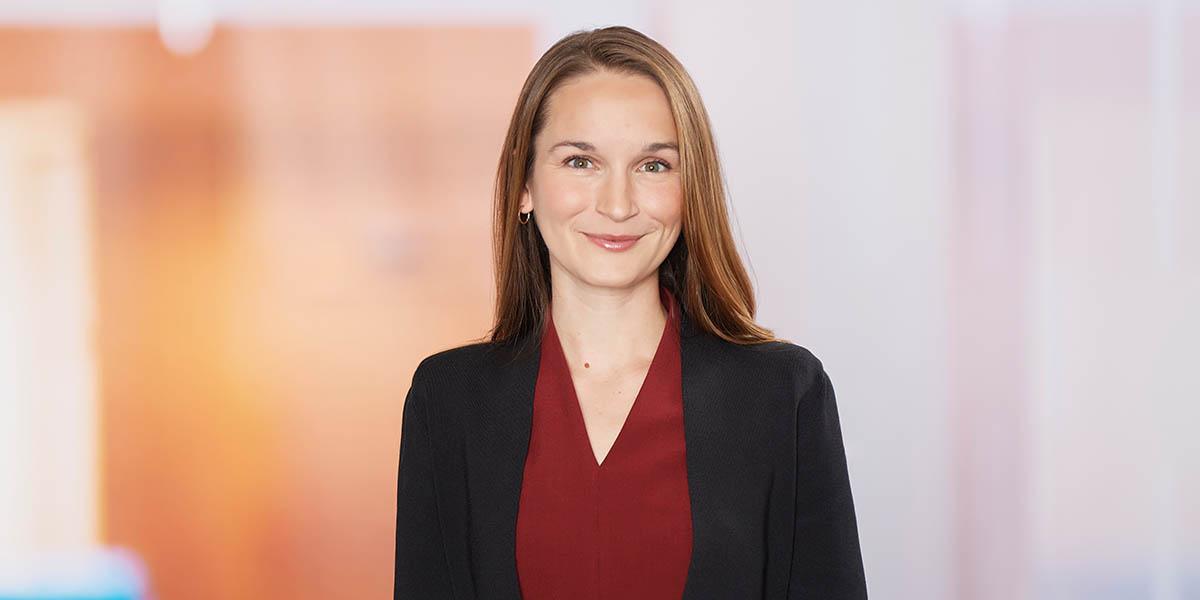 Kristina is a patent litigator and trial attorney who concentrates primarily in hardware and software matters in Section 337 investigations before the International Trade Commission (ITC). She brings extensive training and industry background in electrical and computer engineering to her practice, which focuses on highly technical aspects of patent litigation, including patent portfolio analysis and patent infringement and validity analyses.
Kristina has acted as the technical lead for multiple patents in complex patent litigation at the ITC adverse to some of the largest technology companies in the world. During these investigations, she has examined witnesses at trial, deposed scores of fact and expert witnesses, coordinated extensive multinational discovery, and managed large teams of technologists and litigators. She works closely with industry experts throughout all phases of litigation and related diligence. Kristina also represents clients in patent infringement cases in federal district courts.
Kristina has broad industry experience in hardware and software engineering, gained from her work at several technology companies and as an independent consultant. She applies this technical knowledge in representing her clients, both in litigation and in providing strategic counseling to help clients protect and leverage IP rights.
Kristina is an active member of IEEE.
Education
Suffolk University Law School (JD)
Franklin W. Olin College (BS, Electrical and Computer Engineering)
Experience
International Trade Commission
Certain Memory Modules and Components Thereof (337-TA-1089) – Represented Netlist, Inc. as complainant before the ITC against Korean-based memory company SK Hynix. The matter involved patents related to server memory module products, including technology that is essential to certain JEDEC memory standards. Following oral hearing in October 2019, the Administrative Law Judge issued an Initial Determination finding infringement of one of Netlist's patents and recommended a limited exclusion order be issued.
Certain Communications or Computing Devices and Components Thereof (337-TA-925) - Represented owner of portfolio of communications and computing patents from former enterprise communications business unit of large multinational innovation company, Enterprise System Technologies, S.A.R.L. An ITC investigation was instituted in August 2014 as to respondent entities Apple, Samsung Electronics, LG Electronics and HTC Corporation. Google participated as an intervenor. The investigation resolved prior to evidentiary hearing in June of 2015.
Certain Consumer Electronics with Display and Processing Capabilities (337-TA-884) - Represented owners of the patent portfolio of the original Silicon Graphics, now known as Graphics Properties Holdings, as complainant in the ITC. Investigation was instituted in June 2013 and among the respondent entities were Panasonic, Toshiba, Vizio, and ZTE. Most respondents settled. After an evidentiary hearing held over several days in May 2014, on August 29, 2014 Mintz successfully obtained a recommendation for a Limited Exclusion Order against the remaining respondent, which chose to settle while Commission review of the Administrative Law Judge's Initial Determination was pending.
Certain Consumer Electronics and Display Devices and Products Containing Same (337-TA-836) - Represented owners of the patent portfolio of the original Silicon Graphics, now known as Graphics Properties Holdings, as complainant in the ITC, and as plaintiff in multiple parallel District of Delaware cases. Cases were filed between late 2011 and early 2012, and all were resolved by the end of January 2013. The technology at issue relates to LCD panels, central processor units, graphics processing units, and other microprocessor technology. Successfully licensed all respondents, including some of the largest and most recognized names in the converged device space – Apple, LG, Research in Motion, Samsung, and Sony.
Certain LED Photographic Lighting Devices and Components Thereof (337-TA-804) – Represented the complainant (plaintiff) that makes LED lighting systems for use in film and TV production, at the International Trade Commission. The ITC handed down its Final Initial Determination of infringement on September 7, 2012. On January 17, 2013, the ITC issued a General Exclusion Order (GEO) against respondents based in both China and the United States. The result in this case is particularly notable because it is rare for the ITC to issue a GEO due to the rigorous criteria and careful balancing of interests that apply to requests for GEOs.
Recent Insights
News & Press The October 29 edition of the Skilled in the Art newsletter published by Law.com reported that Mintz achieved a favorable Notice of Initial Determination at the U.S. International Trade Commission on behalf of the firm's client Netlist, Inc., a California-based technology company focused on developing innovative server memory module products, including technology that is essential to certain JEDEC memory standards. Significantly, this is the first time since 2013 that a Section 337 violation has been found based on a standard-essential patent. Law360 reported that a U.S. International Trade Commission judge ruled that Korean manufacturer SK Hynix infringed on California-based technology company, and Mintz client, Netlist, Inc.'s standard essential patent related to server memory modules.

The article noted that the Mintz team representing Netlist includes Member and Chair of the Intellectual Property Division Michael Renaud, along with Members James Wodarski, Drew DeVoogd, Steve Akerley, Aarti Shah, and Associates Kristina Cary, Matthew Galica, and Tiffany Knapp.