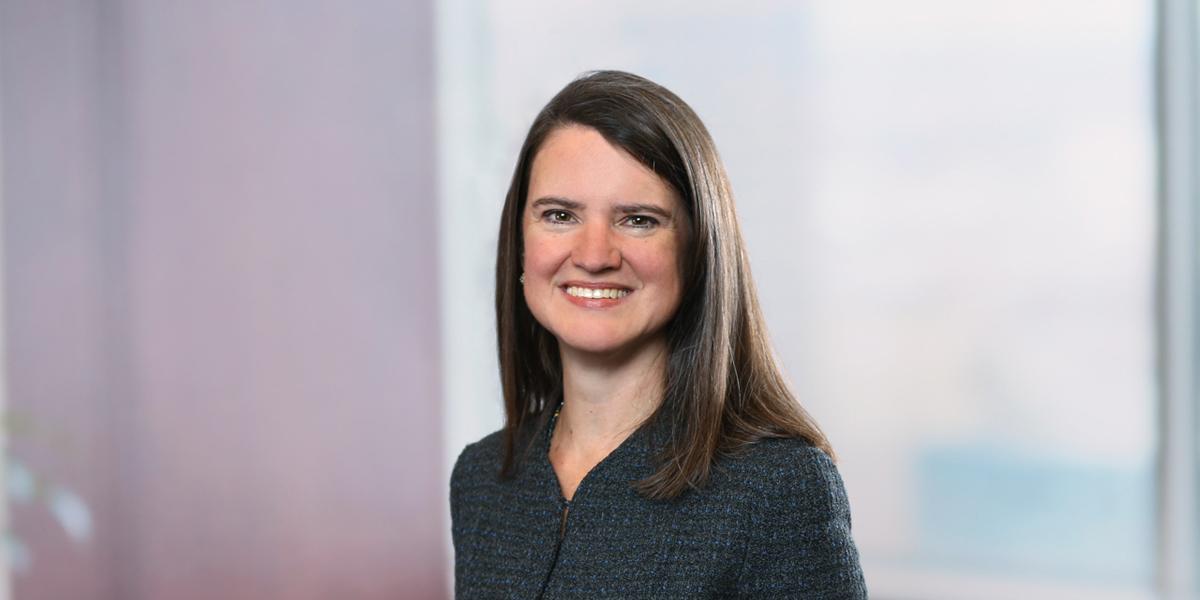 Megan N. Gates
Member / Co-chair, Securities & Capital Markets Practice
+1.617.348.4443
Megan guides public companies through structuring and implementing capital-raising transactions, SEC reporting compliance and corporate governance obligations, and strategic mergers and acquisitions. With a specific passion for the life sciences industry, Megan has over 25 years of experience in the biotechnology field. Her counseling is directly informed by a client-focused perspective she gained during a prior in-house counsel role with a global laboratory and analytical instrument maker.
Megan is Co-chair of the Securities & Capital Markets Practice Group and former member of the Firm's Policy Committee. She concentrates her practice on providing counsel to public companies with respect to public and private equity financings, merger and acquisition transactions, and compliance and disclosure obligations under the Securities Exchange Act of 1934.

Megan frequently advises clients on corporate governance matters, including compliance with the Sarbanes-Oxley Act of 2002. She also has extensive experience with tender offers, exchange offers, and going-private transactions.

Megan frequently speaks at conferences on securities offerings, corporate governance, and compliance matters, including at Massachusetts Continuing Legal Education (MCLE) panels and industry meetings.

Before joining the firm, Megan served as associate general counsel for Thermo Electron Corporation, where she was responsible for securities offerings and compliance for the corporation and its 23 publicly traded subsidiaries.
Education
Boston College (JD)
Wellesley College (BA)
Experience
Merger & Acquisition Transactions
Represented OvaScience in its merger with Millendo Therapeutics, Inc.
Represented Albireo Pharma, Inc. in its merger with Biodel Inc.
Represented ChyronHego Corporation in its $120 million acquisition by Vector Capital Partners
Represented Chyron Corporation in its acquisition of Hego Aktiebolag
Represented Caliper Life Sciences, Inc. in its $600 million acquisition by PerkinElmer Corporation
Represented Coley Pharmaceutical Group, Inc. in its $164 million acquisition by Pfizer Inc.
Represented Targacept, Inc. in its merger with Catalyst Biosciences, Inc.
Represented RegenMedTX, LLC in its acquisition by a private equity firm
Represented EPIRUS Biopharmaceuticals, Inc. in its acquisition of Bioceros Holding B.V.
Securities Offerings
Represented Bank of America – Merrill Lynch in a $138 million follow-on offering by Puma Biotechnology, Inc.
Represented OvaScience, Inc. in a $50 million follow-on offering
Represented OXiGENE, Inc. in multiple follow-on offerings
Represented MELA Sciences, Inc. in a $10 million follow-on offering
Represented NeuroMetrix, Inc. in multiple follow-on offerings
Represented Coley Pharmaceutical Group in its $102.6 million initial public offering
Represented Targacept, Inc. in its $40.7 million initial public offering
Represent H.C. Wainwright & Co., LLC in multiple follow-on offerings by biotechnology issuers
Recognition & Awards
Recommended by The Legal 500 United States for Healthcare: Life Sciences (2020); Capital Markets: Equity (2021)
Casa Myrna: Recipient of Norman Knight Charitable Foundation Award (2014)
Women's Business Boston: Top 10 Corporate Lawyers (2010)
Massachusetts Lawyers Weekly: Top Women of Law (2010)
Phi Beta Kappa
Involvement
Member, Boston Bar Association Council
Corporate Board Committee, The Boston Club
Life Sciences Council, Springboard Enterprises
Board of Directors, Wellesley College Business Leadership Council
Board of Directors, Greater Boston Legal Services
Curriculum Committee, Massachusetts Continuing Legal Education (MCLE)
Board of Directors, Pine Street Inn, a nonprofit organization that is New England's largest resource for homeless men and women
Co-chair, Boston Bar Foundation John & Abigail Adams Benefit (2016)
Past Chair, Board of Directors, Casa Myrna, a nonprofit organization located in Boston that is working to end domestic violence in the lives of women and children
Past Co-chair, Boston Bar Association Business Transactions Section and Securities Law Committee
Recent Insights
Viewpoints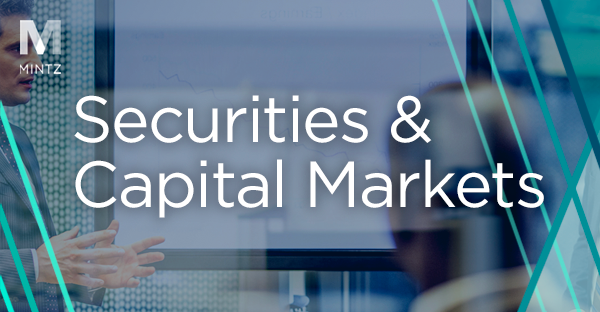 January 21, 2021
|

Advisory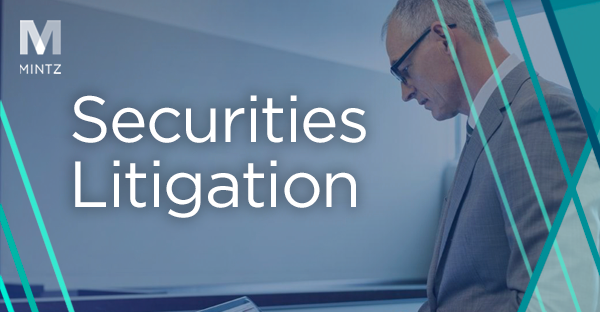 January 23, 2020
|

Advisory
News & Press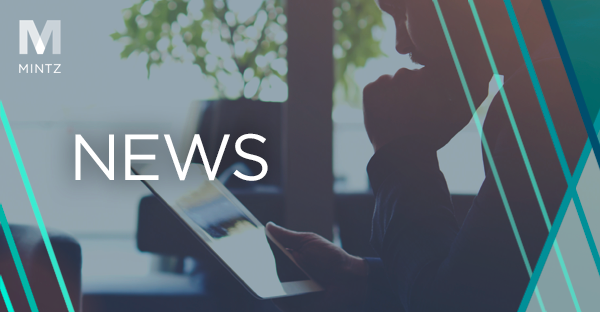 Mintz Member and Co-chair of the firm's Securities & Capital Markets Practice Megan N. Gates was quoted in an article published by Law360 examining a sustained increase in at-the-market (ATM) offerings, a type of registered offering that allows public companies to sell shares in phases so they can seize attractive prices.
Events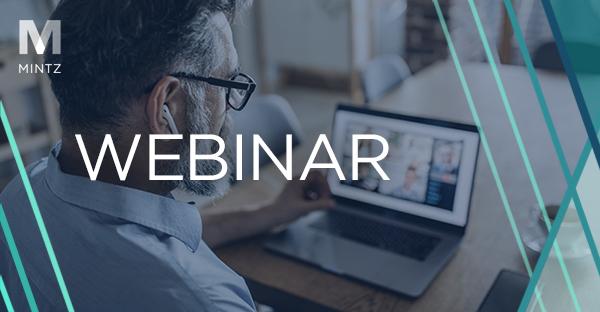 Join us for the first in a two-part Mintz ESG webinar series on emerging environmental, social, and governance (ESG) criteria used by socially conscious investors to evaluate corporate behavior, and by companies themselves to assess their own performance.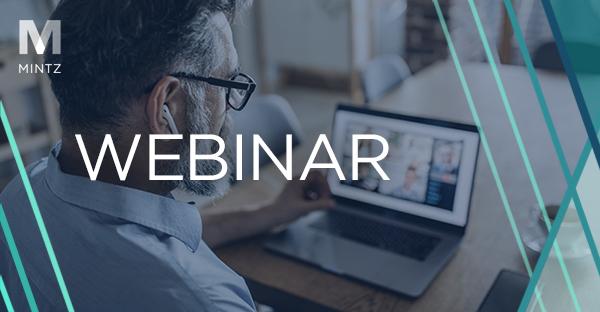 A panel of Mintz attorneys discuss practical considerations and best practices for companies navigating internal whistleblower complaints, policy implementation considerations, and how to respond to and manage investigations initiated by regulators.